Swiss Re's Beat Strebel was among panellists discussing microinsurance at FAIR 2019 in Marrakech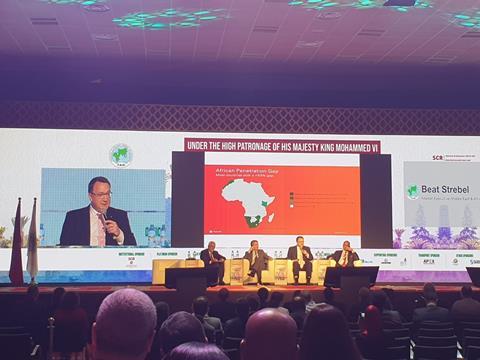 Microinsurance is nothing new, but the concept has yet to reach anywhere near its full potential in Africa's under-served re/insurance market, according to panellists at FAIR 2019 in Marrakech.
Beat Strebel, market executive for Middle East and Africa at Swiss Re, stressed the scale of the challenge facing the sector.
He noted that Swiss Re had been involved in microinsurance for decades,
"It's not anything new; we've been in this for quite some time," Strebel said. "Yes, it's about some success stories but it's much more about the massive challenge ahead of us in Africa."
He suggested the company relished the challenge to close the protection gap.
This is not only about combined ratios, commissions and reinsurance treaties. Ultimately this is about changing lives, about real people, about our societies and about our communities," Strebel said.
"I believe that we as an industry have a monumental task ahead of us on the continent," he added.
He showed an image of the African continent (see picture) to demonstrate the magnitude of the challenge, showing that most of Africa – aside from exceptions such Morocco, Namibia and South Africa – is spending less than 1% of GDP on insurance.
Cyclone Idai in Mozambique caused some $2bn of economic destruction in March this year, Strebel noted, showing images of Beira, devastated by the storm.
"But the insurance loss is only 7% of the economic loss. By current estimates the insured loss is just $140m," Strebel said.
"All the houses, the little businesses, they have no insurance," he said. "The risk is high that they are out of business and will never recover what they had. This is a very real risk and it's about people," he added.
The tools and solutions already exist to increase the share of insured assets within emerging economies, he emphasised.
The industry needs to partner up with the members of these ecosystems – insurers, distributors, governments, regulators, technology companies, reinsurers and consultants, he suggested.
Strebel's advice for successful microinsurance focused on speed of claims payments, building product awareness among new customers, as well as efficient and effective distribution channels.
Successes have included an Egyptian health insurance project, allowing fast claims payments necessary for people to, for example, pay for an urgent blood transfusion.
Trends towards digitalisation and automation would reduce the cost of claims management, making microinsurance projects more feasible, he suggested, while mobile phones' spread among Africa's far-flung rural communities helps distribution on the ground.
Products should have a fixed cost, to keep matters simple for customers who don't understand insurance, he suggested.
"You need volume, because the average amount per customer is very low, so a niche product with only 1000 customers is never going to work," Strebel said.
"Big numbers multiplied by small premium volume make it feasible."
He was joined on the panel by Omer Elamin, president, Orient Insurance, based in Dubai, and Echchihab Slimane, CEO of Morocco-based Wafa Assurance.
Orient has just opened a Saudi branch, Elamin said – one of the region's least insured markets, even by African levels. Elamin agreed that digitalisation is a major enabler for expansion for microinsurance products.
"To use a health insurance example in the UAE, we issued 13,00 policies online in a single day. Can you imagine if we didn't have the tools to do that, it would have been impossible for an army of people to issue so many policies," Elamin said.
Slimane explained that his own company had to contend with "strong resistance to product innovation" and gave advice to others.
"Insurers need to adapt themselves to this market and not the other way around. This is a criticism of insurers: you need to get off the beaten track and be innovative and creative with your products," he said.
"Clients need to trust insurers, but trust levels are not good. Bankers have a better trademark. Why? When you go to a bank you get credit immediately. We are an industry that sells promises. You pay a premium and you get a promise, and this promise needs to be kept," Slimane said.
Strebel emphasised taking advantage of existing distribution networks – particularly mobile banking in Africa.
"It takes time to build trust. We should take advantage of the ecosystems that people already have trust in. We need to tie into to these systems. One can be banking and micro-finance," he said.
Other examples are the health and telecoms, transportation and health sectors, Strebel suggested.
Contracts should be written in ways more intelligible to customers, Slimane stressed.
"We need to find a new way of writing contracts so that they are more intelligible, because customers are not impressed with insurers, and insurers need to listen to marketing," Slimane said.
"Exclusions create mistrust," Strebel said, something Slimane agreed with. Bancassurance-formed Wafa has enjoyed success with a funeral insurance product of the microinsurance type, he explained, sold through local postal banks.
"Microinsurance is a crucial topic we've studied for five years now," Slimane said.
"We created dedicated workgroup, but we excluded the actuaries because we wanted to simplify the products as much as possible. This meant removing the exclusions. There should be no exclusions because people do not understand. We need products easy to understand and easy to sell," he said.
The funeral cover product dispensed with questionnaires and charged a flat rate regardless of age.
"The clientele wouldn't understand why their younger neighbour paid a smaller premium," he said.
Payments need to be innovated as well, he emphasised, dispensing with papers that can take weeks to get and send in the initial days after a death in a family.
"When the death certificate is provided, the client immediately gets money there and then, with a single beneficiary to avoid heritage issues," he said.
The product was met with industry scepticism, he explained.
"We moved on this, and everybody said you're headed for the wall. The actuaries said we were crazy. Instead it's the most popular product in the whole network of postal bank network, even more so than savings," Slimane said.
"The biggest surprise is that the combined ratio for this product is 50%. The takeaway is you have to be daring, and that the customer base is there," he added.