New rules in South Korea mandated third-party cyber cover for SMEs, while Japan and India are also big buyers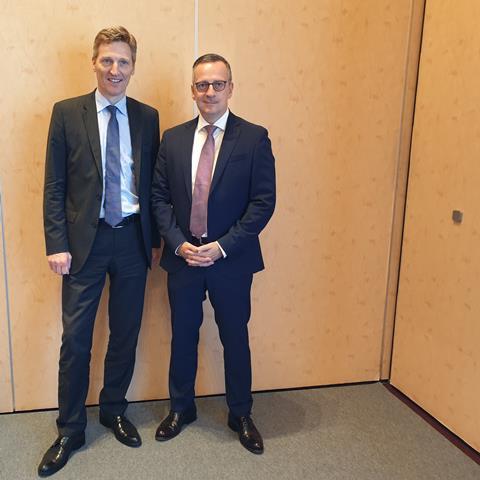 Take-up of cyber risk insurance is encouraging among Asia's small- and medium-sized enterprises (SMEs), led by the South Korean, Japanese and Indian markets, according to Roland Eckl chief executive for the Asia Pacific markets of Japan, Korea, India and Southeast Asia at Munich Re.
Eckl sees potential for Asian markets playing catchup on Europe and the US in buying cyber covers.
"However, it always depends on the market but also on the role that the government and regulator take within that," Eckl tells GR, speaking in Singapore recently.
New legislation in place in South Korea has mandated SME take up of third-party cyber insurance, points out Eckl (pictured, right, with fellow Asia Pacific CEO Tobias Farny, who oversees the region's other markets for Munich Re).
"The South Korean ministry of telecommunications issued a regulation which would force 90,000 SME companies by the end of this year to buy third-party cyber insurance," says Eckl.
While enforcing cover is one way of increasing insurance penetration, he believes the step will also play an important role in raising awareness to drive further take-up beyond compulsory covers.
"When a market buys third-party cyber insurance, there is likelihood that some of these SMEs will also buy first-party cyber insurance, because of the awareness created," he says.
Japan is the biggest cyber insurance market in the region for Munich Re, Eckl explains.
"Japan is not as strict as Korea in forcing the trend towards buying cyber risk protection, but the pickup rate in Japan for SMEs is also very high. Japan is, for us, the biggest cyber market in Asia," he says.
India is Munich Re's second-biggest market for cyber business in Asia, which he describes as a mix of commercial lines business for IT/FI companies, SMEs and personal lines business.
While the speed of the take-up is impressive, Eckl thinks Southeast Asian markets will take longer to embrace cyber coverage.
"We've launched a lot of initiatives, but I don't think a lot of SMEs in those markets will buy cyber insurance," he says.
"There it's more cyber personal lines, clicking into digital products, in markets such as Indonesia and Thailand," Eckl adds.