However, strong price increases coupled with higher investment income from rising interest rates will boost profitability
Strong price increases coupled with higher investment income from rising interest rates will support credit conditions in 2023 for the global reinsurance sector, in line with a stable outlook, reports Moody's Investor Services.
However, the sector's exposure to natural catastrophes remains inherently high, with risks amplified by climate change, which is making it more difficult for reinsurers to set prices and assess risks.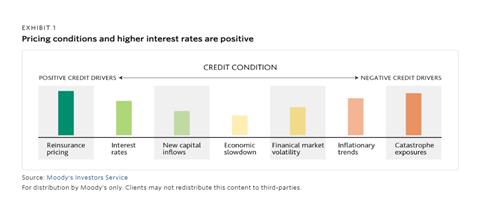 Hard market trends
Property reinsurance prices accelerated sharply at the January 2023 contract renewals, with specialty and casualty reinsurance prices also increasing. This will support further improvement in the sector's underwriting performance, notes the rating agency.
Price growth is driven by continued above-average catastrophe losses and concerns about inflation. Limited retrocessional capacity and modest inflows of new capital to the reinsurance sector are additional factors.
According to Gallagher Re, prices for loss-free property catastrophe accounts rose across all regions, with European and US accounts achieving gains of 25% to 40% and 25% to 50% respectively.
There were even larger price increases for accounts affected by catastrophe losses, which rose by between 45% and 100% in the US.
Climate change amplifies catastrophe risks
Moody's sounds a note of caution. Urbanisation and climate change have contributed to a recent rise in natural catastrophe losses, which can significantly affect reinsurers' earnings and capital, it points out.
Reinsurers are increasing their prices and altering policy terms and conditions to manage their exposures. They have also revised up their potential loss estimates from "secondary perils" – events such as floods - that are less costly but more frequent than major catastrophes such as hurricanes.
Nevertheless, climate change is challenging the sector's efforts to predict, assess and price for extreme weather events.