The City's supervisor will include physical and transition risk scenarios for climate change in its market-wide insurance stress tests this year, a Bank of England speech has revealed
Increased frequency of extreme weather events due to climate change is becoming part of the regulatory landscape for London market insurers.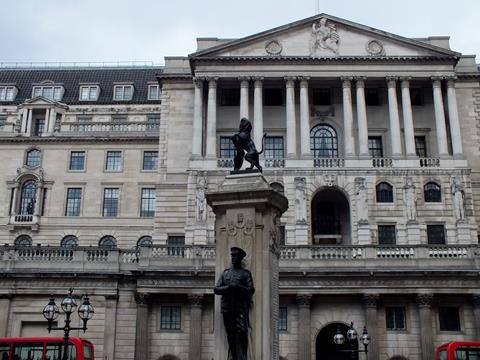 This year's market-wide insurance stress tests from the Prudential Regulation Authority (PRA) will include physical and transition risk scenarios for climate change, revealed Sarah Breeden, executive director for international banks supervision at the PRA.
We can already hear distant thunder, but we must not wait for the storm to hit," Breeden warned.
The financial risks from climate change manifest through physical risks and transition risks, she explained in the speech.
"Physical risks arise from damage to property, land and infrastructure from catastrophic weather-related events and broader climate trends such as heatwaves, hurricanes, droughts, floods and rising sea levels," said Breeden.
"These are not just risks for the future. Inflation-adjusted insurance losses from these events have increased fivefold in recent decades," Breeden continued.
Distinctive and far-reaching risks created by climate change "require a different approach if they are to be managed effectively", she explained.
"They will affect all agents in the economy, in all sectors and across all geographies. Their impact will likely be correlated, and non-linear. They will therefore occur on a much greater scale than other risks," Breeden said.
Stress tests
Breeden said from a stress test perspective, the regulator is turning to top-down scenario analysis and data driven narratives to anchor its forward-looking climate risk assessments.
"Using scenario analysis to paint a picture of the risks of continuing along the current climate trajectory creates a clear strategic imperative to act," she said.
Analysis of a disorderly transition – with sudden, unanticipated and discontinuous effects, perhaps prompted by the greater occurrence of extreme weather events – will demonstrate greater risk, Breeden suggested.
"In particular, do the actions of individual institutions in aggregate deliver the smooth climate pathway that their individual plans assume? And if they do not, what further action is required? In this way we can begin to stress the resiliency of financial system to the risks from climate change," she said.
"To that end, the Financial Policy Committee and the Prudential Regulation Committee here at the Bank of England will consider including climate related factors in a future Biennial Exploratory Scenario," Breeden continued.
"The PRA will also ask UK insurers, as part of its market-wide insurance stress tests this year, to consider how their businesses would be affected in different physical and transition risk scenarios," she said.
"Scenario analysis thus bridges the gap between our top-down and bottom-up understanding of risk. That supports different actions by financial firms, central banks and supervisors today, and ensures that everyone is steering a safer course to avoid that otherwise impending storm," Breeden added.
Green expectations
From a bottom-up perspective, she also outlined the UK supervisor's expectations.
"To that end, today, and following several months of consultation, we became the first regulator in the world to publish supervisory expectations that set out how the banks and insurance companies we regulate need to develop an enhanced approach to managing the financial risks from climate change.
These encompass governance, risk management, scenario analysis and disclosures, with the regulator expecting board-level strategic direction.
"We have deliberately not been prescriptive in our expectations, recognising that our understanding of this risk is immature but that it needs action now. Over the next year or so, as tools and expertise develop, we will however embed more granular requirements into our policy, to bring industry in line with our evolving expectations," Breeden said.
The Bank of England's newly established UK Climate Financial Risk Forum (CFRF), co-chaired by the PRA and its sister-supervisor the Financial Conduct Authority, would aim to promote standards of best practices, Breeden observed.
"The forum brings together a wide range of industry participants (banks, insurers, the LSE and asset managers) as well as regulators. We have established four workstreams – disclosure, risk management, scenario analysis and innovation – each of which will help us put greater detail on our map," she added.
Climate opportunity
Breeden's speech emphasised opportunities as well as risks, as financial institutions aim to support a greener future for the wider economy.
"The investment needs to finance this transition are significant – an estimated $90tn (almost five times US GDP) by 2030. This presents substantial opportunities for the financial sector to develop new products and services to mainstream green finance," she said.
There would be winners and losers, she suggested, highlighting the issue of stranded assets still within some insurers' investment portfolios.
"Studies have focused on the impact from the transition on the financial system through 'stranded assets' that turn out to be worth less than expected, probably zero in the case of unburnable carbon," said Breeden.
The estimated losses are large – $1tn-$4tn when considering fossil fuels alone, or up to $20tn when looking at a broader range of sectors," she added.