Firm underwriting pricing, strong investment results and low catastrophe claims have given non-life reinsurers' results a strong first half to 2019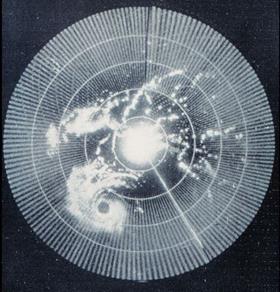 Fitch Ratings expects to see firming pricing in non-life reinsurance markets to continue into 2020, according to its review of reinsurers' results for the first half of this year.
This year's results at the halfway point have benefitted from firm underwriting pricing, strong investment results and low catastrophe claims.
But that picture has followed years of inadequate and softening rates against the risks taken, starkly highlighted by the heavy losses taken from big catastrophe claims in 2017 and 2018.
Taking a sample of 16 major reinsurers' financial results for the first six months of 2019, Fitch expects the hardening of rates to continue into January 2020 renewals, with reinsurers retaining more capital in the near term from more favourable pricing.
The first half results of this sample showed non-life reinsurance net written premiums grew 11.3%.
Low cat losses
Results revealed an aggregate reinsurance calendar year combined ratio of 94.6%, up slightly from 92.7% a year ago, as reinsurers were affected by adverse development on 2017 Hurricane Irma and 2018 Typhoon Jebi losses.
Catastrophe losses added some 2.8 percentage points to the reinsurance combined ratio for the group in this year's first six months, similar to the 2.4 points in the same period last year.
Natural catastrophe losses worldwide for reinsurers narrowed to some $15bn in this year's first half, down from $23bn in the same period of last year, and against a ten-year average of $31bn. This tallies with data from a recent report by the second biggest reinsurer globally, Swiss Re.
Swiss Re was the only reinsurer among Fitch's sample to report a reinsurance underwriting (slight) loss for the period, with a combined ratio of 100.5%, up from 92.9% in 2018's first six months, citing unfavourable prior year development and a higher large loss burden.
Meanwhile Bermudian reinsurer Everest Re posted the largest improvement in the reinsurance combined ratio in the group to 86.6%, down from a slightly loss making 100.1% in 2018.
Everest's 2018 result was dragged by the adverse development (so-called "loss creep") seen by many reinsurers from their 2017 cat claims arising from 2017's Atlantic hurricanes, particularly Hurricane Irma in Florida.
ILS slowdown
The rally in reinsurers' fortunes has been helped by the slowdown in the alternative reinsurance market of insurance linked securities (ILS), led by publicly available data of the catastrophe bond market.
Slower cat bond issuance has hindered the ILS market in 2019 "to one of the lowest levels seen in a decade", Fitch noted.
While ILS funds continue to attract new capital, "the pace is more measured than in 2018", the ratings agency said.
A capacity squeeze in the ILS-dominated retrocession market for reinsurers buying cover of their own, driven by the costliest successive years on record of catastrophe losses in 2017 and 2018, has pushed reinsurance rates higher at each subsequent renewal period in 2019.
Firming to continue?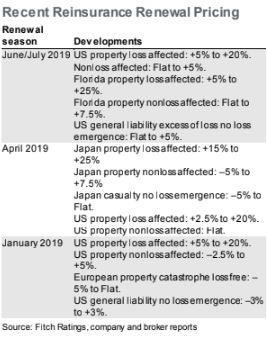 Fitch said it expected continued reinsurance rate increases into 2020 at the January renewals as the market remains disrupted and overall pricing remains inadequate and well below recent risk-adjusted levels.
"Even with the costliest successive years on record of catastrophe losses in 2017 and 2018, overall pricing remains inadequate and well below recent risk-adjusted levels," says Brian Schneider, senior director for reinsurance at Fitch.
Reinsurance pricing turned "decidedly positive" at the mid-year 2019 renewals, Fitch noted, following the "disappointing flat" rates at the January 2019 (see screen grab, above).
At the April 2019 renewal, Japan property rates were up a sizeable 15% to 25% for catastrophe loss hit accounts, according to Fitch.
Florida property catastrophe reinsurance pricing for loss-hit accounts at the June/July 2019 renewals was up significantly at 5% to 25%.
Even catastrophe loss-free accounts in Florida were generally up, although at a much lower flat to up 7.5%, Fitch observed.
"Three straight years of hurricane losses in the state, with loss creep from Hurricane Michael and Hurricane Irma, due in part to assignment of benefit issues that complicate claims resolution, forced reinsurers to take a harsher assessment of Florida risk that ultimately pushed extensive rate-firming," said the ratings agency.
Casualty rates also improved in 2019, though more modestly than in property, with reinsurers also benefiting from reductions in ceding commissions.
"Expected continued rate increases in the underlying primary insurance business, as several large players have reduced capacity, including Lloyds and AIG, should help to sustain increases in reinsurance rates, especially through proportional treaties," thought Fitch.
"The favourable pricing response partially reflects the Asia and Florida property catastrophe focus of the April and June/July renewals, respectively, each of which experienced significant recent losses," Fitch said.
"Furthermore, the surprising amount of adverse loss development following years of large second-half catastrophe losses in 2017 and 2018, served to reduce retrocessional capacity and provide momentum for rising rates in 2019," the ratings agency continued.
Fitch said it expects reinsurance rate increases to continue into 2020 because the market remains disrupted.
"This is particularly the case in property retrocession, as alternative reinsurance providers have retrenched as they deal with significant trapped capital from the 2017/2018 catastrophe event losses," the ratings firm added.