Rates have risen 3.9%, costs have fallen £100m, and Lloyd's is demonstrating discipline by withdrawing from unprofitable business, market analyst Jefferies has observed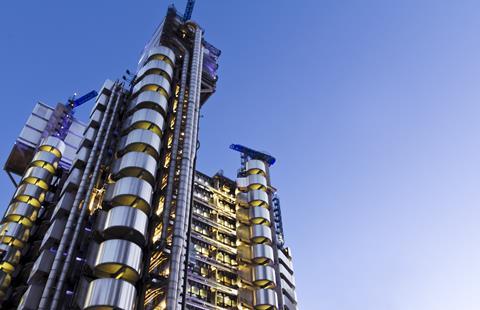 Reserve releases have reduced to a trickle in the Lloyd's market this year, while attritional losses have remained high in 2017 and 2018, according to market analyst Jefferies.
From an investor's perspective the drop in reserve releases gifted to shareholders was "disappointing but not unexpected given the soft market recently ended", the company's analysis said.
"On the back of years of deflation, it's unsurprising that reserve releases continue to fall," Jefferies said.
"Margins are relatively thin", Jefferies noted, with low claims from catastrophe events and other major loss activity in the first half of 2019 benefitted the Lloyd's market's half-year results.
A chart was included to show the decline reserve releases over time (see chart below).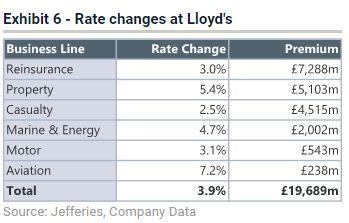 Crucially, according to Jefferies, rates are rising 3.9% (see chart, right), administrative costs have fallen some £100m, and Lloyd's is demonstrating discipline by withdrawing from unprofitable business.
Existing syndicates withdrew from underperforming business worth 6.5% of prior year premium, the report said.
"This makes for a refreshing change, as in previous years it appeared to us that far too many syndicates wrote for volume over profitability. Now that reserve releases are approaching zero, these syndicates have cut back on unprofitable business and rates are rising," Jefferies said.
"These increases have been exaggerated by the need for insurers to pass on the costs of lower reinvestment yields, leading us to expect underwriting margins to rise, compensating for lower investment margins.
"Overall Lloyd's risk-adjusted rates rose +3.9%, across all lines (from +2.5% to +7.2%), and we understand that rates continue to accelerate," the analyst added.
The Lloyd's market's expense ratio ran at 38.1% in the first half of 2019, still running 8-9 percentage points higher than its company market peers, Jefferies warned.
Jefferies welcomed the "Future at Lloyd's" plans, with more detail set for release on 30 September.
"As new Lloyd's CEO John Neal pointed out, it will be difficult for Lloyd's to grow and compete efficiently when ~40% of customer premiums are consumed by expenses," Jefferies said.
"Nevertheless, the market made remarkable improvements in 1H 2019, reducing the admin expense ratio 1.5% year-on-year, equal to £100m of cost cuts," the analysis added.
"Though noting the efforts as positive, Jefferies said it doubted costs could fall enough without tackling the 26.9% acquisition cost ratio, which the analyst emphasised is worth more than 70% of the 38.1% expense ratio.
Hiscox & Beazley lead
The report had warm words for Hiscox and Beazley, saying they "continue to lead the market", reiterating Jefferies' "buy" and "hold" recommendations on the re/insurers, respectively.
"In the context of the broader market, we were relieved (but not surprised) to note that the reserve release slowdown seen in the two listed Lloyd's insurers had been seen across the broader Lloyd's market," said Jefferies.
"We continue to believe that investors are spoilt for choice because, as management noted today, the top quartile at Lloyd's are among the best underwriters in the world," the briefing added.
The full analysis, including the charts above and others, is online here.