Chief economist briefing emphased the 'R' word(s): trade war is risk number one; recession in the US 35% likely; and resilience in the global economy is worse than before the financial crisis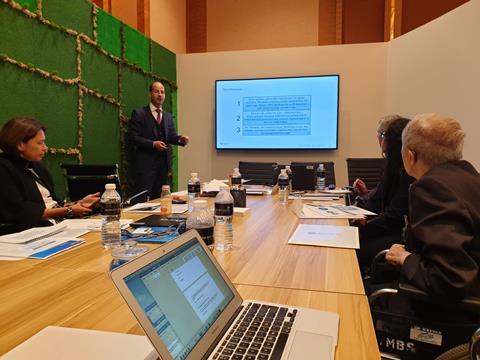 Economic conditions are set to worsen in 2020, putting greater onus on resilience, according to Jerome Haegeli, group chief economist at Swiss Re.
Three 'R' risks for 2019-2020 headlined the presentation: slowdown of the US economy leading to a 35% likelihood of recession; a 35% chance of an international trade war; and a 20% risk of central bankers making a damaging policy error in setting interest rates.
"Trade War is the number one risk," said Haegeli (pictured, standing).
Any more positive scenario requires a decline in US-China tariffs, which Haegeli sees as unlikely, particularly due to the underlying intellectual property issues at stake.
"There will be no Indian summer for the global economy," Haegeli warned, referencing the latest of Swiss Re's Sigma reports, focused on resilience.
"We rather think winter is arriving for the global economy. The best is behind us now, and growth is clearly slowing down, particularly in the US but also in the global economy," he said.
Haegeli painted a worrisome picture of the global economy, speaking at a media briefing staged at the close of this year's Singapore International Reinsurance Conference, taking place last week.
On the plus side, the US economy is better able to withstand shocks than most others, but Germany's economy is probably already in recession, he suggested.
Resilience was the other 'R' word emphasised, aside from trade risks, recession and interest rates. The protection gap has more than doubled since 2000, reaching $1.2trn by 2018, the Sigma report said.
"The word is less resilient than it was 10 years ago and in insurance markets, protection gaps are at record levels, being largest in Asia at $500bn," Haegeli said.
"Narrowing these is positive for our industry as well as macro stability," he added.
Asian countries are also ascending the resilience rankings. "In the next ten years I would expect the rankings of some of these countries to improve further," Haegeli speculated.
By closing existing protection gap, insurers can strengthen global financial resilience by more than $1trn annually, said the Sigma study, focused on the protection gap for natural catastrophe, mortality and health risks.
Asia has the highest protection gap, at $300bn, the report said; Worryingly, 96% of emerging Asia's natural catastrophe risk is uninsured, Haegeli pointed out.
Insurance has opportunities provided by the protection gap, Haegeli emphasised, while noting the industry's "luxury" to be a long-term investor, versus the risk of being short-sighted, for resilience risks such as climate change.
Haegeli pointed to the rise of debt that caused the global financial crisis, and which remains hard to get away from, with a $70trn public debt burden globally.
Central bankers lack ammunition to stimulate growth with interest rates low or close to negative "making the system much more complex to handle".
Policies have failed to emulate the growth trends before the financial crisis, with debt levels high, interest rates low, central bank activism buying back sovereign bonds,
"There's a clear signal the economy is less resilient, and we need to do something differently," Haegeli said.
A "helicopter drop" of government money would help, he suggested.
"If it's used for infrastructure, spending on green finance, then it's something we need," he said.
"We need to strengthen our industry, we need to strengthen private capital, and we need more insurance solutions," Haegeli added.