The US Midwest braces for more tornadoes as the mid-year renewals approach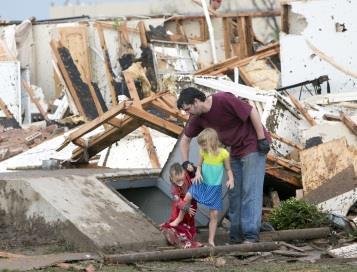 The 2013 tornado season may have started late but it looks set to continue the trend for increasingly expensive severe thunderstorm losses in the US.
Many of these thunderstorm-related claims – which can aggregate over the course of the year – hit cedant retentions but fail to trigger substantial reinsurance payouts.
As a result, demand for frequency covers at the bottom end of reinsurance programmes is expected to be a feature at the mid-year renewals.
Moore twister to cost $2bn to $6bn
The 2013 tornado season reached its peak with the devastating EF-5 tornado, which struck Moore, Oklahoma on Monday 20 May, killing 24 people and causing widespread destruction to homes and public buildings, including two elementary schools.
AIR estimates that the cost of rebuilding properties damaged by the tornado – which was at least one mile wide – will be between $2bn and $6bn.
A tornado in 1999, which followed a similar path to the Moore tornado, destroyed over 8,000 homes. The Bridge Creek-Moore tornado was an F5 storm that killed 41 people and resulted in $1bn of insured losses.
And the season is not yet over, amid warnings of further twisters and hail storms to come as highly unstable atmospheric conditions persist.
To date, the 2011 tornado season was the costliest single year on record for insurers. It featured tornadoes in Joplin, Missouri and Tuscaloosa, Alabama, which resulted in claims of $7bn and $7.5bn for a total of $14.5bn. In total, the "unparalleled" 2011 tornado season in the US caused insured catastrophe losses of over $25bn, according to Swiss Re Sigma.
Re-evaluating cat cover
The trend towards increasing catastrophe retentions in recent years, driven by the increase in rates following major catastrophes such as Hurricane Katrina, has meant that primary insurers have been on the hook for the majority of losses from severe weather events in the US.
But the increasing frequency and severity of thunderstorm-related claims – the category in which tornadoes fit – has made cedants re-evaluate the protection they purchase.
"Following the heavy losses in 2011, we're definitely seeing greater demand for aggregate protections, as well as significant interest in quota share structures," said PartnerRe standard lines senior vice president Christina Cronin.
"Clearly, clients are looking for reinsurance products that help manage concentrations and effectively implement the transfer of risk via our assumption of volatility. In some extreme cases, we have seen clients looking to lay off exposures within certain geographies or for specific perils only (eg tornado/hail)."

"The difficulty reinsurers face is how to properly price the tornado/hail exposure within our reinsurance products," she continued. "The random nature of tornadoes makes them difficult to model and vendor catastrophe models are generally considered to be less reliable for pricing the tornado peril than for other perils such as hurricane and earthquake."
From a non-traditional perspective, a growing number of catastrophe bonds have included cover for severe thunderstorms in the US among their list of perils.
This includes the $250m Residential Reinsurance 2013 issuance, sponsored by USAA. The cat bond uses an indemnity trigger and provides both per-occurrence protection and aggregate protection to USAA for personal lines losses over a four-year risk period from the US perils of hurricane, earthquake, severe thunderstorm, winter storm and California wildfire.