But Humberto and Gabrielle still relatively benign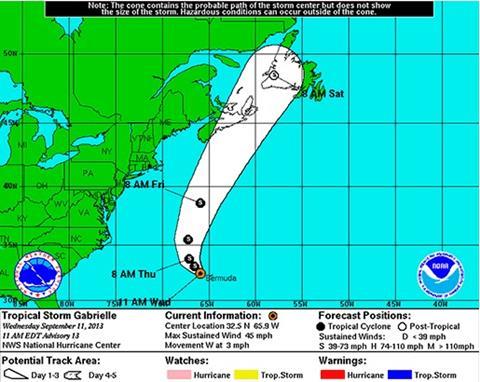 Tropical storm Humberto has become a category one hurricane, and is expected to strengthen further before weakening later in the week.
Humberto is still not expected to pose a serious threat to the US mainland, according to EQECAT.
As of 11am EDT on 11 September, Humberto was located about 340 miles west of the Cape Verde Islands. Maximum sustained winds were 80mph, and some modest strengthening is possible today and Thursday before it weakens later in the week.
Hurricane's progress
Hurricane Humberto is moving to the north at 9 mph, and this motion is expected to continue over the next few days. On Friday, Humberto will likely weaken to a tropical storm and begin taking a general westward track. Next week, the progress of Humberto will be monitored as it moves across the Atlantic.
Meanwhile, tropical storm Gabrielle made a close bypass of Bermuda on 10 September, with the storm approaching within 25 miles to the south-west of the island. No major damage has been reported from this event.
At the storm's closet approach to Bermuda, Gabrielle's maximum sustained winds were 60mph. At Commissioners Point on the southeastern end of the island, sustained winds of around 50mph were experienced, with some gusts to near 70mph.
Gabrielle is expected to stay well offshore of the US east coast.
At 11am EDT on 11 September, the center of Gabrielle was located about 65 miles west-northwest of Bermuda and has started moving west at 3mph after having been stationary for the past several hours. Maximum sustained winds have decreased to 45mph, and little change in strength is expected over the next several days.
Gabrielle is forecast to turn to the northwest later today, with a gradual turn to the north-northeast by Friday morning. On this forecast track, Gabrielle will continue to move away from Bermuda and stay well offshore of the US east coast.