Florence's centre struck the US east coast at Wrightsville Beach in North Carolina, with winds reaching 90mph (150kph)
Hurricane Florence has made its US landfall, striking the North Carolina coast, after the storm was downgraded from category 2 down to category 1 strength.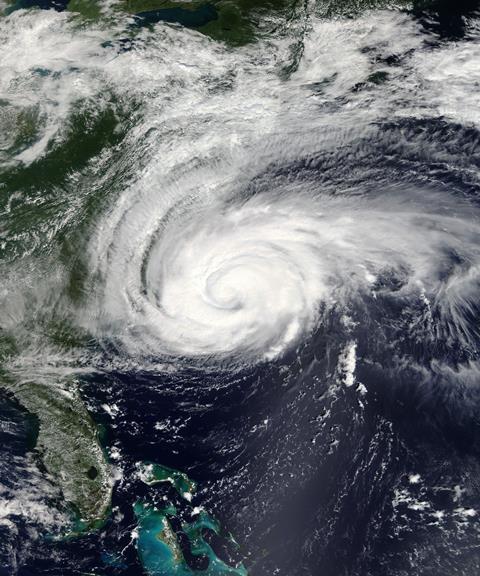 The eye of the storm came ashore at Wrightsville Beach in North Carolina.
Florida made landfall with winds of 90mph (150 km/h), according to US state authorities.
Wrightsville beach is just six miles from Wilmington, which based on 2017 data usually has a population of 119,000 people.
"Florence's broadening over the last 24 hours to the extent of tropical storm force winds is expected to cover the whole of the North Carolina coastline and extend into northern South Carolina," catastrophe risk modeller Risk Management Solutions (RMS) wrote in an update earlier today.
Evacuation warnings are in place for more than one million people in the wider area.
"This is an uninvited brute that just won't leave," Roy Cooper, governor of North Carolina, told US broadcaster NBC.
The storm would test "endurance, teamwork, common sense, and patience", Cooper added.
More than 60 people were rescued from a collapsing hotel in North Carolina overnight, BBC news reported.
Florence's downgrade came just hours before its landfall.
Yesterday morning at 0800 EDT the hurricane was 170 miles (275 km) east-southeast of Wilmington, with maximum sustained winds of 110 mph (175 km/h), the upper limit of category 2 storm.
"Florence could bring as much as 20 to 30 inches of rainfall to inland areas, with local areas forecast to receive up to 40 inches from South Carolina up to southwest Virginia," Peter Sousounis, director of meteorology, at cat modeller AIR Worldwide, commented via Twitter yesterday.
The previous day its estimated maximum wind speed was 124mph (199kph), "placing the storm squarely in the Category 3 range", RMS noted.
RMS included a chart (below) of previous hurricanes to have struck North Carolina, with loss values reconstructed for 2018.
"As we begin to reconstruct the wind and flood extents of Florence, we anticipate that Florence will inevitably have its own unique characteristics relative to past events," the cat risk modelled added.