Catastrophe risk modellers have been tracking the storm's behaviour and likely $6-10bn re/insurance losses, as Michael continues its path inland after crossing the Florida Panhandle
Hurricane Michael could be a $10bn storm, according to AIR Worldwide, in an insured loss estimate the catastrophe risk modeller put out yesterday.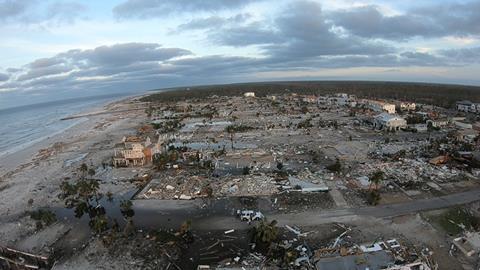 Michael struck Mexico Beach in the Florida Panhandle on October 10 with maximum sustained winds just shy of Category 5 intensity, before continuing inland into southeast Alabama and southwest Georgia, weakening to a tropical storm.
The death toll from Michael stands at 18, but media report more people are missing.
AIR's $6-10bn estimate for Michael's winds and storm surge tallies with a "close to $8bn" estimate put out by cat modelling platform, Karen Clark & Company (KCC).
At landfall hurricane-force winds extended outward up to 45 miles (75 km) from the centre of the system and tropical storm-force winds extended outward up to 175 miles (280 km), according to AIR.
"Michael reached peak intensity of 155 mph just before landfall, making Michael the strongest hurricane to impact the Florida Panhandle in recorded history," KCC noted.
Neither the AIR or KCC estimate includes losses sustained under the US government's National Flood Insurance Program.
Rival cat modeller Risk Management Solutions (RMS) described Michael – the fourteenth named storm of the 2018 North Atlantic hurricane season – as a "speed demon" in its approach to the US coast.
RMS noted Michael "continued to strengthen despite the presence of moderate wind shear".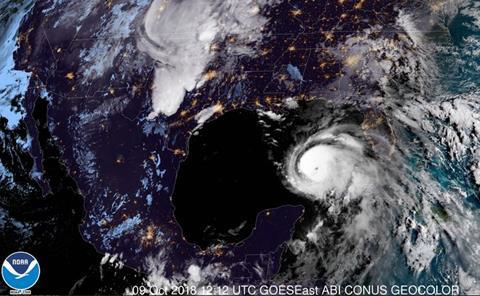 Cat modellers noted the hurricane's approach to Florida was fuelled by unseasonably high 84-degree sea surface temperatures in the Gulf of Mexico (pictured left, October 9) and unhindered by any prior landfall.
"Damage due to wind has caused roof and wall collapse, especially for cinderblock construction and even commercial properties," noted reinsurance broker Guy Carpenter's natural catastrophe blog.
"Some coastal areas of Mexico Beach have been scoured to the foundation by storm surge and wave battering," the reinsurance broker added.
JLT Re's Cat Activity Zone (Catz) blog noted "near total destruction" to the coastal town of Mexico Beach (pictured, top), which got the worst of the storm's right eyewall, severe wind and storm surge.
KCC estimated total damages from storm surge of $3.7bn, of which about 10% will be insured.
"While Michael was predominantly a wind event, storm surge impacts were devastating in specific areas such as Mexico Beach. Storm surge depths ranged from 9 to 14 feet along the most impacted area of the coast between Mexico Beach and Apalachee Bay," KCC said.
Of Mexico Beach, JLT Re's blog wrote: "A 10+ foot storm surge swept homes completely off their foundations and floated them inland in some cases, or simply battered them apart in other cases. There is near total devastation in this community of ~1100 homes, characteristic of category 4-5 damage."
Neighbouring Panama City beach was also badly hit as the storm's left eyewall moved onshore.
"Winds were strong enough to blow roofs off homes, apartment complexes and schools, and toss vehicles around. Coastal properties were swept off foundations from storm surge. Tree damage and associated infrastructure damage and power outages are extensive," Catz wrote.
As well as taking the title of the strongest hurricane ever to hit the panhandle, Michael is also the strongest storm to make US landfall since Hurricane Andrew in 1992, JLT Re added.
Although weakened inland, the storm's damage to property continues.
"While coastal communities in the Panhandle bore the brunt of severe winds and storm surge, impacts from Michael were widespread as the storm quickly moved inland across the Panhandle, bringing damaging winds and rains, and associated power outages with it," said JLT Re.