Wildfires will cost excess and surplus lines insurers, reinsurers and ILS investors, after the Camp Fire goes down as the worst wildfire in Californian history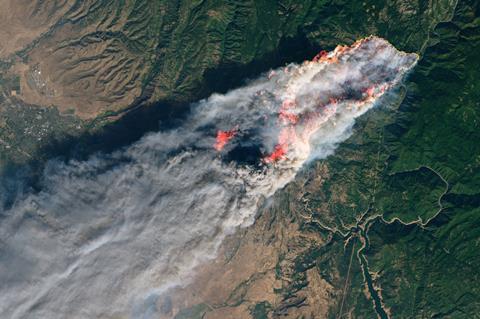 California's Camp Fire is reportedly 95% contained, according to Californian authorities.
The blaze has been the deadliest and most destructive wildfire in the US state's history (pictured via satellite).
Another conflagration, the Woolsey Fire, further south near Los Angeles, was declared fully contained on Wednesday.
Rainfall since Wednesday has helped towards finally extinguishing the wildfires, after six months of hot, dry and windy weather in the wildfire-prone US state. The insurance losses will take longer to calculate, as claims processes and litigation take their course.
"The Camp Fire has surpassed previous records to become both the deadliest and the most destructive single wildfire in California history," said catastrophe risk modeller AIR Worldwide.
The blaze has claimed at least 83 deaths, although more than 500 people remain missing, and almost 12,000 structures have been destroyed by the wildfire.
More than 48,000 homes, with a total reconstruction cost of more than $18bn, were at high to extreme risk of wildfire damage from the Camp and Woolsey fires, according to analytics firm CoreLogic.
Catastrophe risk modelling firm RMS has estimated insured losses from the Camp and Woolsey fires could reach between $9bn and $13bn.
California also experienced wildfires in July that generated $845m of direct-insured losses. This year's wildfire costs come after some $11.5bn of insured losses incurred in 2017, according to an estimate by German reinsurer Munich Re.
"The ongoing California wildfires are expected to become one of the costliest wildfire catastrophe-insured loss events ever for the property/casualty insurance industry," said Fitch Ratings. "Losses will likely negatively impact fourth-quarter earnings of companies with material property exposure in the state."
Fitch noted that the insurers most affected are likely to be large US-wide national carriers, which may contribute to 2018's wildfires being an earnings event rather than a ratings, capital or insolvency event.
"Fitch does not expect a major deterioration in financial strength if these companies incur losses roughly in proportion to their market shares," said the ratings agency. "We estimate that each $1bn of insured loss adds about 17 basis points to the industry's 2018 loss ratio based on Fitch's almost $600bn 2018 net earned premium forecast."
A costly hit for the excess and surplus market will also fan the flames of the losses to international re/insurers. Fitch noted that: "given the high catastrophe-prone risk and generally higher value of homes in these areas, a sizable portion of the coverage is provided by the excess and surplus market and may work to shift losses away from traditional large admitted insurers."
The Woolsey fire destroyed 1,500 structures and killed three people. AIR noted that the Woolsey Fire had destroyed several high-value celebrity homes in Malibu, as well as the "Western Town" portion of filming location Paramount Ranch.
Like July's wildfires, Fitch expects losses from the Camp and Woolsey fires to be "borne largely" by primary insurers.
"Exposure to the reinsurance industry will most likely transpire through aggregate catastrophe treaties in which the current wildfires add losses from primary cedants that have reported losses from other catastrophe events throughout the year," said the rating agency.
"The insurance lines of business most affected by this catastrophe are personal lines, particularly homeowners, but also automobile. Commercial property and business interruption claims could also be significant," Fitch added.
UPDATE: On November 30, AIR estimated that industry insured losses from the Woolsey Fire in Southern California will be at least $2.5bn.
UPDATE: On December 4, Chubb announced preliminary net loss estimates in the fourth quarter of 2018 attributable to the California wildfires of approximately $225m pre-tax, or $195m after tax, net of reinsurance protections, across its commercial and personal lines of property and casualty insurance and reinsurance business.
Cal Phoenix Re
The cause of the Camp Fire and its subsequent spread is under investigation.
However, Californian electrical utility firm Pacific Gas & Electric (PG&E) is already being sued by a group of survivors of the wildfire, claiming the fire was started by PG&E's infrastructure, blaming the utility for not adequately inspecting its power lines. PG&E recently turned to capital markets for re/insurance coverage.
Insurance-linked securities (ILS) investors bought into the Cal Phoenix Re (Series 2018-1) catastrophe bond could end up losers. The three-year cat bond provided $200m protection to PG&E, part of $1.4bn in coverage bought by the company after the July fires.
The cat bond included third-party wildfire liability for third-party damage caused by wildfires for which PG&E is found to be liable. Certain litigation risks related to the third-party wildfire related property damage.
AIR Worldwide did the risk modelling work for the Cal Phoenix Re cat bond. Cal Phoenix Re was used to collateralise a retrocessional reinsurance agreement with reinsurer Tokio Millennium Re, which had provided the reinsurance protection to Energy Insurance Mutual, which insured PG&E.
PG&E has said it expects to burn through its $1.4bn of protections bought, of which the cat bond is just a small part, noting the potential for "significant liability in excess of insurance coverage". Secondary market pricing on the Cal Phoenix Re cat bond has already collapsed, just three months after its issuance.
A California regulator has already said it is expanding a probe of PG&E's safety practices to explore the way the company is managed and run, including its potential breakup.
The utility's firms had plummeted but recovered slightly after a regulatory official told investors the agency does not want the utility to go into bankruptcy should it be found responsible for the wildfire.
"A utility filing bankruptcy is not in the best interest of consumers, but that decision is not the CPUC's," a California Public Utilities Commission spokeswoman told Reuters.
On November 8, 2018, PG&E had submitted an electric incident report to the California Public Utilities Commission, indicating that during that morning it had experienced an outage on its Caribou-Palermo 115 kV transmission line in Butte County.
"In the afternoon of November 8, PG&E observed by aerial patrol damage to a transmission tower on the Caribou-Palermo 115 kV Transmission line, approximately one mile north-east of the town of Pulga, in the area of the Camp Fire. This information is preliminary," PG&E said in its 8-K regulatory statement to the US Securities and Exchange Commission (SEC) on November 9.
"While the cause of the Camp Fire is still under investigation, if the utility's equipment is determined to be the cause, the utility could be subject to significant liability in excess of insurance coverage that would be expected to have a material impact on PG&E Corporation's and the Utility's financial condition, results of operations, liquidity, and cash flows," the utility firm added.