The ILS market needs to turn its guns on cyber risk, if the emerging threat is to be contained, Brian Duperreault told SIRC 2018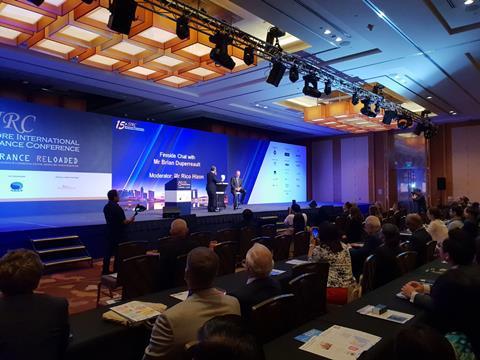 The sheer size of cyber risk and its potential for accumulation means the insurance-linked securities (ILS) market will be needed to contain the emerging risk, according to AIG boss Brian Duperreault.
Cyber risk is far too big for the traditional reinsurance sector alone to transfer, AIG's president and CEO warned.
"I hope we can get it [ILS] into the cyber space," Duperreault told a room packed with SIRC delegates on the event's opening day in Singapore.
"I don't see ILS as a threat; I see it as a great opportunity for us as risk managers. I hope we can find a way to make it work in the cyber space, because it's needed there," Duperreault added.
He addressed the issue of accumulation risk to cyber exposures. "Cyber-attacks are not limited to any one place in particular – it's a global exposure," said Duperreault.
He called the ILS market "a necessary ingredient to the solution" for cyber threats.
"The capital of the global reinsurance industry collectively cannot manage that risk. For cyber we need to spread risk over a broader base of capital," he added.
Duperreault welcomed news that Singapore was developing a cyber risk pool, announced before he took to the stage.
"What they're doing is leading the way, showing great leadership on a global scale," he said, adding that other countries should do more tackle such risks "head on".
Duperreault called cyber risk an interesting phenomenon. "It's the largest growing line of business in the industry. And yet it scares all of us half to death because it's so hard to figure out," AIG's CEO said.
Comparing cyber risk to well-modelled natural catastrophe risks, he said risk modellers needed to turn their attention to cyber threats.
"We in our industry talk about non-modelled risk. Working on the model is essential," Duperreault said.
The risk is harder to fathom because unlike natural catastrophes, Duperreault emphasised, manmade cyber perils are constantly evolving with the imagination of hackers and malware makers.
"The wind doesn't have some R&D unit figuring out how to get into the house a different way because we've closed it up," Duperreault joked, before he left the stage.