Half-baked ideas about disruption are not helpful, noted a panel at GR Innovation & Insurtech 2018 in Bermuda
Talk about disruption is all too often poorly thought through, a former chief innovation officer, told GR Innovation & Insurtech 2018.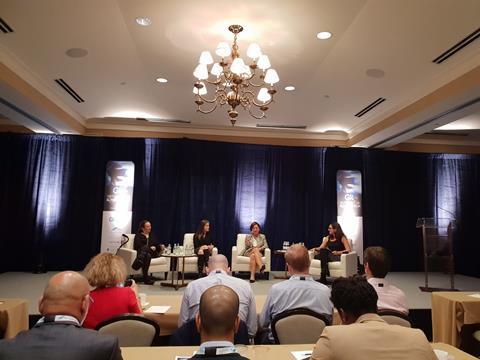 Too much focus on what can be done, without asking why, is a common pitfall of innovation efforts, according to Karen Morris, a strategic advisor specialising in innovation strategy and execution, and an ex chief innovation officer at AIG.
"There's so much excitement in throwing around the topic of disruptive innovation. It's like the problem of the guy who read half the book on a plane," said Morris.
Pina Albo, CEO of Hamilton Insurance Group, hosted an "inspiration injection" panel (pictured) at the Bermuda event this week.
Much of the talk focused on working with insurtech startups.
"We're looking for companies developing something people want," said Jacqueline Lesage Krause, managing director of Munich Re and HSB Ventures.
She suggested it was not a coincidence that a plethora of insurance startups are setting up as managing general agents (MGAs).
"Being an MGA is just the go-to market strategy. They've figured out where they need to sit to have the most control of their future and have the least capital at risk at the same time," she said.
Krause had some advice for partnering with venture capital (VC) funded startups.
"Understand their perspective, use the word collaboration a lot, and understand their timeframe," she said.
Most VC funding is dependent on seeing results in 12-18 months, she warned, and if a start-up firm is not focused on such an investor-set timetable, they may not be the best match anyway.
"Whatever they're doing with you needs to be provable in that timeframe. If you're taking 9 months to go through procurement, that is not helpful," she added.
Culture was a focus of the panel debate.
Ann Petley-Jones, founder and owner of PetaData, said: "If you're too timid, you'll get left behind. If you're too aggressive, and imagine something that is not there, you will fail."
Krause said: "Corporate innovation is about survival and speed. There's a train coming: you can get run over by it; you can move out of its way; you can get on it the train; you can even drive it."
Morris noted that teams, not individuals, are the crucial unit of innovation.
Too many disparate ideas can be a bad thing, the panel agreed, and most failures occur before their application. Questions can be more important than answers, Morris suggested.
"There are many genres of innovation," said Morris. "Disrupt what? Why? There are very careful choices to make about the nature of the innovation play you make.
"What are you doing it for? We get really excited about the 'what' questions, but the 'why' question is more important," she continued.
Companies need to ask themselves what they are trying to change, she said, focusing on outcomes.
"Nobody wants your goods and services – they want an outcome," Morris added.