Wind damage arising from Storm Eunice ranks her as the 'costliest European windstorm of the last 15 years'
The global insured losses arising from Storms Dudley and Eunice, which hit the UK in February 2022, are expected to reach between €3bn (£2.5bn) and €4.5bn (£3.7bn), according to risk modelling firm RMS.
Losses from UK claims will amount to around 15% of this total. Insured losses from Germany will contribute approximately 40% to the overall loss amount, while the Netherlands will account for around 20% of total insured losses.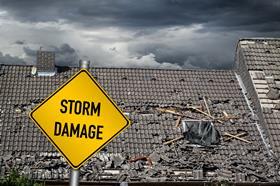 RMS predicts that Storm Eunice alone will add between €2.5bn and €3.5bn to the two February storms' overall insured loss total, making it the most damaging European windstorm event since Storm Kyrill in 2007.
RMS' insured losses estimate encompasses wind-related losses only, based on predicted damage to property, automobiles, agriculture and direct business interruption. The estimate also considers market dynamics and the continued economic effects from the Covid-19 pandemic, which are likely to increase loss amounts.
The firm's calculations additionally take into account post-event loss amplification and possible claims leakage arising from claims payments made as a result of Storm Franklin, which followed hot on the heels of Storm Eunice earlier this month.
Michèle Lai, senior product manager for Europe climate models at RMS, said: "Windstorm Eunice will likely be the costliest European windstorm of the last 15 years, following the path of Kyrill, however it will end up causing less damage in Germany than its big brother.
"Although the last two decades have mostly spared us from history-making windstorms like Daria (1990) or Lothar (1999), Windstorms Dudley and Eunice remind us how destructive these events can be and highlight the importance of storm clustering, the close succession of multiple storms following similar trajectories, in Europe."