Claims data from affected insurers shows that Germany was the country most impacted
The initial insured property market loss for extratropical cyclone Ciara, which hit the UK last month, is estimated at €1.5bn (£1.39bn) according to claims data collated by Perils, an independent Zurich-based organisation which provides industry-wide catastrophe insurance data.
Also known as Sabine or Elsa, the storm impacted the British Isles, as well as western and central Europe, between 9 and 11 February 2020.
Perils's report, which is based on claims data from affected insurance companies, also found that the majority of insurance losses were reported in Germany, followed by the Benelux countries, France, the UK, Switzerland, Austria and Denmark.
Despite having been hit by very strong winds, the Republic of Ireland suffered comparably minor insurance losses, as was the case for Norway and Sweden.
The loss to the insurance industry from Ciara represents the largest loss from a European windstorm since Friederike, also known as David, in January 2018.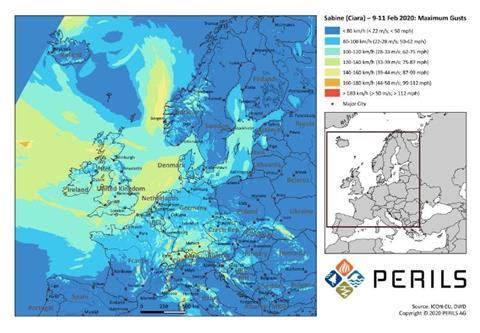 Damaging winter storm
Ciara was pipped as a potentially damaging winter storm from early February – the UK Met Office, for example, issued a warning on 4 February.
The storm was considered "particularly noteworthy", said Perils, because of the exceptionally wide area that was impacted by its wind gusts. Furthermore, the duration of the storm was unusual, with some countries experiencing windstorm conditions for up to 48 hours.
In total, Perils estimated that approximately 250 million people were exposed to wind gusts in excess of 80 km/h at some point during the progression of the storm, while 14 people across Europe died as a result of Ciara.
However, Perils said that even though these figures are material, they are not unusual – based on the last 40 years of European windstorm history, the firm predicted that these levels can be reached or exceeded once every three years.