Reeves on meeting Rupert Murdoch, what makes a good boss and lessons learnt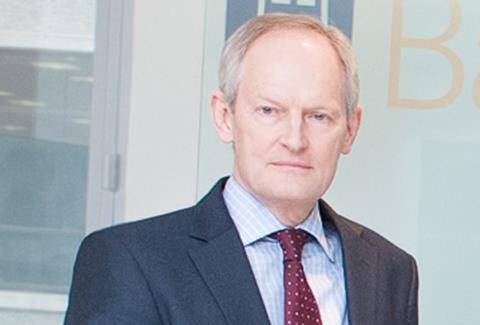 DESCRIBE YOUR FIRST DAY IN THE INSURANCE INDUSTRY.
I was the director of a very traditional life company called Royal Heritage. It specialised in smaller products for people on lower incomes. My world hasn't always been about big corporate risks. It was about people paying premiums by installments, and limited ambitions about their life and pension products. Our job was to help them get to those targets. It was fascinating. Sometimes people couldn't afford to pay, and you had to make a very personal service. It was very unlike anything like we have in the London market, which is all about big international risks in niche areas. So I started my insurance career with the immediate customer and immediate problems in the community. That was fascinating.
WHAT DO YOU KNOW NOW THAT YOU WISH YOU HAD KNOWN WHEN YOU STARTED IN THE INSURANCE INDUSTRY?
I started late in life. I was in newspapers and television before I came here. I joined the insurance market in 1995 on the life side. In those days, the bigger firms had powerful life components. I think that works tremendously well as a structure to get you through the cycle. I think that model will be revisited, and life and P&C will be brought together in a much more co-ordinated fashion.
WHO DO YOU ADMIRE MOST IN THE INDUSTRY?
My hero is Ajit Jain, of Berkshire Hathaway. I've known Ajit for a very long time. He is, on some measures, the most powerful reinsurer in the world, but he always has time for the small guy. He will always listen to what you say and try to help you. For me, he's a guy that has never ever lost sight of the customer.
WHAT ARE SOME OF THE BIG CHALLENGES FACING THE INDUSTRY AT THE MOMENT?
The big challenge for the reinsurance segment is that there is a lot of capital trying to come into the market to realise returns that they can't get in more traditional investment sectors. Interest rates are behind that, government policy is behind that. So a lot of capital is coming from well-funded organisations and trying to shove the traditional reinsurer aside. We've got to work with that rather than pretend it's not there. I think we have to educate that capital and deploy it more carefully, rather than just throwing capital at a problem. That might solve some short term issues. But longer term, capital needs to be well-informed and its risk appetite must be aligned with the risk appetite of the underlying customer.
That process of education, which involves a lot of data and software and science, hasn't yet happened. That's where we have a job to do, to show how capital can be intelligently deployed.
IF YOU COULD ONLY INSURE ONE POSSESSION, WHAT WOULD IT BE?
It would be on the life side. My earning potential over the rest of my career, however limited that might be.
WHAT DO YOU THINK MAKES A GOOD CHIEF EXECUTIVE?
Chief executives have a lifespan of four to five years, so you want to make sure you're not one of the ones that doesn't make it to even the average. What I have to do is keep thinking about the next steps for our organisation. You can't say "I've done it, I'm there," you have to keep looking. And, aged 59, I'm still looking.
DESCRIBE YOUR MOST MEMORABLE MEETING.
I would say first meeting Rupert Murdoch. I was very nervous. I knew he was a giant in the newspaper industry. It was my job to brief him on the financial position of one of his smaller companies. I came away from that meeting realising what great leadership is. He took both time and trouble and didn't try to dominate. He succeeded in getting from me two things. One is the information in my possession, and the other is my respect for him over a whole lifetime. I would still say that he is a widely misunderstood person. If you know the man, and his method of dealing with people, you take a different view.
It was really scary. But then I got to know the man, and we worked on a project to move our papers out of Fleet Street and into Wapping. He led that project personally. We saw him every day, close up. He didn't change his style, he didn't make it difficult, he just stuck to his principles.