The new chief executive of BMS has had a varied insurance career in differing guises and harbours high ambitions for his business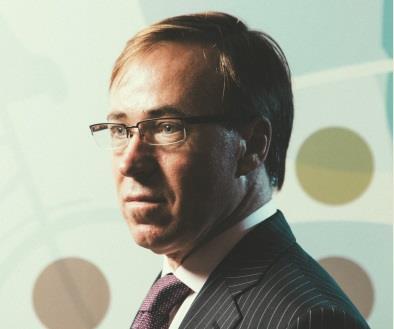 You get the impression that Dane Douetil rather enjoyed his contractually enforced year of absence from the (re)insurance industry following his 2011 departure from Brit.
His exploits included fishing and trekking in Argentina, as well as indulging in his passion of watching cricket around the world.
He says: "I had an enormous amount of fun. I did a lot of stuff on my bucket list. I couldn't work out how I'd ever had time to do a job."
Even so, Douetil was also keen to get back to an industry he says he loves. His initial low-key return roughly a year ago saw him advising private equity house Anacap on insurance acquisitions. This culminated in the firm backing UK commercial insurance broker Simply Business's management buy-out.
Sitting on the sidelines was not enough, however, and Douetil was keen to help build and run a company the way he had in his six years as Brit's group chief executive.
He says: "I'm far too young to be a non-executive or chairman or anything else like that. I have lots of energy and quite a bit of experience."
This led him to London-based (re)insurance broker BMS, which was looking for a new chief executive after Carl Beardmore's departure in April. When GR caught up with In his first big press interview since returning to the industry Douetil explains what attracted him to BMS, what he is going to do now he is there and why he may be able to help BMS's ambitions to form a Lloyd's syndicate. He also discusses the recent loss of business to rival TigerRisk, and what really happened when he left Brit six months after its £888m ($1.4bn) private equity takeover.
Good all-rounder
While Douetil is best known for his 13-year stretch at Brit, culminating in six years as group chief executive, he has had a varied insurance career. This included working as a political risk broker for Willis and setting up his own broker (see The Man).
This combination of broking and underwriting experience was part of the attraction of BMS for Douetil. While it was once a traditional Lloyd's/London market reinsurance broker, and, as Douetil puts it, going "sideways", BMS expanded its horizons under previous chief executive Beardmore's stewardship to include wholesale broking and underwriting.
Its wholesale broking business has been growing under Nick Cook, who joined the firm in October 2010 from rival broker Glencairn. Wholesale business made up 16% of BMS's group revenues in 2012.
BMS launched underwriting agency Pioneer in 2011 after failing to get approval to set up a Lloyd's syndicate. Pioneer now draws its capacity from more than 20 insurers, has terms of business agreements with about 40 brokers, and made up 8% of group revenues in 2012. It only derives 25% of its business from BMS.
BMS's financial results, by some measures, have been solid. Underlying earnings before interest, tax, depreciation and amortisation (EBITDA) was £9.1m ($14.6m), up on the £7.8m it reported in 2011. Revenue increased 20% to £64m (2011: £52.9m).
Reviewing the business
The results may be good, but there is still plenty on the to-do list.Douetil is conducting a review of the business, which includes benchmarking BMS's metrics such as profit margins against its competitors.
Despite the upward EBITDA trend, Douetil is not satisfied with BMS's statutory results. Largely because of investment the company has been making, including hiring people and teams, growing and restructuring its US operations and developing Pioneer, BMS made a 2012 loss before tax of £1m. However, this was an improvement on the £2.1m loss reported in 2011.
Douetil says: "We need to capitalise on the investment we made. Although the EBITDA has been growing, the underlying profit hasn't, and we need to get back into a situation where we can create what I call real profit."
He adds: "EBITDA is fine as a metric if you are valuing the business, but we have no intention of selling the business. We need to generate, and will start now to generate, the cash returns to be able to pay back the investment the shareholders have made."
He also wants the company to be much bigger. For the firm to compete, invest and comply with regulatory requirements it needs to be bringing in more than £100m of revenue.
Douetil's mid-term aims are even higher. He estimates that 2013 revenues will be between £60m and £70m, but adds: "I would be disappointed that the group in five years' time won't be several multiples of that."
The plan seems ambitious, but Douetil thinks he and BMS have what it takes. He notes his own track record, in which he built start-up broker Special Risk Services from scratch to £18m of brokerage in four years, and took Brit from premium income of just £11.5m to £1.7bn in 10 years.
He also says BMS itself is "full of potential". One source of growth is the wholesale broking business.
Lloyd's ambitions
Another area for growth is Pioneer, run by Darren Doherty. Despite only opening its doors for business in 2011, the underwriting agency is expected to write £100m of gross written premium for its capacity providers in 2013.
Pioneer recently hired former Lloyd's chairman Max Taylor, partly because its size now requires it to have stronger governance and greater separation from its parent.
The presence of Taylor (the former boss of one of the largest underwriting operations in Lloyd's) as chairman could help BMS fulfil its long-held desire to set up its own Lloyd's syndicate under the Pioneer name.
Douetil believes Pioneer's recent prowess as an underwriting agency will also stand it in good stead for Lloyd's approval.
Organic growth and expansion through hiring disaffected teams and individuals from rival brokers is wired into the BMS strategy.
The broker will also consider acquisitions, but only if the right opportunity presents itself. Douetil says: "If you make acquisition a strategic priority, it can end up, if you are not careful, driving you to do deals either at the wrong time or with the wrong structure or the wrong price."
Challenges ahead
While there is plenty of opportunity for growth, the path will not be easy. Just as BMS is looking out to take business from larger players, ambitious rivals are looking to do the same to BMS.
The company was dealt a blow in March when long-serving BMS executive Hugo Crawley left his post as chairman to join rival broker TigerRisk. Not only did BMS lose Crawley's expertise, business started to follow him out of the door. TigerRisk has subsequently won two BMS reinsurance clients in Florida: Ocean Harbor Insurance Group and one from the United Property & Casualty Insurance Company.
Douetil says: "I am sure we will compete with TigerRisk for some of that business [handled by Crawley]."
But he adds: "We will continue to grow in 2013, so net-net, this company is still growing. And we will continue to grow in 2014."
Competitors may be lining up to take BMS's business, but Douetil is no pushover, as Brit's private equity buyers, Apollo and CVC, discovered.
It appears discussions between the two sides got rather heated at times. Douetil says: "My role as group chief executive was to get the maximum possible price for our shareholders. That meant a pretty robust negotiation with first Apollo and then CVC and then both together over a long period of time.
"I didn't think they would want me to stay on a day after that, personally. They were buying the business; I'm sure they had their own views."
However, despite comments on his departure that he had left amid disagreements with the new owners, Douetil points out that the private equity houses asked him to stay during Brit's six-month transition from a publicly listed to privately owned company. The Apollo/CVC deal was concluded in March 2011, yet Douetil did not depart until 27 October that year.
Douetil admits he has "mixed emotions" about his departure from Brit, but insists bitterness and regret are not among them.
He says: "I really enjoyed my time there. I think it was the right time for both sides to move on." He jokes: "The only bit I miss is that I don't get so many cricket invitations as I used to."
Also, without the departure from Brit Douetil would not have had the opportunity to step away from the industry and return with plenty of energy to build and run a business.
With much to keep him occupied in developing BMS, it may be a while before Douetil gets another break.
The man
It is surprising Dane Douetil ended up in insurance at all. By the time he reached university age, he was already tired of the industry. His father worked for Lloyd's broker Clarkson, which ultimately became part of Aon. His uncle ran the Lloyd's Names agency at broker Sedgwick, now part of Marsh. And his maternal great grandfather founded UK insurer Eagle Star, now part of Zurich.
Douetil says: "I didn't know what I wanted to do, but I knew I didn't want to do insurance."
However, as part of his commerce degree he wrote a thesis on political risk insurance and spent time with the co-founder of political risk consultancy Control Risks Julian Radcliffe, and Cassidy Davis Syndicate Management co-founder Tony Cassidy.
The resulting fascination with the subject led Douetil to take up a job as a political risk broker with Willis, Faber & Dumas in 1982.
Since then, he hasn't looked back. He set up a broker, Special Risk Services, with a group of colleagues in 1989, aged just 28. The company was then sold in 1995 to Minet, now part of Aon.
Douetil joined Brit in 1998, becoming chief executive of Brit Syndicates in 2002 and group chief executive in 2005.
In August 2013, Douetil was appointed chief executive of BMS Associates, the parent company of BMS Group, its UK broking entity; of BMS Intermediaries, its US broking arm; and of BMS Underwriting, its underwriting platform.