Howden believes in rapid growth, and is confident he can achieve it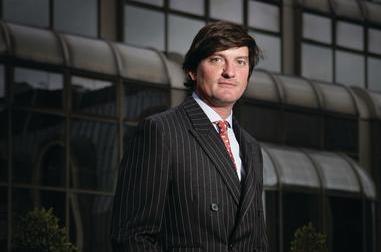 When a fledgling Hyperion completed its first year with a few thousand pounds of revenue under its belt, broking contemporaries were quick to put founder and chief executive David Howden down.
He recalls: "A broker said: 'David, it's easy in your first year to grow because you're tiny. You won't keep it up.'"
Almost 20 years on, Hyperion is not so tiny any more. It employs 1,800 people in 79 offices across 33 countries. And it brought in revenue of £166.6m in the year ended 30 September 2013.
Yet it is still growing rapidly. The 2013 revenue was a 51% increase over 2012's £111m, and revenue has grown at a compound rate of 35% over the past five years.
Profitability has also increased. Hyperion's 2013 earnings before interest, tax, depreciation and amortisation of £35.9m was up 74% on 2012's £20.6m.
Not surprisingly, Howden is dismissive of any suggestion that Hyperion cannot continue its current growth trajectory.
He says: "What's does can't mean? I'm not a big believer in can't.
"We will have years with faster growth and years with slower growth depending on where we are and what we're doing, but generally we expect to grow at a much faster rate that would be the market norm."
But what is the secret of this rapid growth to date, and what makes Howden so confident that he can keep it up?
Turning point
As those who have met him will attest, Howden is a lively, animated character who talks rapidly and regularly takes opportunities for jokes and anecdotes during his conversation with GR.
It is easy to see why he is so enthusiastic. The company is still benefiting from its landmark 2012 acquisition of UK broker Windsor, which added to the group's retail broking firepower and helped boost UK turnover by 108% in 2013.
London market broking supremo Adrian Colosso, best known for running Heath Lambert before its sale to Arthur J Gallagher in 2011, is now in charge of Hyperion's broking division, Howden Broking Group, after serving as its chairman since May 2013.
Previous Howden Broking Group chief executive Tim Coles is now charged with expanding the broker's international business.
And if all that were not enough to be excited about, in March last year, Hyperion completed a deal that will underpin its future development.
Private equity house General Atlantic bought 30% of Hyperion, acquiring the 22.8% owned by private equity house 3i since 2008 and the remainder from venture capitalist BP Marsh, which has held a stake in Hyperion since its formation in 1994.
General Atlantic has more financial muscle than the old backers, and has experience of helping companies expand globally. It is also is happy to hold stakes in publicly-listed companies, which Hyperion plans to be.
"They are a game-changing partner," Howden says. "They are a very global business in their outlook. They have very strong investments. They have a lot of cash if we need it."
While Howden is grateful to his old backers, he feels they would have held Hyperion's development back. He says: "3i were good at a lot of things. They helped us professionalise certain parts of the business. But 2008 was crash time and they never really had the firepower going forward. To some extent we never really got the best out of 3i because of bad timing."
Also, as private equity firms typically use an initial public offering (IPO ) as a way of exiting investments, it was unclear whether 3i would put pressure on Hyperion to float on the stock market before it was ready to do so.
Howden says: "This has completely changed now with General Atlantic coming in. They have the same ambitions as us. They share the same view that we should be a public company one day, but when it is right for the group. In the meantime, they can help us either with funding from themselves or the capital markets."
Hyperion has already started to see the benefit of General Atlantic's stake purchase.
The company helped the broking group find its new chief information officer David Jack, who previously worked for online train ticket seller Thetrainline.com.
The private equity firm advised Hyperion on its debt raising in November last year, in which it took out a $250m term loan to pay off existing debt and fund its acquisition of US underwriting agency PGI. General also advised on the PGI deal itself.
Howden says General Atlantic has also introduced him to potential acquisition target, which he described as "a big, lovely operation that they know well". He adds: "They can open doors."
Should the company need more funding for expansion – which it almost certainly will – its new partner will be there.
Howden says: "We are very active so we have a number of other deals, some of which are quite a long way down the line and will almost certainly require more funding for them as and when they come up."
The big push
Hyperion has been no slouch in expanding overseas through acquisition in recent years. In 2013 alone, in addition to its purchase of PGI in the US, the group made acquisitions in Israel, Norway, and Finland.
It is keen to expand further in Latin America, making its first foray into the Chilean market in July 2013 by buying 25% of Chilean broker Patagonia Corredores de Seguros. It made a further push into Latin America in February this year by buying two Colombian brokers: Wacolda and Proseguros. Colombia is the third-largest insurance market in Latin America.
With the backing of General Atlantic and debt financing now secured, Hyperion will continue its expansion in Latin America.
Howden is reluctant to name the companies Hyperion is targeting, but indicates that more deals are on the way soon in the region. He says: "This is going to be a year where we are having a big push in Latin America so you will see more news from us there without any doubt at all."
Asia is also a strong area of interest for Hyperion. Howden says: "We have just employed an extremely high-powered senior management team in Asia who will be looking at opportunities there. There are certain countries where we believe we would like to build some more scale."
He adds that Hyperion will focus on where high growth is more likely, which economists suggest are countries such as Indonesia, India, Turkey and Poland.
Hard work
Howden contends that Hyperion's ability to push into emerging markets, rather than simply talk about it, is one of the features that will allow the company to grow faster than its peers.
He says: "We don't have any better crystal ball than anyone else but what we sometimes have is a better ability to act on what we are seeing.
"A lot of people sit around and pontificate about how they would like to be in emerging markets but that doesn't help you. What you have got to do is actually find a way of getting into them and striking deals with people. You will see us enacting on strategy in those markets. "
He adds: "A journalist asked me about how we had managed to internationalise the business. And the answer is: with bloody great difficulty. It is now easy to look back and say we've got offices in Colombia and Asia, but it is a lot of work."
That is not to say Hyperion is neglecting more established insurance markets. In its home market of the UK, for example, Howden Broking Group announced plans to entered the employee benefits space in August 2013 and launched a private clients division on 29 November the same year.
The company will not try to compete for run-of-the-mill business in markets such as the UK, but will instead try to find profitable niches.
Howden sees particular opportunities in the UK for its managing general agency (MGA), DUAL. He says: "The UK market is a big MGA market but it is going to get bigger. You can see the respectability of MGAs growing.
"In the US it is a $40bn market and it is very common for even really well-known insurers to use MGAs to distribute products. You will see that more and more in the UK, as insurers look for alternative distribution networks."
Hyperion will look to expand in the UK and London markets by hiring teams of people and individuals. Howden says the company is looking for product specialists who are keen to have the products they design distributed globally.
Joined-up thinking
A further key to Hyperion's growth, Howden contends, is the company's business model. With its retail broking, wholesale broking and MGA operations, it has access to all parts of the insurance distribution chain.
And although Hyperion is spread around the globe, he believes the company can pull together as one to fulfil its clients' needs. This allows the company to compete with much larger rivals.
Howden says: "We have spent a huge amount of time talking about how w work together. If you look at our wholesale hubs in Singapore, Miami or London they are always linked up with our operations elsewhere.
"We may be smaller than a competitor but the client is getting all of the knowledge we have got. The more you can bring the tentacles of the business together and really deliver all that knowledge and expertise to a client, the easier it is to compete, whether your competitors are 10 times your size or 100 times your size."
More to do
While Hyperion is now much bigger than it was 20 years ago, it is still a tiny fraction of the size of global big-hitters Aon, Marsh and Willis, which each have annual broking revenues of more than $3bn.
There is therefore still much more for Hyperion to do as it continues on its quest for growth. If his plans come off, David Howden and Hyperion could continue confounding market expectations for the next 20 years.
The Man
David Howden started out in broking in 1980 as a marine broker at Alexander Howden, the company founded by his great, great grandfather in 1861.
He says: "I broke my back playing rugby and I couldn't go to university and my mother said, if you are not going to university you are going to get a job. I was 16 years old and I didn't know what to do.
"Alexander Howden was no longer connected with us but it was a place for an interview. My mother sent me for an interview and I got the job. So I started working because I needed the money."
Howden wanted to expand his horizons by getting into non-marine broking, so joined Lloyd's broker Nelson, Hurst and Marsh. There, he worked for Brian Marsh, who would later fund the start-up of Hyperion in 1994 though his private equity firm BP Marsh.
He has remained in broking, he says, because it is "a bloody great business".
He adds: "Everyone needs insurance and there is now at least a few of us in insurance starting to hold our heads up high and say: of course you'd rather be in broking than banking. Nothing happens without insurance. It is a people business. It is a service business. I love it and have never regretted a moment of it."
Howden endures a gruelling commute every day from his country home south of Oxfordshire into London. To do so, he has to get up at 4.30 every morning and leave the house at 5.
He says: "I have got a wife and three young kids and I like to get home to them. I don't want to stay up in London. Once you start to get up early you get used to it."
The commute also has some work benefits. He says: "It's great because when I am on my way in the car I can call Asia or Australia and speak to them. I fly a lot though so Heathrow is pretty convenient for me."