In an era when 'big is beautiful' in reinsurance terms, one of MENA's home-grown (re)insurers is opting for a more considered approach as it quietly solidifies its empire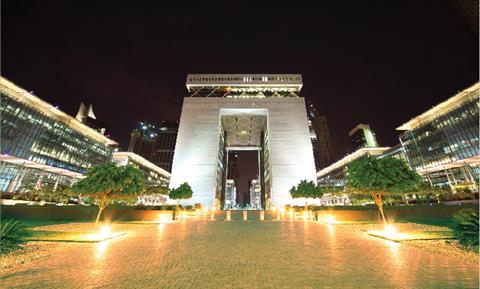 International General Insurance Holdings (IGI) celebrated the opening of a new office in Casablanca this March and an all-important Standard & Poor's rating upgrade from BBB+ to A-. This auspicious start to the year coincides with the 13th birthday of the DIFC-registered company, which was founded by market veteran Wasef Jabsheh and built on the back of his long experience in the MENA reinsurance market.
In an environment where most international reinsurers are battling heightened competition, Jabsheh, IGI's chief executive and vice chairman and the company's new UK chief executive Andreas Loucaides, see the benefits of being on the sidelines. Speaking together in London, Jabsheh explains why one plus one doesn't always equal two in an era of consolidation.
"When two companies merge there is one less competition [for us] and the capacity is not the combination of both, it will reduce," he says. "Now with our rating upgrade I think our opportunity is greater. We can use the market to reduce our reinsurance cost and adjust our portfolio in a different way to achieve our underwriting profit."
Despite the soft market, Jabsheh's company has continued to grow. For 2014, IGI announced net earnings of $34.34m, up 9.9% on the previous year. Although there was growing pricing pressure, the company also grew its GWP five percent from $240m to $252m. Its combined ratio was a healthy 87.11%, down slightly from 2013's 87.93%.
Just three months into his new role at IGI, Loucaides thinks there is still a gap in the market for a niche player, hinting that the trappings of an ever-expanding company were the reasons that drove his departure first from Catlin in 2008 and then from Jubilee Managing Agency in December 2011, following its takeover by Ryan Specialty Group.
He says: "There are people who don't want to work for large organisations, don't want to be told 'come in and just underwrite within those structures'. These individuals want to be part of deciding the structures they are underwriting within and bringing different dimensions to that underwriting philosophy. That's what IGI can offer.
"With so much M&A activity going on at the moment, there is almost a fear factor among businesses," Loucaides continues. Some companies are saying: 'I've grown and grown and I don't know what to do next, so maybe I should choose a partner to get to the next level, rather than being a target for someone."
Loucaides explains that he prefers the more entrepreneurial environment that a smaller more nimble player can offer, but highlights that these traits can also be found in the factions of more traditional markets: "The market needs new blood and new innovations and different approaches and expertise from around the world. And London has recognised it needs to be in local environments to still continue to be a trading platform, so it's about getting the right balance."
Finding a sweet spot
That said, there is nothing like local knowledge, and Jabsheh a well-known figure in the MENA market with his roots going back 40 years in the sector's energy business – has this in spades. He began his career in 1967 with Kuwait Insurance Company, going on to join Abu Dhabi National Insurance Company in 1973. After 15 years of working his way up the organisation he left to establish Middle Eastern Insurance Brokers, which was later bought out by Houston Casualty Company (HCC) in 1994.
After three years on the board of HCC Jabsheh resigned and returned to his preferred market where he set up IGI. It is no surprise the company was built on the back of his sweet spot: energy.
"I started doing offshore energy business when it was an extremely small market in 1975 in cooperation with Lloyd's underwriters," he says. "In 1976 I established a binder cover which was the only one granted by Lloyd's to a coverholder outside of the US market. The expertise we have in energy business has been extremely helpful for us, and then we started diversifying to other lines of business."
Today IGI writes multiple classes of business in addition to onshore and offshore energy. Its accounts include property, marine, construction and engineering, financial institutions, general aviation, ports and terminals and political violence. In addition to the DIFC and UK, the company has operations in Bermuda, Amman (Jordan), Labuan (Malaysia) and now Casablanca (Morocco).
The growing popularity of the MENA (re)insurance market for international companies seeking opportunity in the rapidly developing economies of the Gulf Cooperation Council and diversification away from the peak catastrophe markets is not an unwelcome development for Jabsheh, in spite of the heightened competition it brings.
He sees the decision of Lloyd's to set up an office in the DIFC as good news. "For Lloyd's to establish there is confirmation that the DIFC is a very good platform to operate from… and it will attract business from other parts of the world. It's just like what happened in Singapore."
Whether it is writing facultative energy accounts or construction projects in MENA, targeting banks in Mongolia or using its London office to access some of the more complicated and specialist MENA business they would otherwise miss out on locally, there is a clear strategy for IGI to be different.
"The business has grown on the principle of a planned approach for bottom line growth in areas where the competition isn't fierce," Loucaides says. "Opening the office in Casablanca is fundamental to that."
"We've identified an individual who has been known to the company for many years who is from Casablanca and is very well known and is going to lead us in building an underwriting team," he continues. "It will allow us to target that top end of Africa and gives us the ability to choose risks that will be more attractive than going in there blindly and sending individuals from London. We have to work in that local environment with local people who know and understand the market very well."
While the London office is building up a specialist team of underwriters, the target remains markets in MENA, Asia and South America where large London, Bermuda, US and continental reinsurers do not dominate. "Political violence, construction and engineering and general aviation are all niche areas for us in London, where we're not asking to be world leaders but we need to get to minimum size in each of these pillars," Loucaides explains.
"Our global offices work closely together and underwriting teams feed off each other," he says. "When we see a construction risk in South America or the Middle East we always talk about the political violence elements and if there is any potential."
At a time of heightened competition, Jabsheh believes it is this approach that will ensure there is a place in the market for IGI. He notes the reinsurer's attendance at an event organised by the Moroccan Federation of Insurance and Reinsurance Companies was well received at a time when international or regional carriers are thin on the ground.
"We are a niche company and we go for niche lines and we look at opportunities as we go along," he explains. "In the past, direct companies in the Middle East always sent their business to London, to continental markets, or other markets in Asia. I thought we need to create an alternative and that we have to grow it in a way that it cannot be ignored."