Rice reflects on guiding his firm through a troubled 2011, and looks forward to a year of continuing growth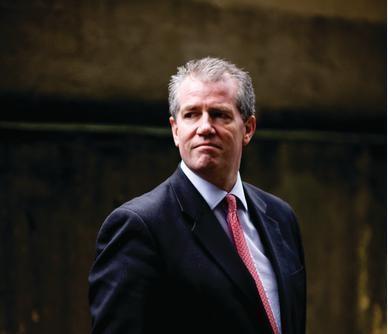 Lonmar chief executive Simon Rice reflects on how his business got through troubled times in 2011 and looks forward to a year of continuing growth
Talk about a baptism of fire. When Lonmar chief executive Simon Rice met up with GR's sister title Insurance Times four years ago, he had just successfully led the Lloyd's and international wholesaler through a management buy-out from AXA.
He was full of optimism as SBJ Global Risks was rebranded to Lonmar to mark the change in the company's history.
The industry was pleased that one of the London Market's nice guys had found success.
Rice is one of its most recognisable characters. At 6ft3 and 15 stone, he is an imposing tower of muscle that can smash a golf ball 330 yards down the throat of the fairway.
He's also candid, friendly and has a self-deprecating sense of humour that goes so well with his clipped English accent. He is so awfully British, in a good way. No wonder he has long-serving clients across Australia, the US and Asia who like doing business with him.
But bad luck doesn't discriminate in favour of the good guys, and in the first two years of his tenure, up until the end of 2011, the business was dealt a series of blows.
Dog-eat-dog market
There are two sides to London Market brokers: the first is one of bonhomie, even if they are rivals. Everyone who matters knows each other, and their business.
Behind all the smiles, though, there is a dog-eat-dog mentality epitomised by staff poaching.
Lonmar fought one of these poaching attacks in court and lost.
In February 2011, a High Court judge dismissed Lonmar's claim that alleged contractual breaches by three employees who moved to Tysers had caused losses of £2.5m.
"We were the recipients of a bizarre decision, but it is there and we have moved on. And most of my peers expressed support and sympathy on what they agree was a strange decision from the judge," Rice says.
Then the business suffered a second poaching blow when Gallagher raided Lonmar for nine of its staff.
"In the end it was agreeable. I wouldn't say amicable – more agreeable.
"But if I ever see David Ross [Gallagher chief executive] at a party …" Rice trails off and laughs.
The final blow was self-inflicted and probably the most serious. Lonmar had to reimburse its underwriters £2m after its staff charged excessive commissions.
"Clearly, somebody manipulated our systems, but we have made changes. Our focus was on the client side. The people involved in casualty and marine and exceptional risks have moved on," he says.
"I engaged with the market quickly. Because of my candour and frankness no insurer had a problem with us."
Did Rice learn anything from all these challenges?
Rice reflects: "From a personal point of view, it was a steep learning curve. I have some very good people and great support from non-execs and chairman and the exec team. As a team we have tackled these things very well despite challenges thrown at us."
Moving on and up
The good news for Rice and Lonmar is that this is all water under the bridge and the business is on the up.
For a start, the business has just moved into plush new offices near Lloyd's.
It's about client focus and being number one'
This makes it easier for the traders to go about their business with nearby underwriters.
Lonmar is also now all on one floor, and if it is true that a leader's personality flows through the business, then this should make it easier for Rice who favours MBWA (management by walking around).
The atmosphere on the floor appears good. Through the glass windows of the room where the interview is taking place, a clutch of staff can be seen moving in and out meeting rooms.
There is hubbub in the background. This appears to be a business made up of people who just love trading – so much so, that its board members still actively trade in the marketplace. This is quite unique for a London market broker.
Board members David Pexton, leading marine, Alan Newell, head of professional risks and Phil Nelson, in charge of bloodstock, are some of the firm's biggest revenue earners.
Rice sees this as a big advantage. It means that strategy is in part driven by what board members see happening on the ground.
"If you run a broking house you want to be in the marketplace to react accordingly. Mostly driven by the executive," Rice says.
Further expansion
To keep the business growing, Rice stresses Lonmar should continue to concentrate on its core markets and client-service proposition.
Revenue wise, about 30% comes from the US, a quarter from Europe and between 10% and 15% from Asia and Australia. It is a mixture of retail, wholesale and binder facilities.
A quarter comes from the UK's retail professional risks and high net worth business.
Lonmar has invested in expanding its UK wholesale book, which will be a driver of growth this year.
Lonmar also has a new business information platform that should boost cross-selling across its core SME and mid-market business.
A longer term strategy is to win some of the more chunky big-ticket premium business.
Rice muses: "We do some big ticket and I'd love to do more. But we need to get the right people to do it. We are getting there. I am looking at that as we speak."
For the meantime, though, Rice is happy with his lot. The business is 100% owned by management and there is a clear motivation to do well, he says.
"It's going very well now. There is a feeling momentum. Everybody is engaged with the process of business development. It's about client focus and being number one. We have a very busy new business pipeline."
After a tough few years, it appears Lonmar, and particularly Rice, are heading in the right direction. Perhaps nice guys do win after all.