Michel Liès is an uncharacteristically optimistic chief executive, partly because his business is in its strongest form in years, partly because he sees opportunities amid the gloom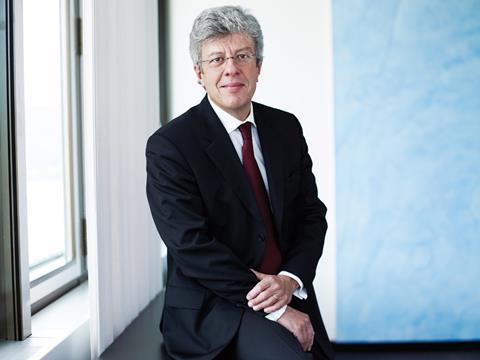 Ask many reinsurer chief executives what they think of the state of the market, and the response is likely to be doom and gloom. So it is refreshing to speak to Swiss Re chief executive Michel Liès, whose outlook is comparatively sunny. For this business leader, the market is not a barren, prospect-free desert, but a sea of untapped opportunities.
He says: "Less than 20% of the large risks of this planet are covered by the insurance industry, so we have more than 80% of the world to explore, to organise, to conquer."
Luckily for Liès, he is leading a Swiss Re that is free of the losses from the 2008 financial crisis and the restructuring of the business that followed - a Swiss Re that can afford to look forward. So how does he plan to capitalise on all the potential he sees?
Taking over
Liès has only been in the chief executive role for a year and a half, but he is by no means a newcomer to Swiss Re. The Luxembourger joined the company back in 1978 and moved up the ranks to become an executive board member in 2005.
He took over the top job in February 2012 from Stefan Lippe, who had the unenviable task of clearing up the aftermath of the 2008 financial crisis during his two-year tenure. Swiss Re had made big bets on credit default swaps, which then turned sour when the crisis hit.
The result was a loss of Sfr1bn ($1.1bn) in 2008 and a Sfr11.4bn hole in the company's balance sheet, which it had to patch up in part with an Sfr3bn investment from Berkshire Hathaway.
During his two-year tenure, Lippe created a new operational structure for Swiss Re, dividing it into reinsurance, comprising property/casualty and life and health business; Corporate Solutions, which offers insurance directly to large corporations; and Admin Re, which buys closed blocks of life insurance business and runs them off. The aim was to match Swiss Re's offering closely to how clients were using them.
Lippe's work has given Liès a solid foundation. Liès says: "I had the enormous advantage of taking over a structure that was perfectly thought through in theory, and applying it in practice. This was done without destroying the value we had built in the past."
That is not to say everything has run smoothly in Lies's tenure so far. The low-interest-rate environment is taking its toll on some life-related parts of Swiss Re's business. And more recently, an in-depth review of its life and health reinsurance business revealed that US business written between 2000 and 2004 had been a drag on profits, and that fixing it would result in a $500m hit to its 2014 results.
In May 2012, three months after Liès became chief executive, the company sold the US part of its Admin Re business to Jackson National Life because the unit was suffering as a result of low investment yields. The sale netted Swiss Re $900m but also generated a $900m loss for Admin Re. Swiss Re has underscored the strategic importance of Admin Re despite the sale and will now focus on the UK and continental Europe. However, it is now seeking third-party investors for the business.
Liès says: "To help our clients, we don't need to finance everything ourselves. One of the key lessons our analysis of Admin Re over the past two years has taught us is that it doesn't make financial sense to be the 100% owner of this platform and model."
Swiss Re revealed on 12 July that it was in talks to merge Admin Re with UK-based closed life insurance buyer Phoenix Group.
New opportunities
Despite the challenges, Liès insists that the new structure, with its greater client focus and its improved capital allocation between business units, will allow Swiss Re to capitalise on the opportunities he sees.
One area he points to is serving smaller clients. "I would argue our servicing of large clients is second to none," Liès says. "However, we need to understand the concerns of mid-sized clients, which in some cases will be the large ones of tomorrow. We need to understand their strategies better, not just their underwriting capabilities."
Another is emerging markets, including Asia, Latin America and, potentially, Africa. "We are definitely concerned about the slow speed at which economies are growing in Europe. We can do a lot in high-growth markets to expand," he says.
Like many reinsurers, Swiss Re has pulled back from US casualty business because of poor pricing. However, better rates, coupled with a greater focus on underwriting profitability thanks to the lack of investment returns, is presenting an opportunity.
I had the advantage of taking over a structure that was perfectly thought through in theory, and applying it in practice

Michel Liès, Swiss Re
A further growth engine is the Corporate Solutions insurance business. According to Liès, the division is picking up business that used to come to Swiss Re through its facultative reinsurance offering. Large corporations are increasingly choosing to place their risks with companies that retain their business on their own balance sheet rather than cede it elsewhere.
Then there is the 80% of untapped risks. Liès says: "There are so many risks on this planet that are simply not on the radar. We need to work on that, be it through a micro approach, by investing in new products, or a macro approach, by talking to governments about insuring their infrastructure or delivering a structure to help them if there is a catastrophe and many people are uninsured."
He adds: "If there is something I'd like to leave after my period as chief executive, it is progress in that respect."
The question now is how best to capitalise on these opportunities. Liès says that, on the traditional reinsurance side of the business, the best way is organic growth by deploying Swiss Re's capital where it is most needed. No other companies are yet underwriting the 80% of uninsured risks, he says, so Swiss Re will have to build rather than buy to progress there.
Acquisitions could help Corporate Solutions expand in emerging markets. Liès says: "We are not talking about enormous acquisitions, but we believe some regional players can contribute to the strategy we have in Corporate Solutions." These acquisitions will be in the low hundreds of millions of dollars, he adds.
Admin Re is built on acquisition, so the company will continue to look for such purchases, and to combine these with third-party financing.
Keeping the pressure up
Swiss Re is in far better shape than it was in 2008, and it has a clear plan for growth and plenty of opportunities.
But Liès cannot afford to relax. When the new structure was developed in 2010, the company also laid down three main financial targets for the five-year period of 2011 to 2016. These are to achieve a return on equity of 700 basis points above the risk-free rate on average over the five years, and achieving 10% average annual growth in both earnings per share and economic net worth.
Liès says the company is on track to hit its targets, but acknowledges the need to keep pushing. He says: "Even if things seem to be going well, keep up the pressure and execute the plan - not for the sake of it, but to keep satisfying our clients and shareholders."
With 80% of the world's risks untapped, there is still plenty of work to be done.
The man
Michel Liès joined Swiss Re in 1978 and progressed up the company through a variety of life and non-life (re)insurance roles.
His work has taken him to various countries in Europe and Latin America, and he speaks fluent French, English, German, Italian, Portuguese and Spanish.
He became head of the Latin America division in 1998 and head of the Europe division in 2000. In 2005 he joined the group's executive committee and served as head of client markets, responsible for all client relationships worldwide.
Between 2011 and 2012 he was chairman of global partnerships, where he focused on building relationships with the public sector, governments and non-governmental organisations, with a particular focus on emerging markets.
What do you do to relax?
This kind of activity does not give you a lot of spare time. I have spent quite a lot of time in the past 15 months studying what is happening on the planet.
I have a passion for humanity. I have a passion for this world. And I am frustrated at seeing our industry not totally fulfilling the task it should fulfil.
I do read a lot about where this world is going and try to bridge that to what this company is doing in order to be prepared to respond to these new challenges.
I have a strong passion for history and believe this world would save itself a lot of turbulence if it kept in mind the lessons of history.
Other than that, I am a family man.