Reports claim 600 buildings damaged or flooded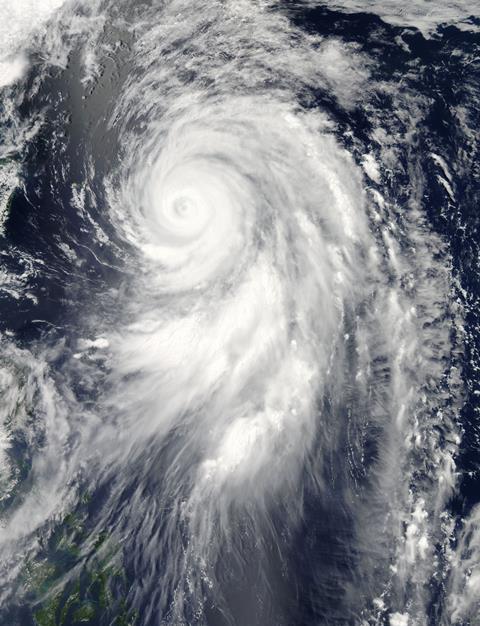 Typhoon Jelawat became the third typhoon to hit Japan this year as it made landfall in Okinawa over the weekend.
The Japan Meteorological Agency (JMA) said Jelawat made landfall around 6 UTC on Sunday in southern Wagayama prefecture with a minimum central pressure of 965 mb and 10-minute sustained wind speeds estimated at 70 knots, making it a category 1 on the Saffir-Simpson intensity scale.
Local officials report that 600 buildings have been damaged or are flooded. Okinawa's building stock is predominantly concrete, so significant structural damage from wind should be limited.
According to AIR, a modelling firm, over the previous 12 to 24 hours, as Jelawat approached mainland Japan, it encountered cooler ocean temperatures and substantially higher vertical wind shear in response to a mid-latitude trough over the northern Sea of Japan. As a result, Jelawat was weakening and undergoing extratropical transitioning at the time of landfall, with most of the convection located north of the storm centre. Observations in southern Wagayama and Aichi prefectures support the JMA central pressure estimates of 965 to 970 mbs.
Due to the storm's forward speed (55km/h), precipitation amounts have been limited to 100mm to 200mm, and similar amounts are expected in regions further to the north. Widespread flooding is not expected, but localised flooding is likely.
According to AIR, only three tropical cyclones have made landfall in Okinawa twice since 1951, but never three typhoons. Further, these three typhoons were successive, hit the island within five weeks of each other, and are among the five most intense to make landfall (based on central pressure).
Jelawat is forecast to continue to weaken and should complete extratropical transitioning as it emerges back over the northwest Pacific Ocean.