Chief executive expects 'no-holds barred global competition'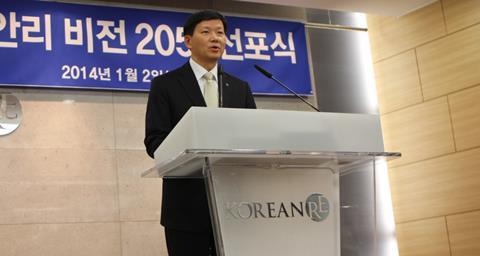 Korean Re has laid out its plans to become one of the top three reinsurers in the world by 2050.
The reinsurer is currently the ninth largest in the world by gross written premium (GWP), according to a 2013 ranking by AM Best.
The plan, called 'vision 2050', starts this year.
By 2050, Korean Re wants GWP of ₩106tn and a net profit of ₩6.4tn. In 2012, Korean Re had GWP of ₩5.64tn.
In a statement, Korean Re said: "The new vision reflects the company's recognition that expanding into overseas markets should be an essential course of action in the face of challenges such as local economic slowdown and limited potential of the domestic commercial insurance sector, which has been one of the main lines of its reinsurance business."
This year, Korean Re will concentrate on overseas expansion, including increasing the number of overseas branches and liaison offices from seven to 10.
Korean Re chief executive Jong-gyu Won said: "Our competition has so far been predominantly with international reinsurers operating in Korea. But now we should brace ourselves up for a no-holds-barred global competition in a real sense of the word.
"Vision 2050 will guide Korean Re to grow into a global reinsurer built upon a sound risk management philosophy and expertise. And domestically, it will help us continue to carry out the mission of supporting sustained development of our economy, industry and society."
Vision 2050 is split into three parts. By 2020, the reinsurer wants to build the foundations that will allow it to be more globally competitive, in part by improving capacity and credit ratings by enhancing profitability and issuing subordinated bonds.
By 2030, Korean Re wants to bolster its underwriting and risk management functions, partly by seeking overseas investment and issuing cat bonds. The reinsurer will also set up regional headquarters in Asia, the Americas, Europe and the Middle East, and wants to get an S&P rating of excellent for its enterprise risk management.
By 2050, Korean Re wants to build on its earlier plans, including establishing a global underwriting system based on a network of 40 branches and offices.