Costa Concordia loss deterioration eats into insurer's reserve releases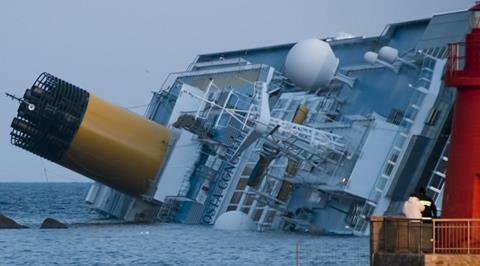 Lancashire's third-quarter 2013 combined operating ratio (COR) shot up by 41.9 percentage points after the company incurred energy and weather losses in the quarter.
The London-based specialty insurer was also hit by the need to strengthen reserves against deteriorating losses from 2012's Costa Concordia cruise ship disaster.
Third-quarter COR spike
Lancashire's third quarter 2013 COR was 90.8%, up from 48.9% in the same quarter last year.
While still a profitable COR, it is unusually high for Lancashire, which typically reports ratios of between 60% and 70%.
The increase was driven by a 41.8-point rise in the loss ratio to 56.4% from 14.6%, which the insurer said was caused by a number of energy losses, the European hail and flood events and some reserve strengthening for old underwriting years.
Lancashire estimates the European flood and hail events cost it $19.7m (£12.3m), compared with a "low level" of losses in the same quarter of 2012.
Costa Concordia losses
The company also said its results for the first nine months of 2013 were affected because it had to pump £37.7m into reserves for the Costa Concordia cruise ship disaster, where losses were worse than expected.
As a result, overall group reserve releases for the first nine months of 2013 were cut to just $7.7m from $42.5m in the same period last year.
Lancashire's COR for the first nine months of 2013 was 69.7%, up 8.6 percentage points on the 61.1% COR it reported in the same period last year.
Profit drop
Lancashire's net profit for the third quarter of 2013 alone dropped 68% to $25.4m from $78.8m in the same quarter of 2012.
For the full nine months, profit was down 13% to $159.5m (first nine months of 2012: $182.5m).
Despite the lower profits, third quarter return on equity (ROE) rose 1.7 points to 7.4% from 5.7%, and nine-month ROE increased by 1.5 points to 14.7% from 13.2%.
Lancashire chief executive Richard Brindle said: "Our reported results for the quarter are affected by a number of factors, but a combined ratio below 70% for the year to date again testifies to the resilience of our portfolio and low attritional losses.
"The Lancashire Group is broader and better balanced than it has ever been, but its fundamental values are unchanged and embedded in everything we do."
Lancashire expects to complete its purchase of Lloyd's insurer Cathedral imminently, which will give the group a Lloyd's presence for the first time.
Brindle said: "Already we've seen a lot of new ideas generated from the interaction between the different teams and I'm highly confident that in the coming years the group will become much more than the sum of its separate parts.
"Opportunities to expand our presence with existing clients using the different vehicles, as well as opportunities to expand our product range are already under consideration."