Signs that reinsurance rates are flattening in Latin America are welcomed by those who have seen the market get softer and softer. But are this year's low interest rates enough to offset the market's excess?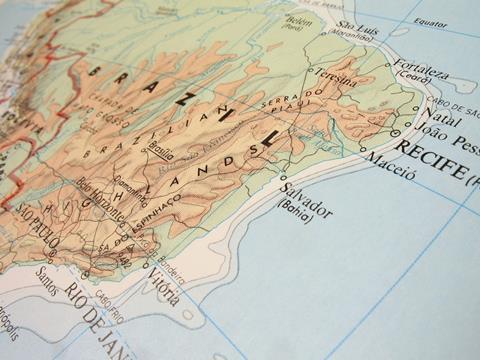 Despite being the most expensive insured event ever to hit Latin America (at around $8.5bn), last year's Chile earthquake only led to localised increases in reinsurance pricing. Elsewhere, rates continued on their downward trajectory.
But now there is a glimmer of hope. The spate of expensive catastrophes worldwide in 2011 - including the Japanese earthquake and tsunami, Christchurch earthquake and severe weather in Australia and the USA - have had a perceptible and widespread impact on rates at the mid-year renewals.
"We experienced increases of between 0% and 10% at 1 July," says Guy Carpenter's chief executive of Latin America and Caribbean operations, Aidan Pope. "The variation depended on exposure to wind, how buyers had behaved in previous renewals and their previous loss history."
Estimated to have cost reinsurers $70bn in the first half of the year, the nat cat losses have burnt off much of the excess capital in the market globally and some reinsurance carriers have felt the pain more than others.
"$70bn is the largest half-year cat loss figure on record," says managing director and head of EMEA insurance at Fitch Ratings Chris Waterman. "It exposes the industry to further cat losses this year.
"The expectation is that if we had a material hurricane that resulted in large insurance losses, that probably would start to put upward pressure on premium rates," Waterman continues. "At the moment, the comment tends to be that first-half losses are an earnings issue rather than a capital issue, because underlying profitability is quite strong despite the low interest rate environment."
While the hurricane season is not yet over, it is drawing to a close. Hurricane Jova, which made landfall along a sparsely populated stretch of Mexico's Pacific coast on 11 October as a weak category 2 storm, will cost insurers less than $52m, according to AIR Worldwide.
The event that could have definitively turned the market - Hurricane Irene - which travelled up the Eastern Seaboard of the USA in late August, weakened as it made landfall in New Jersey and New York, with likely insured losses reaching no more than $4bn.
Hardening up
But it is the tough global economy and not just the catastrophe losses this year that are having an impact on rates across Central and South America, thinks Oliver Futterknecht, Swiss Re's economist dedicated to Latin America.
He believes the low interest rates are eroding the investment result of the industry, increasing the pressure on technical results.
"We are seeing that softening rates have already stopped this year," he reveals. "Especially in the July renewals, which is when most of the Latin American treaties are renewed, we saw some increases in rates."
With the exception of Argentina and Brazil, Latin America is highly exposed to natural catastrophes, and property catastrophe insurance is by far the biggest line of business, with high cession rates to global reinsurers. This means the market is highly influenced by trends in the wider property catastrophe business.
The potential for sizable losses in Chile - which has the highest insurance penetration of all countries in the region - was demonstrated by last year's Maule earthquake. But there are growing exposures in other countries too, thanks to economic development and continuing insurance take-up.
Before the Maule quake, Hurricane Wilma was the region's most expensive catastrophe after it caused severe damage to Mexico's Cancun region, costing between $1.5bn and $2bn.
Softening rates have already stopped this year. Especially in the July renewals"

Oliver Futterknecht, Swiss Re
Even those regions typically not associated with catastrophe losses are being re-evaluated. In April 2010, heavy rains inundated northeast Peru and in Brazil the country's heaviest rainfall in 48 years led to severe flooding, killing 256 people and causing an estimated economic loss of $207m, according to reinsurance broker Aon Benfield.
"Brazil is a unique market in the region because it doesn't have exposure to earthquakes or hurricanes like Mexico," Futterknecht says. "But flood risks are becoming an issue for the insurance industry."
Yet, despite the increasingly heavy cat burden in the region and elsewhere, rates continued to soften in recent years as reinsurance capacity went on flooding the market.
Nowhere is this more apparent than Brazil, where the reinsurance market was opened to competition in 2008. Global players flocked there, seeking licences to write business in the world's fifth-largest country with its impressive growth rates and BRIC economy status.
"What we've seen since liberalisation of the reinsurance market is a lot more capital and capacity, which has pushed rates down," Futterknecht says. "Now, with a stricter regulatory environment, one can expect rates to start going up. Still, the situation is not that easy as competition remains very strong and [the international companies] are trying to exploit profitable growth."
Competitive market
This interest in Latin America is a factor that keeps depressing rates year after year. While Latin America only represents around 1.5% of global reinsurance premium, with ongoing regulatory and rating agency pressure to diversify their business platforms international reinsurers continue to see Latin America as a market of potential growth and one that may earn them some diversification credit.
In May, Swiss Re announced it was opening an office in Miami to service the Latin American and Caribbean market, joining Odyssey Re, Transatlantic Re and White Mountains - which have had Miami offices for some time - and other newcomers including Aspen, Catlin, Endurance and Validus.
Many of the larger brokers also have offices in Miami. The increasing involvement of brokers and risk managers in the market has also led to more vigorous price negotiation in recent years.
"We've been in this soft cycle for a long time and for the last three years, every year we say we've finally touched ground and prices will go up," says director-general and chief executive of Mexico-based Patria Re Manuel Escobedo. "And then more capital comes in and more reinsurers remember
Latin America is the region of tomorrow. They forget that it has been the region of tomorrow for the last 50 years.
"There were some shortfalls at the last renewal, which is generally considered a good indication that the market is turning," he adds. "But I'm not seeing the facultative market going up in Mexico, for instance. There's a glimmer at the end of the tunnel that gives us hope but it still seems to be quite far away."
Escobedo blames new solvency regimes in part for flooding the market with capacity and in some cases leading to undisciplined underwriting. Under the internal models developed for Solvency II by many international reinsurers and insurers, there is a capital credit for geographical diversification.
"There is a big suspicion that if you get a lot of credit on your capital for writing business in emerging markets like Latin America then it all of a sudden becomes good business to lose money."
"In some cases, they hire underwriters with previous experience in Latin America but in other cases you have new reinsurers with no experience," he continues. "You find underwriters from Asia writing business in Latin America from Paris or London, when they have never visited the place. They usually write very small shares but it's a contribution to a generally messy market."
Growing attraction
While economic growth has slowed in Latin America since the financial crisis, it is picking up again, aided by government stimulus programmes. The growing middle class in Brazil and other economies is expected to spark a steady rise in demand for insurance, particularly compulsory covers.
"Latin America may be relatively small, but the recent growth in catastrophe exposures and the potential of countries like Brazil and Colombia are attractive to reinsurers," Guy Carpenter's Pope says.
"Add to that economic and political stability - plus reinsurers' interest in tapping into the opportunities that arise from products associated with the burgeoning new middle class - and it becomes quite an interesting combination."
He thinks prospects will come from the growth and increasing complexity of insurance products in all areas, particularly in personal lines business. Finding solutions for the large cat exposures that will arise from this is a key challenge. There will be a role for public-private partnerships to provide disaster risk financing on both a macro and microinsurance basis.
Reinsurers then remember Latin America is the region of tomorrow. They forget that it has been the region of tomorrow for the last
50 years"

Manuel Escobedo, Patria Re
While still only a small slice of the premium pie, casualty business is also set to grow across the region. Companies exporting goods to highly regulated markets such as the USA and Europe buy more product liability insurance as international corporations insure their Latin American operations.
Economic growth could provide new opportunities for reinsurers if they are able to branch out from the more traditional property cat placements. "The market has started to develop in other directions," Swiss Re's Futterknecht says.
"Specialty lines like engineering and surety are benefiting from investment in infrastructure across the region, but you also see solutions for governments or development banks. The reinsurers that are more able to tap these non-commoditised markets will benefit the most."
As this year's cat losses have shown, Latin America is not isolated from global events. Many economic experts predict a shift in the global economy from the West to the East, as developed economies stagnate.
While such a change would ultimately benefit a developing region like Latin America, it also exposes it to further economic slowdowns.
"Will the USA and Europe go broke and therefore become smaller while emerging markets become more important?" Escobedo asks. "That's not impossible to imagine.
But the size of that crisis would imply that the whole world would come to a standstill for a while, or that we should really be thinking about a new world, since this one would have come to an end." GR