More energy and risk taking is needed, not burdensome regulation and capital, Scor chairman and CEO Denis Kessler told an S&P Global event in London
The pendulum needs to swing from stability to growth for the global reinsurance sector, despite headwinds of burdensome regulation, populist politics and emerging risks, Denis Kessler, has said.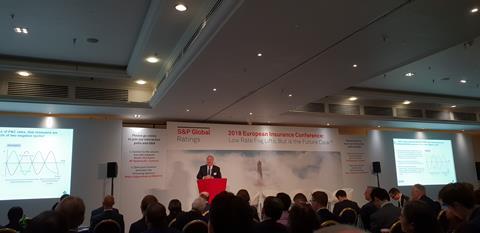 The chairman and chief executive of Scor, the fourth largest reinsurer in the world by gross premium underwritten, was addressing an event this morning held by credit rating agency S&P Global in London.
Kessler took aim at regulators and rating agencies for creating the "increasingly burdensome and complex" capital-intensive environment within which reinsurers operate.
"The pendulum has been too close to stability and too far from growth. The pendulum needs to swing back," said Kessler.
"It's about finding a new balance between stability and growth. We need some more energy in the industry and one way to do it is more risk taking. The more capital you have, the less risk you take," continued Kessler.
Refragmentation risk
Kessler decried global political "re-fragmentation", referring to US, UK and Italian politics.
"Trade wars is a sign of this movement towards re-fragmentation," said Kessler.
Increased political polarisation since the 2008 financial crisis has created forces of entropy that make it impossible to reach consensus within the Western democracies, he noted.
"It seems we are entering a new world of re-fragmentation – political re-fragmentation, economic re-fragmentation, and perhaps financial re-fragmentation," said Kessler.
"For our industry it's obviously fundamental that we need freedom of capital movement," he said. "For reinsurance we need a free trade world and a converging regulation world."
Kessler noted Scor had to set up an additional entity just to counter US tax reform. "That's a good example of energy wasted and time wasted," he added.
Without freedom from forces of protectionism and restrictive regulation, Kessler suggested reinsurance would struggle to close the protection gap, in developed and emerging economies, and for risks such as extreme weather caused by climate change, and cyber threats amid a digitising world.
"It will limit the capacity of reinsurers to bear all of the risks I have mentioned," added Kessler.
He noted the protection gap in even in the world's most developed insurance market: last year's Houston floods in Texas revealed that only 13% of people were insured against flood risk.
The last dinosaur
Kessler described himself as "the last dinosaur", since stepping up to lead Scor from the brink of bankruptcy 16 years ago, following the World Trade Centre losses after 9/11.
"God knows, the risk universe we will face in the future is extraordinarily complex," he warned.
Extraordinarily strong hurricane winds – "Hypercanes" – could see skyscrapers collapse, he said, if extreme weather events caused by climate change exceed frequency and severity suggested by historical data.
"New events would not belong to the old distribution of probability, but the new distribution of probability that has shifted to more extreme events," said Kessler.
"Since I am the last dinosaur, it is not difficult for me to imagine," he continued, referring to extreme weather events billions of years ago.
"Hyper-terrorism" attacks in future could dwarf previous disasters, he noted, should a "handbag of anthrax" be dropped from Chicago's Sears Tower, where Scor has an office.
Catastrophic cyber risk accumulations also lie beyond the scope of historical data, Kessler said. "Nobody knows where cyber risk will start and finish," he added.
Rise of ILS
Speaking on the increasing insurance-linked securities (ILS) volume, which has reached 15% of reinsurance capacity, Kessler suggested that while such alternative reinsurance from third party capital would continue to rise, it could not go so far as to replace traditional reinsurance.
"I think the maximum could be about twice the present size. Around 30% of capital…could come from ILS," Kessler said.
"We have to find ways to combine ILS with traditional reinsurance and not to fight [it]," said Kessler.
"It's a complement to traditional reinsurance and not a substitute," he said.
Scor has issued 12 cat bonds, he noted, including for the transfer of US pandemic risk, he noted.
"We have to use these instruments to increase capacity for our clients," said Kessler.
Mutate to survive
The ability to change with an evolving "more complex, more fragmented" risk landscape would allow reinsurers to survive, Kessler suggested.
"The solution is to mutate to survive," said Kessler, quoting Charles Darwin, that firms need not be the strongest but be able to embrace change to reflect a changing environment.
Negative cycles for underwriting pricing, and for interest rates on the investment side, have combined to put reinsurers under pressure, Kessler emphasised.
He suggested both these cycles could turn within the next few years, as prices firm and central banks wind down quantitative easing and raise interest rates.
"I'm quite optimistic. I think there are some signs today that would support this view," said Kessler.