Last year's US dustbowl was 'sequence of unfortunate events', insists a new report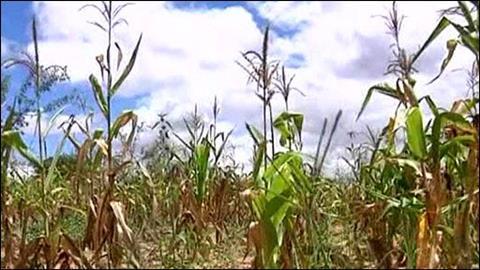 Last year's Central Great Plains 'flash drought' in the US was not caused by climate change, according to a new report by the National Oceanic and Atmospheric Administration (NOAA) Drought Task Force and the NOAA-led National Integrated Drought Information System.
While President Obama and other prominent figures cited the drought as evidence of climate change, the NOAA-led report links the disaster to natural variations in weather patterns.
Low pressure systems that normally produce widespread rains in May and June did not occur, as storm tracks produced by these systems were shunted northwards into Canada by the jet stream which was stuck unusually north, it notes. And in July and August, thunderstorms which are typically abundant across the Plains were infrequent and produced little rain.
"Together, these conditions conspired to create a four-month sequence of record rainfall reduction over the central Great Plains," concludes the report, which also attributes the drought to a "sequence of unfortunate events".
"This is one of those events that comes along once every couple hundreds of years," said lead author Martin Hoerling, a research meteorologist at the NOAA. "Climate change was not a significant part, if any, of the event."
Record crop insurance losses
The worst drought in 50 years in the US blighted 70% to 75% of corn and soybean production. It produced the highest-ever crop insurance losses of $11bn, including payouts from the federal Multi-Peril Crop Insurance program, according to Swiss Re Sigma.
"The drought was something quite interesting because it was a combination of seeding conditions and extreme temperatures that contributed to that drought," says AIR Worldwide managing director Milan Simic. "A lot of the crop is insured and significant insured losses came as a result of that drought."
AIR is monitoring whether the drought is likely to continue into 2013.
After a relatively dry winter, drought remains entrenched across much of the Plains and Southwest and, according to the NOAA's Climate Prediction Center, is forecast to persist in many areas through Spring 2013.
But even though parts of the US are experiencing a third year of drought, each individual drought event over the past few years has had different causes, according to the NOAA-led report.
More droughts in the future
Despite the report's conclusions, climate scientists continue to predict that climate extremes will become more common in the future as a result of human-induced climate change.
IPCC scientist Kevin Trenberth, climate analysis chief at the National Center for Atmospheric Research, criticised the NOAA-led report, saying it had not looked at how global warming had exacerbated the high pressure system that kept the jet stream north and rainfall away from the Plains.
"This was natural variability exacerbated by global warming," said Trenberth in an email to the Associated Press. "That is true of all such events from the Russian heat wave of 2010, to the drought and heat waves in Australia."
In an interview with GR in March, Munich Re's head of geo risks research Peter Hoeppe said: "We estimate last year's drought in the US to be a 40-year event based on data available for the past 100 years. But if you look into the future I don't think that such a type of drought will stay a 40-year event."
"Based on information from the Intergovernmental Panel on Climate Change (IPCC), in North America, for example, a 20-year event defined on the climate of the last decades will become a two- to three-year event in the US Midwest or in Europe by the middle of the century, depending on the amount of CO2 emissions."