Chief executive Neal notes that the market has produced a 'strong set of financial results' despite paying out nearly £10bn in claims – including for Covid-hit customers
Lloyd's of London has bounced back from last year's Covid-induced losses, reporting an aggregated profit before tax of £1.4bn for the first half of 2021, compared to a loss of £0.4bn in H1 of 2020.
The market has also boosted its underwriting profit, which has improved from a loss of £1.3bn for the first half of 2020, to now stand at a profit of £1bn following the initial six months of the year.
These figures form part of the insurance market's 2021 half year financial results, published today (9 September 2021).
Lloyd's also reported a slight increase in its gross written premiums, which grew to £20.5bn in H1 2021 compared to £20bn at the end of H1 in 2020. It attributed this result "to an increase in premium rates, high customer retention and new growth for the first time in four years".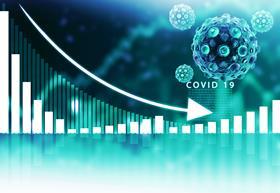 For example, premium rates increased by 9.9%, the market noted, "continuing the trend of 15 consecutive quarters of positive rate movement".
In terms of claims, Lloyd's paid out £9.4bn in the first half of the year – including to customers that have been affected by the Covid-19 pandemic. It added that, to date, 80% of the Covid-related claims that have been notified have been paid.
Lloyd's chief executive John Neal said: "In an uncertain world, Lloyd's remains acutely focused on supporting our customers when they need us and in the first half of 2021 we have paid out nearly £10bn in claims to help the recovery of businesses and economies globally."
Combined operating ratio
Lloyd's combined operating ratio (COR) improved by 4.8% in the first half of 2021, moving from 97% in 2020 – excluding coronavirus impacts – to 92.2% this year. Including the ramifications of Covid-19, 2020's COR was 110.4%. The market said these numbers demonstrate "the substantial turnaround of Lloyd's profitability and performance".
Lloyd's continued: "Improvements to the combined ratio have been driven by notable reductions to both the attritional loss ratio and the expense ratio.
"The attritional loss ratio of 50.5% (HY 2020: 52.6%), is a 2.1 percentage point reduction from the ratio reported for the first six months of 2020.
"The expense ratio of 35.8% (HY 2020: 37.7%) is a 1.9 percentage point improvement and 3.7 percentage points improvement since 2017. The reduction in operating expenses remains a focus of Lloyd's digital transformation programme."
The market's underlying COR is 85.4% at the end of H1 2021, compared to 89.8% for the same reporting period last year.
'Strong set of results'
Neal continued: "Against this backdrop, Lloyd's has successfully repositioned the market for sustainable, profitable growth as evidenced in this strong set of financial results.
"I am encouraged to see that market performance has improved as a result of our ongoing remediation efforts. This, as well as our exceptionally strong balance sheet, brings Lloyd's performance in line with our global peer group.
"Alongside performance, we are making great strides on all our strategic priorities which focus on improving the culture in the market, the Future at Lloyd's digital transformation and sustainability, climate and inclusion, which underpin our purpose."