Lloyd's will be piloting a reporting regime to measure its journey to net zero
Lloyd's of London's chairman Bruce Carnegie-Brown has outlined the market's road map to achieving net zero.
Speaking during his keynote address on the first day of the 17th Singapore International Reinsurance Conference (SIRC), held between the 15 and 18 November 2021, Carnegie-Brown told delegates that the marketplace is aiming for an "urgent yet orderly transition" to net zero.
He said this was the "same tune being sung" by governments, lenders, investors, activists and regulators.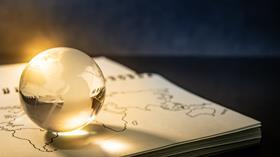 In his opinion, anything less than a comprehensive, organisation-wide road map that facilitates an urgent transition to net zero and strives to achieve long-term prosperity will fail to address the scale and the scope of the climate challenge.
Plus, this type of approach will demonstrate to stakeholders that Lloyd's is taking climate change seriously.
Carnegie-Brown said that Lloyd's starting point for the journey to net zero is its current spheres of influence and the places where it can have the biggest impact. For example, the market has committed to reducing the emissions from the Lloyd's building on Lime Street to net zero by 2025.
This strategy extends to Lloyd's Central Fund - the backstop funded by its underwriting members - which will switch to greener investments by 2050.
Carnegie-Brown said: "Our unique position as a marketplace compels us to make sure participants are suitably prepared for the future.
"We have therefore committed to lead the Lloyd's market to a net zero underwriting position by 2050 at the latest, using our market oversight to advocate and support participants to their own [environmental, social and governance] plans."
With this stance in mind, Carnegie-Brown added: "We do not believe in a panic dash for the door. Lloyd's has a history of reliability and stability and wants to support its customers in the transition and void triggering the secondary indirect impacts that [have] the potential to paralyse the world's economy."
Lloyd's wants to see evidence from firms of their transition plans to net zero. This is why it will be piloting a reporting regime in 2022, to measure and transparently report on the industry's journey to net zero.
"What gets measured gets done," Carnegie-Brown noted.
Tackling climate change
Carnegie-Brown further told event attendees that Lloyd's will be investing in technologies that aim to stem future changes in the climate.
"Technology has a key role to play in this area," he said.
For example, in 2019, Lloyd's launched its Product Innovation Facility - this is an initiative with over £100m of capacity, which aims to speed up (re)insurance product development for new and emerging risks.
In addition, Lloyd's is the chair of the Sustainable Markets Initiative (SMI) Insurance Task Force, which was launched by the Prince of Wales in June 2021.
"The taskforce provides an influential platform for insurance executives to take action in building disaster resilience in developing countries like Fiji to launching new sustainable products that support climate innovation and absorb transition risk," he said.
Lloyd's has also committed to phasing out new investments in thermal coal mine power plants, thermal coal mines, oil sands and new Arctic exploration activities from the beginning of 2022.
Lloyd's wants its approach to tackle material and prospective climate threats.
On 8 November 2021, Lloyd's launched a disaster resilience network too. Carnegie-Brown continued: "As part of this workstream, the taskforce has created a parametric cyclone solution to increase cover for low income and uninsurable households."
This will use wind speed to assess whether a material event has been triggered, so that claims can be paid quickly.