Ki's chief executive says the syndicate is adopting a 'technology-first' approach to underwriting
Lloyd's digital syndicate Ki has hired Richard Hodgson in the newly created role of chief technology officer.
Hodgson will be responsible for leading Ki's technology strategy and execution, including its engineering function, supporting the syndicate's mission to define the future of digital trading in the market. He will also sit on Ki's executive committee.
He will begin his role 23 August and report to James Birch, Ki's development director.
Ki is a collaboration between Brit Insurance, University College London and Google. It aims to reduce the expense ratio for the London market by offering instant capacity.
Birch said: "Bringing in a highly regarded chief technology officer in Hodgson exemplifies our technology-enabled approach to underwriting.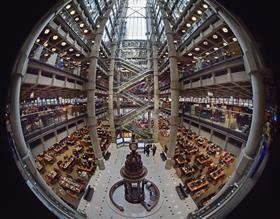 "I look forward to working with Hodgson, who has the relevant experience to provide vision and leadership in implementing the technological development needed to support of Ki's strategic vision."
Unique opportunity
Hodgson has 18 years of experience in technology, with significant expertise in building user experience, working with complex data sets and developing algorithmic business models.
Previously, Hodgson was chief technology officer at online residential property investment platform Bricklane, where he was a member of the founding team.
Before this, he held technical architect and senior engineering roles at Conde Nast and the BBC.
Hodgson said: "Ki represents a unique opportunity to apply a technology driven mindset to a well established market.
"What the Ki team have achieved to date is unique for the market and illustrates a case study for success in the UK startup ecosystem. I'm excited to join Ki's talented team in further developing the platform and helping to grow the business."
Mark Allan, Ki's chief executive, said: "At Ki, we are taking a technology first approach to underwriting. We are therefore delighted that Hodgson joins Ki in the newly created role of chief technology officer.
"Hodgson will bring an entrepreneurial approach and proven experience in scaling technology in a high-growth business as we look to continually explore new opportunities to provide a best-in-class and differentiated digital service to the market."