Original rates are creeping back up but will cedants be able to maintain their large liability retentions?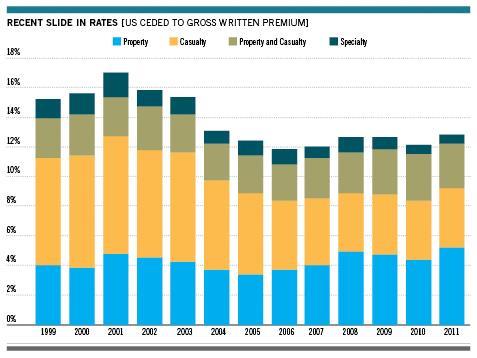 After several years of softening, original rates in the US casualty market are creeping back up. A combination of factors including low interest rates, deteriorating reserves and claims inflation has led underwriters to adjust their underwriting approach.
"The economics of underwriting casualty business have changed dramatically – particularly since base interest rates have been so low," says Guy Carpenter managing director and head of EMEA strategy Chris Klein.
"Traditionally, casualty pricing has been predicated on the fact that the float of reserves was held for a long period of time and earned a reliable stream of investment income, even to the extent that reserves were discounted against future investment income. That is something that has changed. So how do you get the right price for the capital that is exposed today? It's much more uncertain."
Aon Benfield's summary of casualty rate changes in the second quarter of 2013 shows increases in all segments, albeit at a slower pace than in the previous two quarters. All major lines of business for the Council of Insurance Agents & Brokers continue to increase with workers' compensation increasing at a faster pace than other lines.
"Original rates are increasing gradually," says Markel Global Reinsurance president and chief underwriting officer, casualty reinsurance, Dave Kalainoff. "Workers' compensation is where we're seeing rates increase in some jurisdictions, as low premiums have not been enough to carry the losses. Underwriting profitability hasn't been there, so rates are increasing for workers' comp in particular."
Yet to date, there is little sign of casualty reinsurance rates moving in any direction except downwards. Much of this is a result of increased retentions on the primary side of the business and lower demand for reinsurance cover. This has had a huge impact and casualty premiums ceded to reinsurers by US cedants have fallen by nearly half since 2004.
"There has been an evolution of the business since 2002," says Kalainoff. "A lot of profit has been generated; primary companies have more surplus and so are taking larger net lines and buying less reinsurance as a result. I don't see the phenomenon of buying less reinsurance protection changing in the near term, but hopefully we have reached a plateau."
Retain or buy?
With a shrinking casualty reinsurance market, many traditional players inevitably turned their attention to the US property catastrophe market. Now, with an influx of capital from institutional investors hungry for yield and diversification, reinsurers may be encouraged to deploy their capital into longer-tail lines of business once again.
Willis Re predicts the capital influx could displace up to $40bn of traditional equity reinsurance capital over the next five years, which could either be returned to shareholders or redeployed elsewhere in the reinsurance market. There is the obvious concern this could further dampen rates on the reinsurance side if cedants continue to retain large portions of casualty risk. However, Fitch Ratings EMEA insurance head and managing director Chris Waterman thinks reinsurers will continue to practise capital management.
"Many Bermudians have been disciplined in their capital management and returned capital by way of share repurchases, and special dividends have been a feature of the market for a number of years," he says. "If capital can't be deployed profitably in a company's core business, we could expect to see further return of capital to shareholders, but large amounts of excess capital are not necessarily going to be used to diversify into other lines of business simply to deploy that capital."
In its mid-year renewals report Willis Re notes that firming primary rates for workers' compensation are generating more interest from reinsurers on lower "per person" exposed layers. It also observed there was greater interest from cedants in purchasing "per person exposed buffer layers", with coverage enhancement available on all contract types. Catastrophe rates remain soft as supply continues to outstrip demand.
Thirst for more
Despite the oversupply of capacity in the US casualty reinsurance market, some reinsurers are positioning themselves to write more US casualty business. This includes Amlin, which launched a new lead US casualty reinsurance team last year.
If original rates continue to stabilise and the US economy continues to recover this might just be a smart move. US GDP rose at a 2.5% annualised rate in the second quarter of 2013, after expanding just 1.1% in the first quarter. Unemployment figures have also dropped and residential construction increased at a 14.2% annualised rate.
All this bodes well for casualty underwriters over the longer term. The economic downturn has been partially responsible for declining premiums in liability classes over the past five years. As the economy picks up so too should demand for cover.
US corporates are at present purchasing liability products more than any other type of coverage followed by workers' compensation, according to a Swiss Re Sigma report.
However, there are few signs that cedants are increasing their demand for reinsurance protection despite the improvement in original casualty rates.
"Decisions about the amount of risk insurers should retain have moved from tactical and cyclical considerations to a higher plane of strategic capital management," says Guy Carpenter's Klein. "The size of an insurer's retention today is driven more by risk appetite and capital optimisation rather than short-term pricing arbitrage."
"This is particularly so in the larger groups where reinsurance procurement is increasingly managed at the group level rather than in the operating companies, the consequence of which has usually been larger group retentions," he continues. "A further consequence has been an increased interest in aggregate reinsurance covers designed to protect retentions (and earnings) against a higher frequency of losses."