Son of an insurance legend, friends with Warren Buffett - Mark Byrne has industry credentials to spare. So when his firm, Haverford, made an audacious bid for Omega, the market was enthralled. But what went wrong?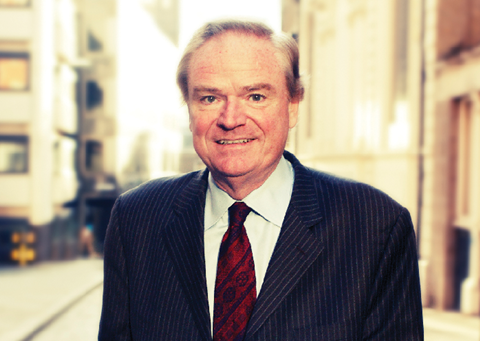 It's a tough question, one that Haverford chairman Mark Byrne is expecting, and the moment has arrived: what has he learned from the collapse of the deal to buy a stake in Lloyd's (re)insurer Omega?
Byrne takes a moment to collect his thoughts. He grabs a Diet Coke from the fridge, his second of the interview, and returns to his chair.
"I might have put a price adjustment clause in the tender contract." he says. "There wasn't one. A price adjustment clause would probably have made more sense in the lengthy time that approvals take."
For those who don't know, Haverford, during a blaze of publicity at the Monte Carlo Rendez-Vous last September, launched a tender offer of 83p per share for 25% of Omega.
The market was captivated. Byrne is the son of Jack Byrne, who built his reputation on rescuing decrepit insurers from the brink.
Mark Byrne had also built his own reputation as canny dealmaker and founder of Flagstone Re. Omega, plagued by shareholder revolts and a string of catastrophe losses, was about as difficult as they come. Could he secure a deal?
A few weeks later, in its third-quarter interim management update statement, Omega revealed the bad news: first-half 2011 losses had deteriorated by $6m, it had incurred an additional $10m of third-quarter catastrophe losses, and $9m of attritional losses.
Concerned that it might be overpaying for a business that had suffered a deterioration in capital adequacy, Haverford proposed a cheaper 74p-a-share deal at a fixed price. Angry Omega shareholders shot down the revised proposal and Haverford pulled out just before Christmas.
Lessons learned
Byrne would no doubt have loved to have snapped up a 25% stake in Omega, using it as a springboard to turn the company around. However, it wasn't to be.
In hindsight, would he have done anything differently? "For the fact that the financial position of the company could change for the better or the worse materially during that time, it would seem to me - particularly for a cat-exposed company during the storm season - that it's a good idea to have a price adjustment clause," Byrne says, continuing his previous line.
He hints that he is still in the market for a Lloyd's deal. "The thing that makes some of the businesses for sale attractive is really the price. Usually, Lloyd's vehicles trade for a hefty premium to their book value, but these days they are trading at or below their book value."
As you'd expect from an entrepreneur, Byrne is upbeat: lessons have been learned, and now he's keen to move on and follow in the footsteps of his legendary family.
He's a son of a member of the insurance industry's hall of fame, former GEICO chief executive and White Mountains founder Jack Byrne, whose father before him also worked in insurance.
When asked how great the pressure was to complete the holy trinity, Mark Byrne says wryly that there was little chance he would not spend part of his career in the insurance industry.
"Insurance was ordained from birth, given my father's influence. I have owned four private insurance companies. I have been on the board of four public companies, so I have been around insurance literally since I was a kid."
The affable yet conservative 50-year-old forged a successful early career predominantly as a derivatives trader, living an ex-pat existence in Tokyo, London, California, Paris and Sydney. After tiring of finance, Byrne decided to play one hell of a trump card.
"I started a hedge fund with Warren Buffett as my limited partner. He is not my godfather, despite that story following me around for the past 30 years, just a very good friend. That fund was called Value Capital and I ran that for 10 years. I shut that down to create Flagstone in 2005."
Byrne and co-founder David Brown launched short-tail reinsurer Flagstone Re in December 2005 in the aftermath of Hurricanes Katrina, Rita and Wilma, to take advantage of severe market dislocation and substantive losses suffered by the insurance industry.
In May 2010, Byrne surprised everyone when he sold his $24m worth of shares in Flagstone and stepped down from his executive chairman position. By December that year, he retired entirely from Flagstone's board and disappeared off the industry's radar.
"I sold out of Flagstone and left its management to go sailing for a year. I hadn't had more than a two-week vacation in 28 years of working."
When Byrne finally came ashore, he returned to his position as chairman of his Bermudian reinsurer and investment firm Haverford with a healthy acquisition appetite.
Big plans
Looking ahead, Haverford is intended to predominantly serve as the reinsurance vehicle for the eventual London operation, Byrne says. "I am focused now on creating or buying a London vehicle, which will then reinsure to Bermuda."
And Byrne has even bigger plans beyond the Lloyd's doorstep. "A very useful structure is to have a reinsurance company in Bermuda, a Lloyd's insurance/reinsurance platform, as well as an insurance company underneath. We might want to be in the company market as well as the Lloyd's market in due course, but it wouldn't be the urgent thing. We'll focus our attention on Lloyd's to begin with."
Byrne says he feels no great sense of urgency to find a new acquisition target, comparing a Lloyd's purchase to walking into a marina and asking if any of the boats are for sale. "The answer is that they are always for sale," he laughs.
His heart now, Byrne reveals, lies elsewhere. "If you divide the world up into these merger and acquisition auction transactions, versus doing something organic or a start-up, while we are going to look at everything that is for sale, my heart really lies more with doing a start-up."
That's Byrne through and through: an entrepreneur at heart, who is bubbling with enthusiasm. It's clear the industry is going to hear a lot more from the heir apparent to the Byrne name.