Matthew Fosh faced many challenges when he joined Novae as chief executive but he says the company's success is down to the qualities of its staff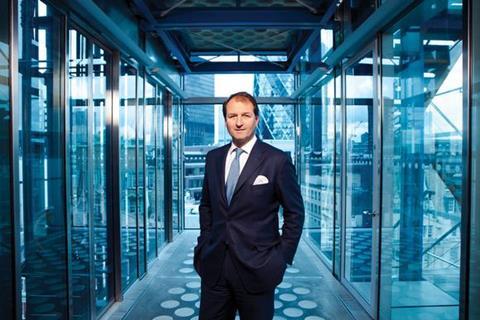 "People laughed at me," says Matthew Fosh when he recalls taking the top job at Lloyd's (re)insurer Novae back in November 2002. "They said: 'This capital markets guy hasn't a clue what he's letting himself in for.'"
Fosh had chosen to join at a time when mention of the company's name, then SVB Syndicates, would elicit a derisory snort from Lloyd's contemporaries. SVB had got itself into hot water writing US liability reinsurance in the late 1990s – a course of action that resulted in heavy losses and repeated reserve strengthening for many companies and even failure for an unfortunate few. "SVB was written off by many people," Fosh says.
Not only had Fosh taken on a challenge in tackling US liability business that had bettered some seasoned insurance professionals, he did so with no prior insurance knowledge. His background is derivatives trading: he joined Novae from inter-dealer broker ICAP, which had bought Fosh's own trading firm – Seagray Fosh Futures – in 2000. Little wonder that his peers did not fancy his chances.
They might be laughing on the other sides of their faces now. Under Fosh, Novae has not only survived, it has completely transformed itself. The series of changes – which were completed at the end of 2010 and the beginning of 2011 with the closing of Novae's two run-off syndicates and the folding of its separate UK legal entity into its Lloyd's syndicate – has put the company's past almost completely behind it and provided a source for future growth.
In particular, the firm's fledgling Swiss reinsurance operation, Novae Re, which was set up in August 2009, is likely to be one of the main engines for growth at Novae. The new unit wrote £103m ($167.7m) of gross premium in 2010, its first year of operation, against a target of £90m-£100m. This accounted for 17.5% of Novae's total 2010 GWP of £587.7m and played a big role in the 53% GWP growth over 2009 levels. The unit is budgeted to write around £175m in 2011, and, with rates looking likely to harden in Novae Re's core market of international property-catastrophe reinsurance, it is well positioned to deliver this.
Yes, I have the privilege of being chief executive, but the rest of the team are absolutely embedded in the senior management structure of this business"
Novae is also now profitable. For the full 2010 year, Novae made a profit before tax of £35.1m, compared with only £4.2m in 2009.
While the company is viewed as a takeover target by many analysts because of its low stock market valuation, it is clearly keeping a keen eye out for opportunities to sit in the driving seat. On 31 May Novae announced that it was performing due diligence on fellow Lloyd's firm Omega.
Smile, it might never happen
Morale was low when Fosh arrived, and he had to tackle it fast. He did this with humour. On the back of Fosh's office door hangs a plaque that reads: 'The floggings will continue until morale improves', which he says "sums up my management style to a tee".
"My Dad gave me that," he says of the plaque. "When I walked in here, this was a troubled, miserable, grey and unhappy place. One way of beating that was with humour."
But Fosh hasn't lost sight of the fact that there is a serious job to be done. On top of a filing cabinet is another plaque with a more traditional message: 'Good manners is good business'.
While results so far seem to show Fosh has struck the right balance with his management style, there is clearly still much to be done.
Despite putting Novae on an even keel and returning a £32.9m of capital to shareholders following the closure of the non-Lloyd's unit, the company's stock market valuation still lags behind its book value. Novae's share price at the time of going to press was 372p, against 2010 year-end net tangible assets per share of 449.7p.
As well as being disappointing for shareholders, the low valuation stunts Novae's expansion options and marks out the company itself as a takeover target. Following the sale of close rival and one-time merger prospect Chaucer to US insurance group Hanover, Novae has become analysts' favourite to be taken over next.
And although the greater push into property reinsurance is providing diversification and growth, it also brings its own problems, as the company's estimated $60m-$80m catastrophe losses to date underscore.
The black hole problem
The journey to the more comfortable position Novae now occupies has not been smooth. Having stopped the deterioration of the casualty business in 2006 – which Fosh describes as the "black hole problem" – the company decided to start growing in a bid to improve its reputation.
But despite management's insistence that the problem was under control, shareholders would only sanction a capital raising away from the latent books of run-off liability business and thus outside the existing Lloyd's operation.
Novae Insurance Company Ltd (NICL) was born and, according to Fosh, required at least £100m of capital to secure it an A rating. However, the UK SME liability business that was to become the new company's staple diet was soft and has remained so since, prompting Novae's then chief underwriting officer, Peter Matson, to turn his nose up at the business – a decision Fosh still praises Matson for today.
While Matson's decision likely saved Novae a further beating at the hands of underpriced liability insurance, it also meant that NICL had plenty of capital but little to do with it. This proved a drag on Novae's return on equity, in turn hitting its stock market valuation. "We had exchanged a black hole problem for a surplus capital problem," Fosh says. "A third of our capital simply wasn't being deployed at all, so it was no surprise we had a return on revenue one-third less than our peers."
And so the tough decision was taken to abandon the UK insurance division, combine its business with the syndicate and free up the capital tied up in the business.
Consistency's key
Fosh argues that the missing ingredient that will put Novae alongside the likes of Hiscox and Amlin, whose shares trade at an – admittedly modest – premium to net tangible asset value, is consistent results. "We have to demonstrate the ability to deliver a combined ratio consistently in the low 90s year on year," he says. "I have every confidence we will do that. The reason we haven't done it to date has not been anything to do with the classes we have had. It has been to do with the classes we haven't had."
What Novae was lacking was property-catastrophe reinsurance business. Its answer to this problem was Novae Re, established a year before a clutch of its peers, notably Amlin, Catlin and Canopius, decided that the next must-have for budding Lloyd's operations was a Swiss office. The company is managed by a group of senior continental European underwriters under former Endurance executive Gunther Saacke, who serves as Novae Re's chief executive and chief underwriting officer.
People ask me: 'How can you be growing business in a soft market?'. I'm not asking these guys to plant the flag in Zurich and steal lots of business from everybody else at a cheaper price."
The senior team at Novae Re also includes deputy chief underwriting officer Willi Schuerch, former chief catastrophe underwriter at PartnerRe and one-time Swiss Re executive, and head of engineering Johannes Goebel, who previously worked for Allianz Global Corporate & Specialty and Allianz Global Risks. The entire team is now 25 strong, with 20 in Zurich and five in London.
According to Fosh, the senior team had left their respective companies and teamed up between 2007 and 2008 with a view to set up their own reinsurer. However, they were foiled by the financial crisis, which made it difficult for them to raise funds. Not wishing to be out of the market for too long, the team found a home within Novae as its new dedicated reinsurance unit.
Enter Novae Re
Fosh likens the hiring of the Novae Re team to making a premium-free acquisition of a ready-made reinsurer. He believes the team's previous experience helps set Novae Re apart from the other Swiss operation of Lloyd's (re)insurers.
"Look at their track records," he says. "Karl Schneider [Novae Re's head of agriculture] is a global authority in agriculture. Willi Schuerch is internationally known in property-catastrophe. These are 50-somethings, not 32-year-old wannabes. These are established, credible, experienced, well-known underwriters."
Fosh believes the team's standing has also allowed the reinsurance division to hit its premium targets despite generally soft conditions during 2010. "People ask me: 'How can you be growing business in a soft market?'," says Fosh. "I'm not asking these guys to plant the flag in Zurich and steal lots of business from everybody else at a cheaper price. I'm asking them to effectively bring their franchise as underwriters to Novae. This is business they have been writing for 20 to 30 years and typically leading."
The senior reinsurance team's business plan before joining Novae was to be writing $600m of business by year two. Within Novae, they will only be writing a fraction of this in their second year. It could be assumed that a larger, better capitalised rival with need for a ready-made Swiss reinsurance division would be able to steal the team from under Novae's nose.
However, Fosh is insistent that the team knew what they were letting themselves in for and are happy with what they have achieved – although it is not what they had originally planned. He also contends that his management approach, which he describes in simple terms as "choose good people and back them" makes their sudden departure unlikely.
"It is down to good management, good integration, incentivising them properly and making them feel embedded at a senior level in the strategy of the business as a whole," he says. "Yes, I have the privilege of being chief executive of this business but they are absolutely embedded in the senior management structure of this business."
While it is hitting premium targets, the reinsurance business still has some way to go before it is contributing to Novae's overall profitability. Fosh admits the unit has yet to turn a profit. And it could struggle to do so this year as a result of catastrophe losses. While it could be argued Novae Re chose a bad time to set up, Fosh says: "These businesses take a year or two to properly bed down and to build up to critical mass. If we'd had a stonking hard market in January 2010, we'd have missed it."
While Novae clearly still has a lot to prove, and it remains a takeover target, it is certainly no laughing stock now. GR
Predator or prey?
Following the sale of Lloyd's insurer Chaucer to German insurance group Hanover, Novae is now top of many analysts' lists to be the next listed Lloyd's firm to be taken over. However, while acknowledging that the decision ultimately rests with Novae's shareholders, Fosh is determined that Novae will not go cheaply, if it goes at all.
"I have not worked here eight years with my colleagues, for 12 hours a day, to fix something that someone said was unfixable just to give it to someone else for one times book value ," he says. "If someone wants to come in and pay my shareholders a substantial premium for the patience they have shown for eight years in building this business, then I'm sure they'd want a conversation."
Novae declined to comment further on its due diligence of . However, speaking to Global Reinsurance the week before the Omega announcement, Fosh contended that the existing mid-tier Lloyd's insurers are too small.
"These businesses are sub-scale," he said. He argued that 10 years ago many of the big names in Lloyd's were the same size but that some firms pulled away from the pack, leaving the mid tier wanting.
"What you have seen in the past five years is a separation of the bulge-bracket of Amlin, Catlin, Hiscox and Lancashire from the next tier of Novae, Omega, Hardy, Chaucer and Canopius," Fosh said. "That tier needs to be five times the size."
The listed companies in particular need to be bigger to make them more appealing to stock market investors, Fosh argued. "Scale matters in this business," he said. "Yes, you can be a skilful niche underwriter of certain individual classes but that doesn't lend itself well to the public market nor the advantages the public markets bring you, such as access to capital and M&A ability."
While the Omega announcement seems to be positioning Novae as predator rather than prey, some feel that because of Novae's low stock market valuation, Omega is one of the few firms it could buy.
"My sense is that Novae management wants to do something, and you can't sit around waiting to be bid for," Collins Stewart analyst Ben Cohen says. "I guess they would look at this as one of the few deals that might be doable for them in terms of size and relative ratings, because Omega's rating is also depressed, with the idea presumably to create a larger, more liquid combined entity."