Fitch Ratings' observations about the reinsurance sector reveal an inconsistent picture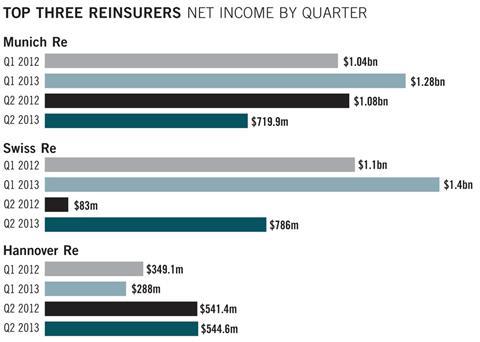 For executives looking for critical insight into the reinsurance sector, educated predictions about the future from impartial observers are the next best thing to having a crystal ball. But Fitch Ratings' observations about the reinsurance year so far, as well as the future prospects and potential obstacles, reveal a mixed picture.
Overall, reinsurers should turn a healthy profit in 2013, despite pricing predicted to stay flat or soften. "Our expectation, given the caveats of not seeing any large losses until the end of the year, will be that the industry will remain profitable, and could be strongly profitable," Fitch insurance director Martyn Street told GR.
But this profit is unlikely to match strong years such as 2012, as reinsurers grapple with soft pricing and low investment yields, he says.
Fitch has observed no rate hardening in renewals this year, and predicts that this will continue until the end of the year.
Rate-softening extremes
One of the most extreme examples of rate softening comes from US property catastrophe business, Street says, where Fitch has seen price drops of up to 25%.
Low interest rates will continue to plague reinsurers, he adds. This is particularly the case for property catastrophe reinsurers, as their investment periods tend to be shorter than reinsurers in other lines, and they tend to invest conservatively.
Rate rises are also being capped because reinsurance capitalisation is at a record high, Street says.
Fitch insurance managing director, head of Europe, Middle East and Africa Chris Waterman says low interest rates mean much of that capitalisation is made of unrealised investment gains on bond portfolios.
"If we see a spike in interest rates, subject to the hedging of some reinsurers, that will take out some of the capital," he warns.
The rating agency is investigating this, he says. It is also paying attention to how insurers and reinsurers are dealing with inflation.
Street says that although inflation is not increasing quickly, a spike in inflation linked to interest rates could render current pricing inadequate. "So we are asking insurers and reinsurers what they are doing about inflation," he says.
"Some are pricing it, or trying to price it, into their businesses," he continues. "Others are addressing it with investments in areas such as inflation-linked notes, or asset classes that are more closely linked with inflation."
We are asking (re)insurers what they are doing about inflation

Martyn Street, Fitch Ratings
Fitch has seen disciplined pricing from reinsurers and brokers in 2013, Waterman says, but adds. "Given the level of capital, we would expect some players to be cutthroat in their approach, and that's not what is happening in the market at the moment," he says.
"I think that is reflected in the profitability we are seeing."
As for reinsurance merger and acquisition activity, Street says Fitch expects this to remain subdued. This is mainly the result of uncertainties over the future of Solvency II for (re)insurers and a lack of credit available since the credit crunch.
M&A opportunities
However, Street says an incentive for acquisitions is that much of the industry is currently trading below book value, which represents a good deal for potential buyers.
Waterman says: "Our expectation is not to see any transformational deals in the short term. We will see smaller, bolt-on transactions."
Overall, the Fitch predictions offer mixed blessings for the reinsurance sector. While the lack of mergers and acquisitions potential and balance sheet turbulence from inflation and interest rates may not be great news, executives can take heart that a profitable year is almost certain.