Annual conference highlight generates intriguing discussion on range of crucial insurance industry issues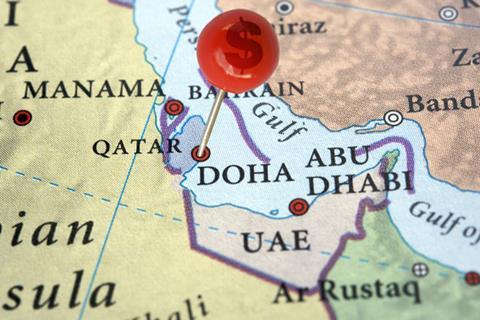 The future of the insurance industry in the MENA region in terms of pricing, innovation and regulatory changes were the key topics of discussion at the annual Multaqa CEO debate in Qatar.
The debate, co-hosted by Qatar Central Bank and the Qatar Financial Centre Authority and organised by GR, focused on insurance pricing, the role of regulators and several other topics.
An audience poll at the start of the debate saw two-thirds (66%) disagree with the idea that insurance pricing levels in the MENA region had hit bottom.
Most of the panel, moderated by GR editor Jack Grocott, agreed with the delegates – but they were divided on their reasoning.
"There is still abundant supply capacity in the region which can only lead to one thing – price competition," said ARIG chief executive Yassir Albaharna.
"Price seems to be the main distinction in the MENA region. We are yet to see further price reductions in the MENA region in the short term so there will be further adjustments."
Marsh Middle East & North Africa CEO and managing director Robert Makhoul also predicted that rates would continue to fall, but said region-wide assumptions should be avoided due to the diversity of the countries involved.
"When you are looking at the MENA region it is important to recognise its geography, from Morocco to the Gulf to Pakistan," he said. "There is not really one market you can define as MENA – it is comprised of individual countries or clusters of markets. Even in the GCC there are differences between, say, the UAE and Saudi Arabia, for example."
Predicting a "soft market for the next 12-24 months" Makhoul questioned whether or not price was the only driver for business.
"Are decisions solely made on price? Price is important but buyers are also looking for more – innovation, financial security and stability."
Abu Dhabi National Insurance Company chief executive Walid Sidani offered a different perspective, saying that he saw "capacity in the market".
"Expect to see stabilisation in 2014," he said. "We are seeing growth in capital markets in the UAE and I believe that companies will focus on price rationalisation."
A warning on price in terms of reinsurance was issued by PartnerRe head of high growth markets Salvatore Orlando.
"In the regional reinsurance markets, price is one issue but the inclusion of additional coverage is another. The risks are increasing and we should be very careful about further decreases in price."
Orlando predicted "many changes in reinsurance in the next couple of years… driven by a one-sided capital market".
He said: "Reinsurers are desperate to find new income streams and this means either diversifying in lines of business, for example, agriculture in the Middle East, or in new regions, and that leads to more capacity."
Pricing is one of the factors driving innovation among insurers but, according to Makhoul, the client remains at the heart of everything.
"The broker role continues to be as the advocate of the client – that is the primary responsibility," he said. "We always look from a client-based perspective to deliver an innovative solution to clients. We are trying to craft solutions that utilise the resources in the regional marketplace."
That market place is being tested by regulators on an increasing basis – but the role of regulators themselves proved divisive among the panel in terms of where their priorities should lie.
Delegates were asked whether minimum capital requirements, minimum retention rules or greater regulatory coordination and consistency should be top of the agenda for regulators.
An overwhelming majority cited coordination and consistency as most important. But this view was not reflected universally across the panel.
Sidani said he was "surprised by this," as the key driver for him was minimum capital. "This is the engine for regulators to focus on," he said.
"It is important for us to define regulatory strength – does it do its core duty - that is financial stability and integrity."
This would, he said, protect the consumer. "You have to emulate the market you serve…understand what the customer wants."
Rating regulators in terms of their various strengths and weaknesses also came under consideration by the panel.
Did the answer lie with greater involvement from insurance associations? Perhaps, said PartnerRe's Orlando. Certainly, "coordination between insurers and regulators is needed," he said.
Self-regulation appeared a more realistic and viable option, according to Sidani.
"I think the role of regulator is evolutionary - they should become supervisors," he said. "Self-regulation is the future. We should be frank – we are here to help the regulators. We need to have an open platform so we can have a dialogue with them."
Makhoul agreed that self-regulation was an option but he doubted whether "consistency of regulation around MENA" was ever possible.