The Iran quake is another reminder of the inherent danger in building nuclear plants in catastrophe zones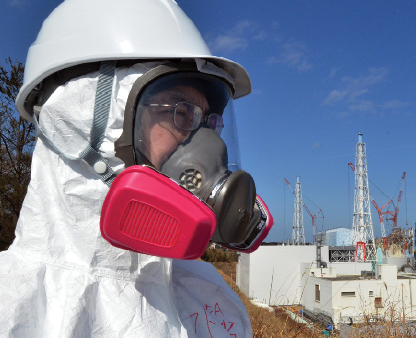 Two years on from Japan's Fukushima disaster, the M6.3 earthquake that struck Iran's southwest coast close to its only nuclear reactor will once again raise questions about the hazards of locating nuclear power stations in parts of the world that are vulnerable to earthquakes and other catastrophes.
The number of nuclear facilities in Asia alone is expected to triple by 2035.
The Iran quake that struck on 9 April was felt across the region, including in Bahrain, the UAE and Qatar. Workers in Qatar were evacuated from high-rise buildings.
Iran was quick to reassure there had been no damage at the Bushehr power plant and no radioactive release. The International Atomic Energy Agency said it was satisfied there was no danger. The plant's chief said the reactor could resist earthquakes of up to magnitude eight.
Remembering Fukushima
The event comes two years after the meltdown at Fukushima, which occurred after the reactor was flooded by the tsunami triggered by the magnitude 9.0 Tohoku earthquake on 11 March 2011.
The accident raised questions surrounding safety management at nuclear power plants and about nuclear security.
According to AIR's catastrophe risk engineering (CRE) experts, damage to nuclear facilities from natural catastrophes such as earthquakes and tropical cyclones not only affect the facilities, but can also severely affect the surrounding areas.
The CRE team said: "As we have seen in recent history, damage to these critical infrastructures resulted in property losses, business interruption, and the irradiating effects of contaminated coolant water. That irradiation is a unique consequence associated with these types of facilities that necessitate far more resilience in its functions and lifelines (that is, backup power, water supplies, and components) to ensure prevention of a meltdown.
"Detailed catastrophe risk assessments should be considered as a means to determine critical vulnerabilities and provide a clear roadmap for physical mitigation, to fundamentally reduce the risk of the facility and avoid similar situations in the future."
In Germany, in the aftermath of Fukushima, the decision was made to close the country's nuclear reactors by 2022.
The EU decided to reassess the level of nuclear safety at 132 plants around Europe. Stress tests looked at the robustness of nuclear power plants in cases of extreme natural events, especially floods and earthquakes, as well as manmade catastrophes such as aeroplane crashes.
A revised Nuclear Safety Directive has been proposed. This will be followed by proposals to extend liability conditions and compulsory insurance for nuclear risks.
Nuclear ambitions in emerging markets
But there is concern surrounding the rapid development of nuclear facilities in developing countries, something that is likely to be compounded by the earthquake in Iran.
"The personnel and responsibilities for operations management and crisis management are unclear, and it is possible that [developing nations] will be reluctant to share information or accept assistance from other countries when an accident does occur," states The Sasakawa Peace Foundation's Japan-US Exchange Program in a piece of research on the Fukushima incident.
In 2012, there were 427 nuclear reactors in operation in about 30 countries around the world. There were also 169 reactors either under construction or in planning stages with 111 of those in Asia.
China plans to build 48 to 80 reactors, and India plans to build 20 to 26 NPPs by 2020. Vietnam is also planning a future built around nuclear power.
The attraction of nuclear power is it allows rapidly developing countries with exponentially growing populations to gain an enormous supply of electricity from a small quantity of uranium fuel. Uranium can be sourced from politically stable countries such as Canada and Australia.
However, there is concern that some emerging economies do not have the necessary technology or nuclear engineers to meet their nuclear ambitions. The risk of nuclear accidents and treatment and disposal of nuclear waste pose various challenges.