Premium income represents less than 50% of current 2017 loss total in downstream market
The downstream energy sector suffered its worst loss record in nearly 10 years following the impact of 2017's Gulf of Mexico hurricane season and other major losses around the world.
In its recent Energy Market Review for 2018, Willis Towers Watson (WTW) singled out losses in excess of $1bn directly related to the devastation brought about by hurricanes Harvey, Irma and Maria.
However, the number of non-natural catastrophe claims made against the market has been "significant", according to the analysis.
As of February 2018, no fewer than 13 losses in excess of $100m were recorded for 2017 in the downstream energy market (see table).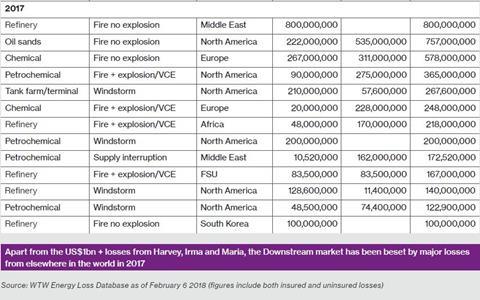 According to the report, the estimated global premium income for the downstream sector is still at approximately $2.1bn; meaning the premium income stream still represents less than 50% of the overall current 2017 loss total.
Although the upstream sector has experienced one of the most benign loss years on record, conditions remain "uncomfortable".
Capital continues to flood the market making price increases hard to set and even harder to maintain.
Capacity has crept up in both the upstream and downstream property markets, to $7.95bn for upstream and $6.8bn for downstream.
The subheading of the insurance broker's report asked: "Between a rock and a hard place?"; which emphasises that energy insurers are feeling the pricing pinch and are concerned about the sustainability of pricing and the quality of their underwritten risks.
That question of pricing adequacy versus risks run means insurers are navigating between continuing to invest heavily in their portfolios and scaling back to wait for better conditions to materialise, the report warned.
Neil Smith, head of natural resources P&C at Willis Towers Watson, commented: "Looking back at the terrible hurricane season in 2017, we can now say with some confidence that the apprehension felt by many energy insurance buyers in the immediate aftermath of these hurricanes has to a large extent been unfounded.
"Despite the 2017 storms producing well in excess of $75bn of insured losses, the turnaround in market conditions has been much more modest in comparison to other major events of the last decade," he continued.
"We recognise that insurers now have to consider whether to continue to invest heavily in these portfolios or to scale back to wait for better conditions to materialise. Both options carry risks, which suggest that the outlook for the energy insurance markets remains an uncertain one."