Permier outlines plans to "lead the way" on building interoperability into legislation
Bermuda Premier David Burt has announced a $10m partnership with blockchain network Shyft.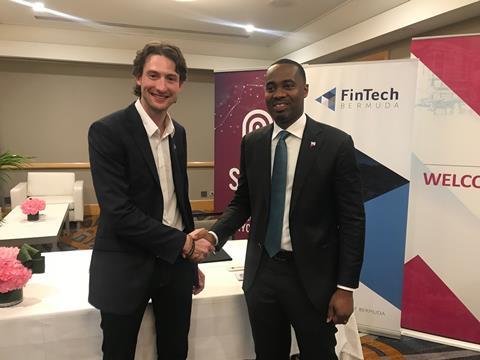 The announcement of Bermuda's government's Memorandum of Understanding (MOU) with Shyft, a global blockchain-based network offering data protection for governments, industry and consumers, was made During Consensus 2018 in New York, one of the largest cryptocurrency conferences.
Under the agreement, Shyft will commit $10m to create new jobs, help re-skill labour, and invest in businesses, education and infrastructure, as well as collaborate on creating a robust legal and regulatory framework.
"The government of Bermuda has decided to lead the way and build interoperability into legislation, in essence, approach regulatory frameworks with exportability in mind," said the Premier, who lauded an additional joint venture announced between Shyft and Bermuda's Trunomi, adding both partnerships would bring robust levels of blockchain certainty to the island's know-your-customer (KYC) and anti-money-laundering (AML) protocols and processes.
The Premier and Bermuda group were also invited to the Manhattan offices of global law firm Norton Rose Fulbright to talk about Bermuda's economy and the island's innovative approach to business.
The Premier addressed an audience of more than 100 of the firm's attorneys from practice groups across all sectors who attended, as well as others connected via video conference in Toronto, London, Munich, Frankfurt, South Africa, the Netherlands and the Middle East.
"Norton Rose Fulbright was absolutely delighted to host this event and collaborate with the Bermuda government in its vision to become a global leader in the fintech arena," said Partner Mina Matin.
"We learned first-hand about the island's new legislative and regulatory framework for digital assets, and we really hope this event will encourage premiere businesses to move to Bermuda through our global network."
Craig Swan, Managing Director, Supervision (Insurance) for the regulator, added: "We at the BMA have studied the fast-developing blockchain and virtual currencies sphere carefully and we've come up with legislation we believe addresses many issues.
"We're seeing that clarity is an attraction to many who realise they need to be in a well-regulated jurisdiction with credibility to transition to the mainstream. The new legislation serves to provide that," he said.
19 November 2018 | Rosewood, Bermuda
In November 2017, Global Reinsurance delivered a brand-new event in Bermuda which had the island buzzing! Focused solely on innovation and insurtech, the one-day event brought together 150 delegates, 30 international speakers and six technology start-ups.
We are delighted to announce that we will be returning this year on 19th November 2018, with the aim of bringing our audience more exclusive interaction with the best and brightest innovators and leaders in this space.
To view the agenda and register your interest, please visit our event site.