Bermuda has big intentions to become a centre of innovation excellence in transformative technologies such as blockchain and recent investment is testimony to this potential
Bermuda is positioning itself as a centre for blockchain and is aiming to become the first jurisdiction to regulate this emerging technology.
For the past couple of years, there has been increasing interest from companies across all sectors in using blockchain - the digital, decentralised, distributed ledger that first was developed to underpin the cryptocurrency bitcoin.
Blockchain can be used in all manner of ways; last year, for example, the Australian Securities Exchange announced it would use blockchain to keep track of shareholdings. It also is being used for such diverse purposes and monitoring supply chains and verifying the provenance of diamonds.
For the insurance and reinsurance industry, blockchain offers opportunities not just to improve efficiency but also to underwrite in new ways, experts say.
In May, analysts from Fitch Ratings told analysts that blockchain is a "potentially transformative technology" for the insurance industry, in part because of the vast amounts of data the insurance and reinsurance industry generates and uses.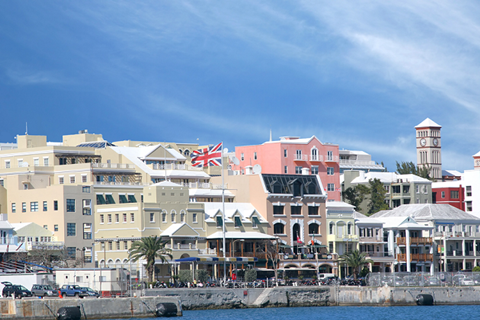 Against this backdrop, and recognising the important part that blockchain is likely to play across many industry sectors, Bermuda has been making strides to become a leading jurisdiction for blockchain. And putting in place robust regulation is an important element of that, experts say.
In November 2017, Bermuda's Premier, David Burt, announced the formation of a blockchain task force aimed at "creating an ecosystem that is both well-known and attractive to businesses whose operations include the use of blockchain technology."
Earlier this year, the Bermuda Monetary Authority issued a consultation paper on the regulation of virtual currencies.
A Bill was introduced to amend the Companies Act 1981 & Limited Liability Companies Act 2016 that would regulate Initial Coin Offerings (ICOs).
This was followed by the tabling in the House of Assembly of the Digital Asset Business Act. Premier David Burt described this as "an exciting, landmark achievement".
"A team of men and women from the private sector, the Public Service and the Bermuda Monetary Authority have delivered legislation that puts Bermuda in the 'First in the World' category," he said.
"Their efforts have produced a Bill that will introduce a supervisory framework for the Bermuda Monetary Authority to regulate persons carrying on digital asset business and for the protection of the interests of clients or potential clients of persons carrying on the business of digital asset business."
Bermuda has moved swiftly to be at the forefront of regulation of ICOs and digital assets, said Chris Garrod, director and head of blockchain and ICOs at Conyers Dill & Pearman.
The strategy essentially has "two limbs," he explained.
The ICO legislation, which has been approved by the House of Assembly, is aimed at token issuers, while the Digital Asset Business Act is aimed more at coin issuers and digital exchanges.
Representatives of the working groups within the Blockchain Task Force, set up in November, attended the World Economic Forum gathering in Davos, Switzerland, and received lots of interest from people interested in finding a regulated environment for blockchain activities, Garrod said.
"People were excited about having Bermuda in this space, they liked the fact that Bermuda is looking at imposing regulation, and doing so in a sensible fashion," he said.
"What we are attempting to do in Bermuda is to create a global-leading standard," Garrod said.
The working groups brought in experts who had worked on developing legislation or white papers in this space, he explained.
The proposed digital asset legislation is of a high standard, Garrod explained.
It will, for example, require companies to have a physical presence on Bermuda, with board members spending time there and decision-making taking place on the island.
An important element of the digital asset legislation is that it allows companies to "sandbox," Garrod explained.
Companies will be able to apply for full licenses, or to work - alongside the Bermuda Monetary Authority - to test innovations, he explained.
Indicative signs
In May, cryptocurrency trading company Omega One signed a Memorandum of Understanding with Bermuda's Premier to set up operations on the island and also to collaborate with the government to create a digital-asset custody union.
And during the Consensus Fintech event in New York in May, blockchain company Shyft also signed an MoU with the Government and pledged to invest $10m in Bermuda over the next three years.
Crypto exchange Binance also has signed a $15m investment agreement.
The development of "commercially sensible regulation" for ICOs and digital assets is a huge opportunity for Bermuda to become a world leader for this nascent but fast developing sector, said Sean Moran, interim chief executive of the Bermuda Business Development Agency (BDA).
Bermuda has a well-respected regulatory regime, he said, and expertise on the ground that has enabled the development of these proposed regulations.
It has been extremely encouraging to see how many companies are itching to find a jurisdiction where their activities can be regulated, Moran said.
"We want the best of the best," he said, and to establish Bermuda as the "well-regulated Silicon Valley of the Atlantic."
The "mantra" of blockchain is "trust and transparency," said John Narraway, consultant for emerging technologies at the BDA. Establishing Bermuda as an environment where these activities are regulated is, therefore, a very important step, he explained.
Bermuda's flexible environment has helped the island to develop the proposed regulation swiftly but thoroughly, experts said.
There has been close collaboration between the government, lawmakers and industry experts to devise the legislation, Moran noted.
Bermuda sees this as a very important step, experts said, in the drive to be a player in the fintech space. Bringing blockchain business to Bermuda provides huge opportunities for job creation, but also will enable the jurisdiction to remain relevant, Moran said.
As well as bringing employment and expertise to Bermuda, these developments will help to support its well-established insurance and reinsurance industry, experts said.
"It is inevitable that the re/insurance industry will use cryptocurrencies," Garrod noted, as part of their assets base in some cases, and blockchain will also increasingly be used by the industry.
And the very nature of the assets insurers hold and the risks they will be covering are changing, noted Narraway.
Insurers increasingly are exploring insurtech solutions, and developments such as the increased use of parametrics plays to the strengths of blockchain.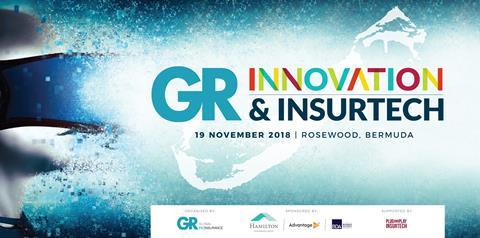 19 November 2018 | Rosewood, Bermuda
In November 2017, Global Reinsurance delivered a brand-new event in Bermuda which had the island buzzing! Focused solely on innovation and insurtech, the one-day event brought together 150 delegates, 30 international speakers and six technology start-ups.
We are delighted to announce that we will be returning this year on 19th November 2018, with the aim of bringing our audience more exclusive interaction with the best and brightest innovators and leaders in this space.
As the largest insurtech event to take place in Bermuda, visit the website and register to secure your spot to hear where the market is heading, what technology re/insurers are actively engaging with, and the areas attracting the most investment.
Across a packed agenda, we'll explore the application of predicative analytics, transforming business models through AI and next generation technology, in addition to the technology everybody is looking to implement – blockchain.
Following last year's successful start-up live session, we are once again teaming up with global innovation network Plug and Play as we endeavour to get our audience up to speed with the latest insurtech developments.
We are also delighted to welcome back Hamilton Insurance Group as our Lead Sponsor, AdvantageGo as our Lunch & Networking Partner and our partners and co-hosts, the Bermuda Business Development Agency (BDA).
Register before 31 August 2018 to receive our special early bird rates