Integration of technology into legacy systems remains a problem
Industry leaders anticipate distributed ledger and data transmission technology to have a significant impact on the reinsurance industry as it maps out its digital transformation.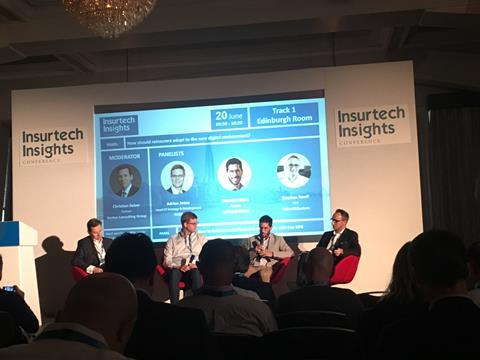 During a panel discussion on the readiness of reinsurers to adapt to a new digital environment at a conference held by Insurtech Insights in London, Stephan Ruoff, chief executive of Tokio Millennium, said changes to business models will be one of the most important ways to ensure relevancy moving forward as a reinsurer.
"Technology will play an important role in this," he said. "I think our future will be more about what we can do as excellent balance sheet managers and matchmakers.
"I think becoming much more of a facilitator and balance sheet manager on behalf of capital providers may present some very interesting options," he said. "Distributed ledger technology and data transmission technology will be key in becoming a more efficient balance sheet manager and this is where you're already seeing some targeted activity."
Adrian Jones, head of strategy and development at global P&C reinsurer, SCOR and Yann Ranchere, partner at investment and advisory firm, Anthemis Group, agreed, emphasising the significance of redefining reinsurance from a process and transactional perspective in order to achieve "relevant change".
"Reinsurance has already been disrupted - we know what it feels like," said Jones. "It started when capital began entering this space in the 90s and it hasn't really slowed down.
"We have really big balance sheets and we know how to manage those and a lot of the insurtech start-ups out there are going to find over time that they need their own balance sheet, their own capital and need to take advantage of reinsurance capital when its available," he said.
"At SCOR, we're thinking about how we engage with these customers; how do we give them capital whether its reinsurance or insurance or equity; how do we give them expertise and work with them along the way as they graduate up to being larger companies. It has to be about facilitating."
As the moderator of the session, Christian Reber, partner at The Boston Consulting Group, argued there is a reluctance amongst some of those in the reinsurance industry to spend money in this space and are behind when it comes to digital transformation, which received some pushback from the panellists.
Tokio Millennium's Ruoff said: "We do spend in the insurtech space. When you look at the big investors in this space, reinsurers are at the forefront, but the reality is that tech development is expensive and the return on the investment isn't going to be apparent in the first instance as we look to transform our legacy systems."
He added: "You have several really good blockchain examples out there which all have the potential to be successful, but no one really knows how to integrate these into legacy systems. We are a regulated financial business, and this is where we hit a wall because we always have to present our balance sheets to regulators and we depend on huge data structures that all sit in legacy systems.
"We are a crappy business in terms of transaction efficiency – about 40% of our expenses are on transactional capabilities - but I think the issues we have on the legacy front gives some indication as to why we're not so good as an industry on transaction side of things."