Swiss Re expects the emerging market share of global insurance premiums to increase by 50% in the next 10 years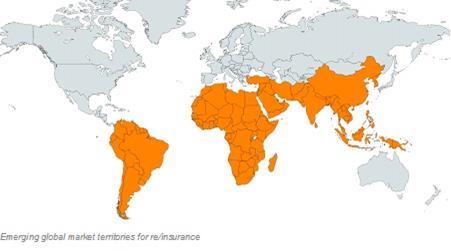 Swiss Re's first Sigma report of 2019 has focused on emerging markets and the economic west to east shift as the growth engine to drive growth of the global economy and insurance premium over the next decade.
The outlook for insurance markets in emerging economies remains strong, even as cyclical and structural factors weigh on overall macro growth prospects, Swiss Re has said.
Maturing markets mean moderated growth, more exposure to market cycles, and a focus more on quality than speed of growth, the reinsurer suggested.
The Sigma report projected that emerging economies will account for 60% of global growth in 10 years' time, described as "the silver lining amid a challenging outlook".
The seven largest emerging markets will contribute up to 42% of global growth, and China alone 27%, Swiss Re said.
The share of global premiums from emerging markets lags their share of world economic output, indicating upside potential for insurance demand, the study emphasised.
"Many key emerging markets (eg, China, Mexico, Brazil, Russia, and Turkey) currently have a level of GDP per capita associated with an elasticity of demand for insurance that is higher than in the advanced markets," Swiss Re said.
"This bolstered demand for coverage during the years of economic slowdown after the financial crisis of 2008-09, and will likely continue to do so in the years ahead," the report continued.
"Additionally, several industry-specific factors will encourage industry growth in the emerging markets, most notably introduction of best practices in regulation, improvements in market access and the early stages of technology adoption, the Sigma study added.
Ongoing urbanisation and the drive to widen financial inclusion will further support development of insurance business, Swiss Re anticipated.
"We expect the emerging market share of global insurance premiums to increase by about 50% over the next 10 years," the reinsurer said.
"Our forecasts show that emerging Asia will lead the charge for premium growth, expanding by three times the world average over the next two years, and China becoming the biggest insurance market in 15 years," said the Sigma study.
Non-life growth premium is expected to maintain its steady performance of recent years, with real growth of about 8%, just behind life at 9%, Swiss Re projected.
For advanced markets, non-life is expected to grow 2% and life by 1%, the reinsurer thought.
"Given their GDP per capita levels, we expect countries like Brazil, China, Mexico, Russia and Turkey to be at the forefront of premium growth in the medium term," said Swiss Re.
"Diversification by line of business and geography will be important given the heterogeneity of challenges that emerging markets face," its Sigma study said.
"Insurance firms that take a longer term view stand to benefit most from the growth opportunities that the emerging markets provide," the reinsurer added.