The trend for mergers and global composites is not the panacea it seems, Hamilton CEO Pina Albo told Guy Carpenter's Baden-Baden Reinsurance Symposium
Reinsurance needs to think beyond just believing size is the answer to its problems, Pina Albo warned at Guy Carpenter's Baden-Baden 2018 Reinsurance Symposium, given the theme of "Back to the past: a return to global composites".
Size doesn't always matter, and mergers and acquisitions (M&A) are not a prerequisite to success, Hamilton's CEO told assembled European re/insurance folk at Guy Carpenter's flagship Baden-Baden event.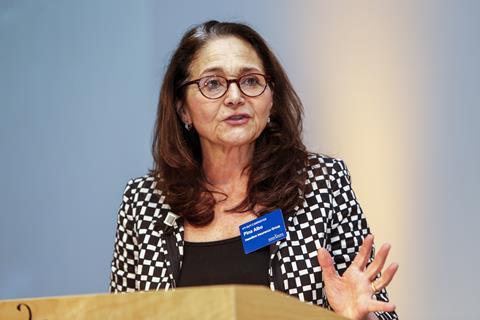 "You don't have to be big to be beautiful; what you have to be is focused," Albo said. "I'm not knocking M&A. There are many, many reasons for M&A. The reasons can sound good on paper, but they're often not that good in practice."
Exhorting her peers to think beyond "big solves all my problems", she warned that value propositions can be quickly eroded. "Palpable value proposition", regardless of size, augurs best for success, Albo suggested.
"There is a market for smaller niche re/insurers that deliver a specific value proposition," said Albo.
Successful firms should start with core capabilities and add dimensions to their specialisations, Albo said. She suggested hiring teams and buying or building capabilities "without the headache of a full [merger] integration".
"Organic growth may not be for the faint of heart, but it is out there, you just have to have a longer time horizon. And often it helps to be private," she added, nudging at shareholder impatience.
Albo was the first female speaker in ten years of the reinsurance broker hosting the Baden symposium. She took over the Hamilton job in January, after previous CEO Brian Duperreault left to lead AIG.
Guy Carpenter's international CEO James Nash teased PartnerRe's property and casualty chief executive Charles Goldie that his Exor-owned firm might get involved in renewed M&A, after the recent betrothals of XL Group to Axa, and Duperreault's AIG with Validus.
"Who knows Charlie, maybe a potential marriage in your future?" asked Nash.
Goldie hit back at Nash: "James, we're 25; we're not getting married. We dated a few years ago, but it turned out to be not that much fun."
It is more than three years since PartnerRe was bought by Exor after a muddled takeover tussle that derailed a previously management-approved merger bid from fellow Bermudian re/insurer Axis Capital. A recent report of merger talks between the Bermuda-based reinsurer and its bigger French rival Scor were denied by Scor's senior management.
Saying he "loves to be a contrarian", Goldie suggested that the symposium's narrative of a consolidating reinsurance sector was not a panacea. "Will we see a return to global composites, all living under one big happy roof? I'm just not so sure," Goldie added.
A few extra pithy comments and moments of humour arose from 2018's Baden symposium.
"I think we'll have to be brave." – Steve Arora, Axis Re's CEO, musing on pricing discipline.
"I felt like Lady Gaga at a rock concert for insurance geeks" – Hamilton's Albo, on headlining an insurtech convention in Las Vegas.
"I've never been on a 'Hot 100' list" – PartnerRe's Goldie, striking a note of self-deprecation.