Climate factors support cyclone formation; forecasts three to six major hurricanes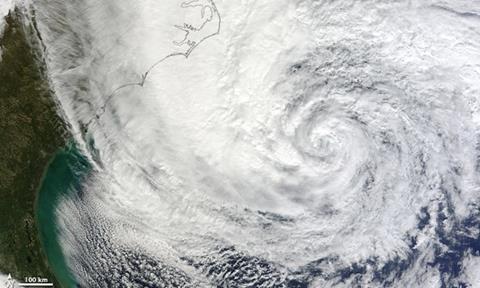 The National Oceanic and Atmospheric Administration (NOAA) has joined other forecasters in predicting an active or extremely active Atlantic hurricane season this year.
For the six-month hurricane season, which begins 1 June, NOAA's Atlantic Hurricane Season Outlook says there is a 70% likelihood of 13 to 20 named storms (winds of 39mph or higher), of which seven to 11 could become hurricanes (winds of 74mph or higher), including three to six major hurricanes (Category 3, 4 or 5; winds of 111mph or higher).
These ranges are well above the seasonal average of 12 named storms, six hurricanes and three major hurricanes.
"This year, oceanic and atmospheric conditions in the Atlantic basin are expected to produce more and stronger hurricanes," said NOAA Climate Prediction Center's lead seasonable hurricane forecaster Gerry Bell. "These conditions include weaker wind shear, warmer Atlantic waters and conducive winds patterns coming from Africa."

"As we saw first-hand with Sandy, it's important to remember that tropical storm and hurricane impacts are not limited to the coastline," added NOAA acting administrator Kathryn Sullivan. "Strong winds, torrential rain, flooding, and tornadoes often threaten inland areas far from where the storm first makes landfall."

Three climate factors that strongly control Atlantic hurricane activity are expected to come together to produce an active or extremely active 2013 hurricane season. These are:
A continuation of the atmospheric climate pattern, which includes a strong west African monsoon, that is responsible for the ongoing era of high activity for Atlantic hurricanes that began in 1995;
Warmer-than-average water temperatures in the tropical Atlantic Ocean and Caribbean Sea; and
El Niño is not expected to develop and suppress hurricane formation.
NOAA's outlook for the Eastern Pacific basin is for a below-normal hurricane season and the Central Pacific basin is also expected to have a below-normal season. NOAA will issue an updated outlook for the Atlantic hurricane season in early August, just before to the historical peak of the season.