Haiyan/Yolanda now a cat five storm with 195mph sustained winds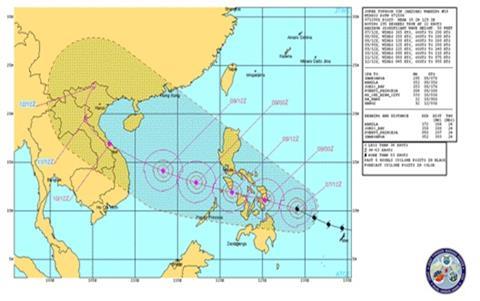 The Philippines is set to be battered by the strongest tropical cyclone ever, according to catastrophe modelling firm RMS.
Super typhoon Haiyan (named Yolanda in the Philippines) is now a powerful category five storm.
RMS director Neena Saith said: "Super typhoon Haiyan's maximum sustained winds of 195mph could make it the strongest tropical cyclone in world history."
Haiyan is more than 1,000 miles in diameter and is expected to affect several islands in the Philippines after making landfall in the Eastern Visayas region, according to EQECAT. Mass evacuations from coastal and low-lying areas are under way in the central Philippines.
EQECAT said maximum winds at landfall will be around 173mph. The storm is expected to move over the central Philippines over the next 12 to 18 hours and will remain a Super Typhoon as it exits into the South China Sea on Friday night.
Rainfall from Haiyan in the central Philippines is expected to be up to 200mm (about 7.9 inches), and in some isolated areas up to 400mm (15.8 inches). An incredibly high storm surge of more than 18 feet will flood the coastline near where the eye crosses the coast.
The storm is likely to cause significant devastation and damage in several islands in the Philippines. However, because of low insurance penetration the insured loss from this event is not expected to be significant.
Metropolitan Manila, the most populated region (about 12 million residents) has the highest insurance exposure in the Philippines, and is not expected to be directly affected by this event.
About 15% to 20% of the property insurance policies are insured against typhoon risk in the Philippines, but this varies by the economic development of the region and population.
PwC catastrophe expert Dom del Re said: "The reinsurance classes of business most likely to be impacted are commercial and industrial property, and some marine classes. For growing global reinsurers, this massive category five typhoon is a reminder of the risk the country is exposed to.
"The future revenue potential is attractive and premium has grown as much as 12% in past years, but catastrophe risk management will be a key component of any growth strategy. Even allowing for the events in the Philippines, this has been a benign year for the global catastrophe reinsurance markets and if this activity continues to the end of the year, this will have a downward pressure on rates."