Denis Kessler's enthusiasm for the reinsurance sector is just one of the qualities that have helped the SCOR chief executive turn around the fortunes of the once-troubled French reinsurer.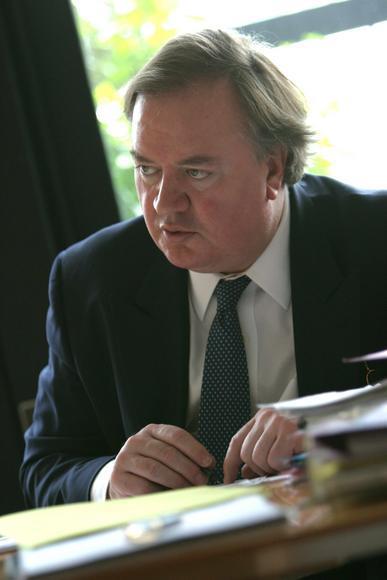 Since March, SCOR has occupied a new, ultra-modern office complex on Avenue Kléber in Paris, a stone's throw from the Arc de Triomphe.
By all accounts it is difficult to get office space at all in this neighbourhood, much less build anew. So how did SCOR do it?
"I can manage anything," quips chief executive Denis Kessler as he ushers his Global Reinsurance visitors towards the rooftop garden adjoining his office. He may be joking - but then Kessler has pulled off what many thought impossible: rescuing SCOR from the brink of collapse.
Back in 2003, many had written off SCOR. The company, weakened by a prolonged soft market and ill-fated forays into credit derivatives and alternative risk transfer, was hit hard by the September 11, 2001 terrorist attacks.
After a string of losses it turned to Kessler, a former AXA chief executive and chairman of French insurance trade body Fédération Française des Sociétés d'Assurances (FFSA).
Some don't like this universe of shocks and risks. I like it. It is intriguing, it pushes you to think."

Denis Kessler
In November 2002 he became the company's chief executive, replacing longstanding leader Jacques Blondeau.
The following July, just months into Kessler's tenure, rating agency Standard & Poor's dealt SCOR a blow. It cut the reinsurer's financial strength rating to BBB+, which is below the A range that most buyers and brokers require to do business with a reinsurer.
The downgrade could not have come at a worse time. It was only two months before renewals discussions were to begin at the annual Monte Carlo Rendez-Vous. SCOR was the talk of the town for all the wrong reasons.
Turning it around
Such rating actions are often the beginning of the end for reinsurers. Their positions weaken further as customers desert them and they are eventually forced into run-off.
For a while it appeared that SCOR would follow this path. S&P followed its July downgrade with a further two-notch cut to BBB- following the publication of the reinsurer's third-quarter 2003 results.
Fast forward to the present day, however, and SCOR has just received an upgrade to A+ by S&P.
Despite the punishing 2011 underwriting year, it came out with a profit of €330m ($406m) - although a non-life COR of 104.5% shows that it did not escape entirely unscathed. In the first half of 2012, the company made a profit of €206m and posted a COR of 93.8%.
What makes the turnaround all the more impressive is that it has been achieved during a 10-year period marred by turmoil, including a global financial crisis and no shortage of natural catastrophes.
While insisting he is not arrogant, it is tough for Kessler to hide his satisfaction about how things have turned out in his almost 10 years at the helm of SCOR.
"The group has been shaken by earthquakes, tornadoes, hurricanes, collapses, downgrades and financial crises," he says.
"Whatever the shock, we have been able to grow the capital base of the group. This is proof that the enterprise risk management and strategic management we have applied has been adequate, reflected in the fact that the rating agencies have upgraded us by five notches since 2003.
"To have been able to achieve the targets of the plan in conditions that were more severe than expected is satisfactory for the group, its clients and all stakeholders."
Much credit must go to Kessler himself. Now, as when he first joined SCOR, he has an infectious enthusiasm for reinsurance.
"Some people don't like this universe of shocks and risks. I like it," he says. "It is intriguing, it pushes you to think, and you have to deal with new issues every day."
This, coupled with his sense of humour, is likely to have raised spirits in the company and energised it. Kessler's sheer determination to turn SCOR around and push it forward may have been what persuaded clients to continue to place their business with the reinsurer through its troubled times, despite what the ratings were telling them.
"I am always focused on moving things around, trying to show we are ahead of the curve," he says. "It is like the Tour de France: if you want to stay in the race until the end, you have to cycle all day long and not wait for the last stage," he says.
The loyalty of SCOR's client base has been vindicated by the company's recovery and subsequent performance, but Kessler is not taking it for granted. One of the cornerstones of today's SCOR is what Kessler calls "franchise" - the idea that it has clients it will serve and share fortunes with for many years.
Walk, then run
Central to repairing SCOR's structure was a steady, step-by-step approach with clear, attainable goals. The key has been to strive for continuous improvement, but not to try to do too much too soon.
Since Kessler took over, the company has followed a series of three-year plans with code names and set targets. The first, "back on track", was initiated in 2002. Subsequent plans have been dubbed "moving forward", "dynamic lift", and the current "strong momentum",, which concludes in 2013.
"All our plans ran for three years and had few, clear targets," Kessler says. The plans have focused on core principles: solvency, realistic profitability and a well-defined risk appetite.
On the last of these, he says: "This is absolutely key at a time when you could blow up your capital base by trying to seek additional return or expose the group to additional tail risks."
Thanks to Kessler's approach, the company is now pretty much where he wants it to be. It is well capitalised, and well diversified in life and non-life reinsurance, in part thanks to the 2006 acquisition of Revios and last year's purchase of Transamerica Re from Dutch life insurer Aegon.
SCOR's business is well spread around the globe, with hubs in Zurich, New York, Singapore, Cologne, London and Paris, and offices in many more locations. And, following its acquisition of Swiss reinsurer Converium in 2007, it has rounded out its modelling capabilities as well as its geographic spread.
Room for improvement
But there is still work to be done. While pleased with the A+ rating from S&P (and equivalents from the other rating agencies), Kessler is holding the company to a higher standard.
"The aim of the group at the end of the 'strong momentum' plan is to provide an AA level of financial security, at a time when there is once again lots of pressure and it is not that easy to be upgraded," he says.
While the company is in many of the places and lines of business it wants to be, Kessler says there are areas in which it can grow further.
For example, up to now the company's rating, its focus on capital preservation and conservative risk appetite, led it to shun casualty business. While Kessler has no plans to do so, casualty could be an area SCOR could explore.
He stresses that any forays will be made with utmost caution. The company will be equally careful with acquisitions. While there is none in the pipeline, Kessler says he is not closed to them.
"There is a time for acquisitions, but we have to find the right combination between SCOR and the company we buy," he says. "If the portfolio of the company aligns with what we do, fine. If not, we don't want it."
However, Kessler contends that SCOR does not need to buy to grow, pointing to the 30% growth in the non-life side of the business over the past three years. "Some companies don't grow any more. They seek acquisition at any cost. I never feel this way," he says.
"We are not under pressure to acquire at any cost and jeopardise where we are."
He is also keen to point out that while SCOR is growing, it is not at the expense of underwriting profitability. Growth, he insists, is not a target at SCOR.
"The aim is to achieve the highest level of growth possible but if, and only if, our strict conditions for solvency, technical profitability, overall profitability and risk appetite are satisfied," Kessler says. "Growth is a result of those conditions. The approach is not to grow and check afterwards it's in line with solvency and other criteria."
Although SCOR is no longer in recovery mode, there is plenty to keep Kessler occupied. His team is spending more time ensuring the company's portfolio of invested assets retains its value.
There is also the ever-present requirement to assess risks to the company.
Kessler has a mandate to stay at SCOR for a further five years. Given his achievements over the past 10, it will be interesting to see what he does with them.
The man: Denis Kessler
Age: 60
Place of birth: Mulhouse, France
Family: Two children
Interests: History, classical music, sailing, literature, opera
In his own words: 'I am always focused on moving things around, trying to show we are ahead of the curve. It's like the Tour de France … to stay in the race you have to cycle all day long'
The company: SCOR
Ranking: The world's sixth largest reinsurance group by net written premium
2011 gross written premium: €7.6bn
Global offices: 41
Employees: 2,040
Market view: SCOR is a consistent performer that has learned the lessons of the past