Third Point Re chief executive John Berger is well known in the business for being an all-round nice guy, but as Ben Dyson discovers, his CV and vision for the future prove he's certainly no pushover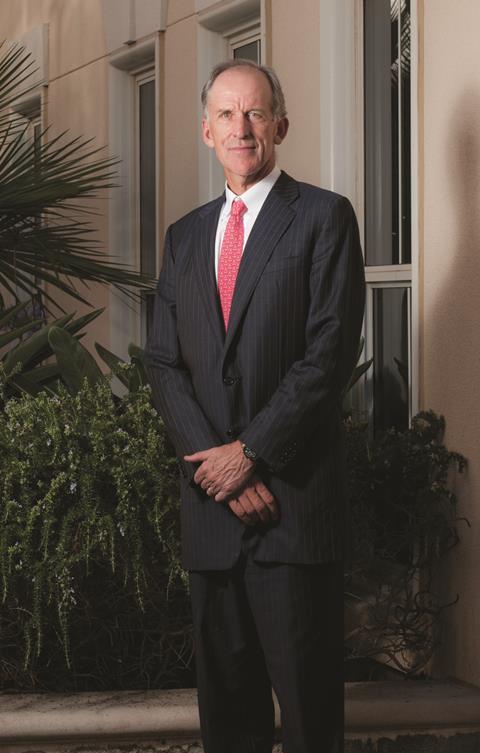 Mention to almost anyone in the reinsurance market that you're going to speak to John Berger, and they'll tell you what a great guy he is and ask you to pass on their regards.
He's a tough man to dislike. The deep-voiced, towering former basketball player greets you with a big grin and a firm handshake. He speaks plainly rather than in the management jargon beloved of some of his peers, is disarmingly honest and self-effacing - and full of praise for his contemporaries.
He also has a reputation for being a hell of an underwriter, having worked with the best, including F&G Re founder and one-time Arch Re chief executive Paul Ingrey and RenaissanceRe founder Jim Stanard. He successfully ran US insurance powerhouse Chubb's reinsurance arm from launch in September 1998 to 2005, when Chubb decided it wanted out of the reinsurance business. Berger then continued at the helm of the company in its new guise as Harbor Point Re, before masterminding its merger with Max Capital in 2010 to form Alterra.
This renown and respect should stand him in good stead for his latest venture, Third Point Re, where he is chief executive and chief underwriting officer.
On the bandwagon
By Berger's own admission, Third Point Re is something of a "me-too" company. Dan Loeb, who runs New York Hedge fund Third Point, got the idea for Third Point Re from Greenlight Re, a Cayman Islands-based reinsurer owned by hedge fund Greenlight Capital, run by Loeb's good friend David Einhorn.
"There is really nothing unique about Third Point Re because Greenlight did it already," he says candidly. "They say imitation is the sincerest form of flattery. We are imitating Greenlight Re."
The company is also starting out at a difficult time. Rates outside the property-catastrophe business line are generally soft, and there is a lot of excess capital. Then there is the global economic downturn. Third Point Re has been a victim of this already. It had originally set out to raise $1bn, but had to settle for $800m because of the general difficulty in raising money.
It's a small business, and we're lucky that personal relationships still play a pretty big role'
The question is how Third Point Re will differentiate itself in a crowded market.
Third Point Re has outsourced the management of its assets to the Third Point hedge fund under a long-term contract. Under the arrangement, the investment results for Third Point Re's assets will be the same as those of Third Point itself. Third Point has made no investment in Third Point Re, although Loeb has made a personal investment in the reinsurer.
This strategy means that over time, Third Point Re's investment returns should be better than those of traditional reinsurers, whose investment portfolios are mostly made up of government and high quality corporate bonds. But it also means Third Point Re is taking more investment risk than a traditional reinsurer.
No property-catastrophe business
To counteract this, the company is more conservative on the underwriting side than a typical reinsurer would be. It has $800m of surplus, but is only aiming to write $150m of business in 2012 - its first year of operation. Also, unusually for a Bermuda start-up, it will not write property-catastrophe business.
Berger stresses that the strong contribution from the asset side of the balance sheet does not mean Third Point Re will be willing to write at a loss.
"A lot of people are saying: 'Because of your investment returns you can write long-tail casualty at 120% combined ratio and make money'. No. We're always going to shoot for the appropriate underwriting profit by line of business and then the investment income hopefully just makes things better. We just want to make sure initially that we are not subtracting from the equation."
A class act
Third Point Re's model may not be unique, but Berger argues that its top team is. In addition to Berger himself, the company has attracted an all-star cast to fill its top positions.
Derivatives trader turned reinsurance broker Rob Bredahl, previously chief executive of Aon Benfield's investment banking arm, is chief financial officer and chief operating officer. Dan Malloy, one-time Stockton Re chief executive and most recently co-head of the specialty practice group at Aon Benfield, is one of the firm's two executive vice-presidents (EVPs) of underwriting. And Tony Urban, former JRG Re chief executive and one-time Endurance Re US chief underwriting officer, is Third Point Re's other underwriting EVP.
"Tony Urban is a very good long-term underwriter, knows a lot of people and has reinsured many people over the years," Berger says. "These people like doing business with Tony and followed him here. Dan Malloy is, again, a very well known and liked person."
Then, of course, there is Berger himself. "I know a lot of people. I have sat down with many of the brokers and clients we have done business with over time and they have said: 'Any way we can work with you, we would like to,'" he says. "The good news is that it is a small business. We are lucky that personal relationships still play a pretty big role."
For the time being, the Third Point Re underwriting team is focusing on a small range of business lines where the risks are relatively modest, returns are favourable and capacity is needed. The portfolio comprises non-catastrophe Florida homeowners' quota share reinsurance, crop hail and crop multi-peril, non-standard motor and a single workers' compensation account.
The company has plans to expand beyond these lines when market conditions allow.
Berger says that after its modest 2012 debut, it could write up to $250m in 2013. But he adds: "Those are budgets, not goals. If we don't get there, that's fine."
While it will not underwrite property-catastrophe business, it will participate by setting up a catastrophe fund to back others' underwriting.
In the driver's seat
One of the dangers for start-up firms is the temptation to write business to put on bulk. Savvy buyers and brokers can sometimes press a newcomer to give them a better deal than a longer-established, less hungry player.
But, though a nice guy, Berger is no pushover and likes being in control. He left Alterra, where he was chief executive of the reinsurance division, only one year after the merger because he was not keen on sharing power with Alterra group chief executive Marty Becker. When he joined Third Point Re, he had already made the decision to leave his old firm.
"It really came down to going from being the CEO to not being the CEO," he says. "The people running Alterra are good. I am still a shareholder. I have not sold any of my stock, so I still have a lot of confidence in the company. But it just wasn't for me."
And with his 30 years' experience, he's seen every trick in the book. "We're not naïve," he says. "People are testing us every day. They think: 'You're a new company. Maybe you'll do something silly.'"
As well as focusing on discipline in his chief underwriting officer's role, a lot of Berger's time will be taken up preparing for an initial public offering. The company's capital backers include three private equity firms, Kelso, which invested $250m, Pine Brook Partners, which put up $125m, and a fund owned by US stockbroker VJ Dowling, which invested $15m. These firms will want an exit strategy.
While market conditions are unfavourable for flotation now, and Third Point Re needs a couple of years' worth of profitable development to show prospective investors, Berger sees little sense in waiting to make the necessary preparations and shake the right hands.
"We're preparing from day one for it," he says. "We have all the compliance efforts, which are enormous, well underway…. When and if the time comes, we want to be ready to go."
With Third Point Re so new you can still smell the paint in its Bermuda offices, and with the market so challenging, it is tough to say whether the company will be a success. But with the track record of the Third Point Hedge fund and Berger's underwriting team, you have to fancy its chances.
The man
Age: 60
Hometown: Sunnyside Queens, New York City
First job: Professional Basketball Player/Coach in Sion, Switzerland
Family: Married for 35 years to Nathalie. Three daughters: Julia, Valerie and Camille
In his own words: 'People are testing us every day. They think: you're a new company. Maybe you'll do something silly'
The company
GWP to date: $150 million
Number of employees: 18
Market view: A young reinsurer with a lot to prove, but backed by a well-known, well-respected management team.