Allied World's Europe chief outlines his growth plans and vents his frustration at the 'introverted' London market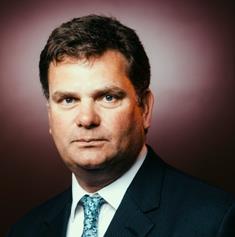 Julian James is a busy man. When GR catches up with the Allied World Europe president he has just got back from New York, is due to fly to Singapore in a few days. Amid all this he is trying to finalise the purchase of a new house.
James has had a lot on his plate since his arrival at the company in March 2013 from broking group Lockton, where he was chief executive of the international division.
He has been charged with growing the class of 2001 (re)insurer's European business, which he describes as "a sleeping giant" as well as working out how to push the company further into the challenging but all-important Asian market.
James has been in the role a little over the year and had already attacked the task with gusto. In recent months the division has hired a raft of respected underwriters, set up its own Lloyd's managing agency for Syndicate 2232, and taken a minority stake in UK commercial underwriting agency Gravity.
But James cannot stop there. He says: "There is a lot we need to get done. It is very important that we are relevant to the broking community. They have a lot of potential people they can trade with and they need to be able to trade with partners who are willing to take on risk."
Here, James explains his next steps in Europe and Asia, what he believes it takes to be successful in these markets, and his frustrations with what he describes as the "introverted" thinking in the London market.
International experience
The Allied World group was set up on Bermuda in 2001 in the aftermath of the September 11 terrorist attacks in New York. It has grown rapidly since its formation. In 2013 the group wrote $2.7bn of gross premium and had $3.5bn of shareholders' equity. The group's growth has not been at the expense of underwriting profitability: Its 2013 combined ratio was 86.2%.
Despite Allied World's prowess, its Dublin-domiciled European operation was relatively small on James's arrival. He says: "In my perception, Allied World was a sleeping giant In Europe 14 months ago." The opportunity to grow the business in Europe as well as Asia tempted James from Lockton to Allied World. He says: "I felt that I could help build the business in a way that our shareholders wanted."
James has plenty of experience in developing companies' international units. Before his five years at the helm of Lockton's international division, he was director of worldwide markets at Lloyd's, responsible for all the insurance market's non-UK activities. Among other things, James worked on the development of the Lloyd's Asia platform in Singapore and Lloyd's China.
Before that he worked at UK-based broker Sedgwick, now part of Marsh & McLennan Companies, in both the UK and US.
James's experience at Sedgwick taught him an important lesson about building business internationally. He says: "It provided a really valuable insight into the fact that there is a world outside the London insurance market, that all roads don't lead to London and that there is a very successful global insurance industry."
Hiring spree
With this in mind James has set about building Allied World's European business. His efforts are most visible in the number of well-respected underwriters the company has brought since his arrival.
In September 2013 Allied World Europe hired Lloyd's senior vice-president of business development Enrico Bertagna to expand the product offering and manage distribution channels and broker relationships.
In early October, Allied World Europe bought the renewal rights to rival insurer Markel International's Lloyd's aviation business. Along with the business came Markel's aviation team, led by Olivier Marre.
Later that month, the company took Andrew Graham from AIG to head up its mergers and acquisitions insurance unit. A month later, XL UK's Denis Burniston and Alterra's Bart Grefe joined to build Allied World's European primary casualty and marine offerings respectively.
More recently, in May 2014, Allied World Europe entered the onshore construction market by poaching AIG's Alf Müller to head the team.
James says: "All of this is built around the premise that we want to be larger in Europe, we want to be more relevant to our buyers and we want to have additional underwriting expertise and talent based here."
He also notes that the team now includes divisional heads from France, Germany and Italy as well as the UK. James says: "To be successful in Europe, you need a European team. The assembly of a true European team is a very important component of success."
Europe may not seem like a natural place to look for growth. It is a mature, highly-competitive market, where commercial insurance prices in particular are being depressed by a combination of a tough economic environment and a surfeit of underwriting capacity.
But James dismisses this by pointing that Allied World now writes $1bn of premium in the US, arguably an even more cut-throat market.
Despite its maturity, James argues there are plenty of growth prospects in Europe. He says: "You have got 28 member states in the European Union. You have got countries like Croatia coming into the European Union. You have economies that are developing such as Poland and some of the eastern European countries. There is a huge amount of opportunity there."
He trick to growing without cutting prices and compromising Allied World's reputation for solid underwriting, says James is having the right products.
He says: "We will continue to do what Allied World has done since it started in 2001 and that's to deliver products and therefore policy wordings that customers want and a willingness to take risk.
"The reputation that Allied World has carved out worldwide is as a company that is prepared to underwrite and take on challenging risk. That is precisely what we are going to continue to do."
Work in progress
James is equally emphatic about Allied World's need to develop its Asian business.
He says: "I have for a long time been a proponent that the opportunities that exist in Asia for insurance operations, I have said consistently both from the broker side and the insurer side that if you really want to build a successful business there you need to be on the ground in Asia. There is so much happening there.
"It is very difficult to understand the dynamics of it when you are sitting in a time zone eight hours away and 6,000 miles away."
He is aghast at the attitude of London market insurers that turn their noses up at writing business on the continent, particularly at a time when China has overtaken the US as the world's biggest economy.
He says "I despair sometimes when you talk to people who say: 'I'm never going to write business in China because they speak a foreign language.' How can you be a global insurance player and not understand how to do business in what is now the largest economy in the world? You are not going to learn that by sitting in EC3."
He adds: "You only have to get off at Changi Airport in Singapore and look at the trade happening there to know don't necessarily need the London insurance market to continue to operate. There is huge shift that is happening and if you don't understand that and don't get your mind around it and figure out how to be in business in that, you are not going to be successful."
Even so, Allied World's Asian plans are still a work in progress. The company has a "significant" presence on the Lloyd's Asia platform, says James, but he admits: "I would call ourselves relatively small players in Asia.
"I would say our thinking is probably in the early stages but it is a very important region in the world and you can't just ignore it."
It is clear that James still has a lot of work to do, but he is not letting this phase him. He says: "It has been busy, but I'm still here and still very excited about the opportunity."
THE MAN
Like many people, Julian James' entry into the insurance market was partly accidental.
He says: "My godfather worked at a broker. He asked what I wanted to do with my career and I said: 'I have absolutely no idea.' He said I should think about insurance because it is a fascinating world."
An interview at Sedgwick landed James a place n the training programme at the London-based broker.
James says: "I won't say I never looked back but I did think: 'Actually this is quite interesting.' I am really thankful that by luck and a little bit of judgement I chose insurance over some other career in financial services.
"I have friends in different industries that look at me, my friends in insurance and the things I do and say: 'We wish we made the same career choice that you did.
"I have had a fantastic time. I have met some really interesting people and worked with some of the brightest people in the world. When I look at the challenges ahead both intellectually and strategically for the industry, they are immense."
Having spent his entire 33-year career in insurance, James clearly loves the industry. However James likes to remind himself that there is more to life than insurance. On the shelf in his office is a picture that says "gone sailing" - a Christmas present from his son.
James says: One of my passions is sailing. One day I might hang it on the door of my office when it all gets too much for me, but at the moment, I keep it up there as a reminder that there is a life outside of the insurance world."