Tighter control on investment and catastrophe underwriting has helped Hannover Re weather the economic storm, says its chief executive Ulrich Wallin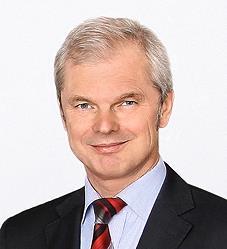 It has been three years since GR last caught up with Hannover Re chief executive Ulrich Wallin. Last time, he had only been in the top job at the world's fourth largest reinsurer for a year, having replaced the highly regarded Wilhelm Zeller in 2009. All seemed to be running smoothly.
But much has happened to Hannover Re and the industry as a whole since the summer of 2010, not the least of which was the welter of catastrophe losses in 2011.
If the past three years have taken their toll on Wallin, he hides it well. He has flown in from London on the morning of the interview, which takes place in the headquarters of primary insurance operation Inter Hannover, and will be flying out to Dublin shortly afterwards. Yet he is, as before, the picture of calm and composure. He doesn't check his watch once and answers questions deliberately and patiently.
Equally, Hannover Re has taken the rigours of recent years in its stride. Take 2011, for example. At a time when many peers suffered severe drops in profitability or even losses in some cases because of the heavy catastrophe burden, Hannover Re made a net profit of €606m ($788m), just 19% down on 2010's €749m. It also produced an enviable return on equity (ROE) of 12.8%. This was short of the 15% most companies shoot for, but certainly not to be sniffed at in such a difficult year.
The company went on to produce a profit of €858.3m and an ROE of 15.6% in 2012.
The performance may be envious, but Wallin and his senior management team cannot afford to rest on their laurels. Low interest rates will eventually take their toll on Hannover Re's investment returns, and it is increasingly difficult to make an underwriting profit amid heavy competition from traditional reinsurers and the capital markets-backed players that are playing an increasing role in the market.
Wallin knows this, however, and has some tricks up his sleeve to help Hannover Re weather the tough times ahead.
The turning point
Wallin says that the company's recent performance owes much to the strategy he initiated back in 2009 to reduce the volatility of Hannover Re's profits. He did this by introducing tighter controls on the company's investments and catastrophe underwriting.
He says: "We had a little bit of a rough road from 2000 to 2008, where in three years out of eight we didn't pay a dividend. When I took over in 2009, the owners of the company, particularly the majority shareholder, had some interest in getting a more stable dividend paid and more stable earnings. That really paid off in 2011."
While many (re)insurance industry chief executives complain about poor investment returns because of low interest rates, Hannover Re has enjoyed good investment returns to date. Its return on assets under management in 2012 was 4.3%, which will be eyed enviously by some rivals that were barely able to scrape 1%.
But the good investment returns Hannover Re has enjoyed to date will not last forever.
The reinsurer has benefited from falling interest rates, which reduce the yield of newly issued bonds, and so increase the relative value of older, higher-yielding bonds in companies' investment portfolios. If a company sell these bonds before maturity, as Hannover Re did, to match its assets and liabilities, they are able to make gains that boost their investment income.
But if interest rates stagnate at a low level for a long period of time, as is currently happening, this effect wears off as the higher-yielding bonds issued in times of higher interest mature and disappear from the market.
There is little that (re)insurance companies can do to counteract this effect. Taking on more investment risk is not an option because of the high risks they are already taking on through their underwriting.
Wallin acknowledges this: "The good level of investment income is challenged for the future. We cannot expect that we will continue to have yields of around 4.3%. We have a rather conservative asset allocation, largely in fixed income."
He says the positive investment effects will not wear off this year. "We are still in a position that if we change things around we will realise gains," he says. "But of course if the interest rates for a long time stay where they are, that will gradually evaporate."
Hannover Re has tough targets. It aims to improve profitability by 10% and grow book value a share by 10% each year. If investment returns cannot help the company hit these targets, its only option is improving underwriting.
The more investment returns fall, the lower Hannover Re's combined ratio has to be. Wallin says: "In 2007, our target was to be below 100%. It is now to be below 96%. If the risk-free interest rates drop further, that will come down further."
The problem is that maintaining underwriting profitability can be tough. If the competition between traditional reinsurers were not enough, capital markets-backed players are having an increasing role in catastrophe business. Where large losses create price increases and profitable opportunities, they are quickly swallowed up.
Despite this, Wallin is confident about Hannover Re's ability to hit profitability targets. He says: "We feel we can do it, even though it is challenging. We have one large advantage in that we have a significantly lower management expense ratio than our competition."
Stability and innovation
A big reason for Hannover Re's cost advantage is that of its total 2,200 employees, half are based in Hannover, where there is a very low staff turnover. "Because we have a very loyal staff, particularly in Hannover but also in other locations, it helps with the efficiency," Wallin says.
He adds: "It also helps that we have not done a major acquisition for a while so we haven't got duplicated structures from other companies that we then have to integrate, which always pushes up expenses."
While some reinsurers see the capital markets as a threat, Hannover Re has embraced alternative capital sources. It is a regular, long-term participant in the cat bond markets, packaging up risk and passing it on to capital markets investors. Recent transactions include January 2012's K-Cession deal, part of Hannover Re's K series of deals that have been running since 1995, and Eurus III, issued in September 2012.
If the going gets really tough, Hannover Re has options. On 19 March it completed its conversion to a Societas Europaea (SE) pan-European holding company. While Wallin stresses Hannover Re has no desire to leave the German city that gave it its name, the SE status would make it easier to do so.
He said: "From a regulatory point of view some jurisdictions might be more advantageous than others. We would only consider a change if it would have a significant economic advantage for Hannover Re to do that."
The market may be difficult, but Wallin and his team have plenty of answers to the various problems the market is throwing at reinsurers. If the past three years have not made Wallin blow his cool, it seems unlikely that the next three will.