Catlin founder on 40 years in the industry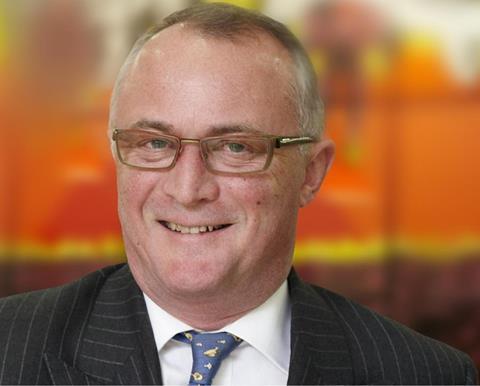 As Catlin Group nears its 30th birthday, GR interviews founder and chief executive Stephen Catlin on what he has learnt, what makes a good chief executive, who he admires and his biggest regrets.
DESCRIBE YOUR FIRST OFFICIAL DAY AT CATLIN – WHAT STOOD OUT?
21 October 1984, 2.30 in the afternoon, in Lloyd's. We had a two-seater box, we borrowed the photocopier of the box next door. Our company assets were nil. I used Lloyd's blotting paper, somebody gave us some notepaper, I had a silver inkwell that my old boss had given me as a leaving present, and he also had given me his old Lloyd's Confidential and Lloyd's Register of Shipping. And I sat down at 2.30, having been licensed at about 12.30. I was absolutely terrified. I think 'fear' would be the biggest description. I remember it very well.
WHAT WAS YOUR MOST MEMORABLE MEETING?
There are two answers to the question, and they both have validity.
Probably the most memorable was what they called the Lloyd's rota to have our application to do business at Lloyd's approved. You had to go up to the rota committee, effectively the Lloyd's committee; they were on one side of the table, and our board was on the other side, with me sitting in the middle. It felt like being attacked by machineguns from five different places at the same time. If you didn't get through that committee, that was it. There were no second chances in those days.
The other meeting occurred when 9/11 happened. I was visiting our Houston office with Paul Brand, our chief underwriting officer. It was the first time ever we ever had travelled together. We arranged to leave our hotel at 8am with Doug Howat, who at the time was one of our business group leaders. But Doug didn't turn up. So I joked to Paul: "Don't you think he wants the job?" Paul said: "I'll tell you what, I'll give him a call and see if he is awake."
As he went off to make the telephone call, Doug came out of the elevator looking as white as a sheet. I said: "Are you alright?" He said: "Yeah. I've just seen an accident happen in real time on a piece of business that I underwrote. A plane has just gone into the World Trade Center."
We drove from the hotel to the office, and then the second plane went in. The whole reason for us being in Houston was to discuss our American strategy with our US employees. I somewhat naively tried to continue with this meeting when we got to the office. Then the plane went into the Pentagon.
I realised at that point that maybe I should grow up and think about life in a different way. We established that everybody from the company who were in the air that day were OK. One of my colleagues, who hadn't yet joined the company, had a meeting cancelled the night before on a floor in the World Trade Center that was hit, so we are blessed to still have him with us.
We went back to the hotel for the rest of the day, and went back to our office in Houston and 2am, which was 8am in London. We operated our war cabinet from Houston, talking to our colleagues in London. It was a life-defining moment for so many people, and so many personal tragedies we all know about.
I got hold of my wife, and she said: "Are you okay?" I said: "I'm fine." She said: "Out of interest, do you still have a company?" I said: "I don't know. I hope so, but I don't know. I'm not sure at this juncture." She said to me: "Well, we started with a two-up, two-down, and we can go back to it, don't worry about it."
For so many of us that day had a pronounced effect. There were very few of us in the industry that didn't know somebody who had been lost. It redefined how we thought about risk.
One of the insurance lessons from 9/11 was about correlated risk. When we set this war cabinet up in Houston, we gave people very precise, individual tasks to do to review the impact on the business. So by the time we got to the Thursday, we had gone through our entire portfolio – slip by slip – to see what we had. I think on either late Wednesday or early Thursday morning, I got a call. "Stephen? There's a certain cancellation policy we wrote. I wonder if you remember about it." It was the cancellation of the NFL football games. I said I remembered. They said: "Do you remember agreeing to write a bigger line than you'd normally write?" I did. They said: "Good." I think there were 11 games held on one day. We were trying to think about the probable maximum loss. It was difficult to envisage having more than four or five games cancelled on one occasion. Of course, my American colleagues said to me: "They'll never cancel the games, don't worry about it."
But the next week, the NFL cancelled every single game. We had twice the loss we thought we'd have. It was a causation we'd never thought about; we'd never priced for terrorism – never even considered it. And we didn't aggregate it with the rest of our portfolio. So that was a good lesson for me in thinking about correlated risks. You really have to think out of the box and think the unthinkable.
WHO DO YOU MOST ADMIRE, AND WHY?
My grandfather. He ran a printing business. He designed this non-carbonated paper, pre-WWII. His factory got bombed out twice in the Second World War. He said to his workforce: "I can't pay you, so you'd better go back home again." They all said: "But you will pay us when you can, and we are going to work for you." That's real loyalty and respect.
WHICH TRAITS MAKE A GOOD CHIEF EXECUTIVE?
You clearly have to be a good leader. I think the best chief executives lead from the front, by their actions, rather than by their instructions. You have to be a good communicator internally and externally. My personal view is that you need to have a strong value proposition for yourself that you can apply to the business as a whole, and that people can share. You also have to have vision, you have to have the ability to execute, and you actually have to deliver.
DO YOU HAVE ANY PROFESSIONAL REGRETS?
Oh yes, plenty. Mainly when I screw up. I think my biggest regrets are probably when I've mishandled a situation and reacted in an inappropriate fashion. In our company we have five values: teamwork, transparency, accountability, integrity and dealing with people with dignity. The last one is the one which I fall down on the most easily sometimes, when I forget to offer the common niceties of life. In terms of actual business decisions, if you never make a mistake then you never make any decisions.
IF YOU COULD CHANGE ONE THING ABOUT THE WAY THAT LLOYD'S OPERATES, WHAT WOULD IT BE?
I've just done 40 years in Lloyd's. When I look back, disclosure, transparency, data, efficacy of wordings, professionalism – all those things have improved immeasurably. The one thing we haven't really changed much in 40 years is process. We've got to get out of the dark ages.
WHAT DO YOU KNOW NOW THAT YOU WISH YOU HAD KNOWN WHEN YOU STARTED IN INSURANCE?
When I started work in 1973, nobody told me about the value of insurance. I nearly left two or three times in the first three or four years because I couldn't work out whether or not we were offering a value-added product or whether it was a great big gambling casino. I had no wish to be part of a gambling casino for the rest of my life. What I now talk about internally and externally is social value of insurance. The world doesn't go round without insurance. You can't fly a plane, you can't drive a motorcar, you can't run a football match, you can't run a business, you can't buy a house without insurance. It is part of the fabric of the economy. I wish someone had sat me down on that first day and explained to me what that value proposition was. I worked it out, but it would have been nice to have been told.